'Frozen' Is Coming To Epcot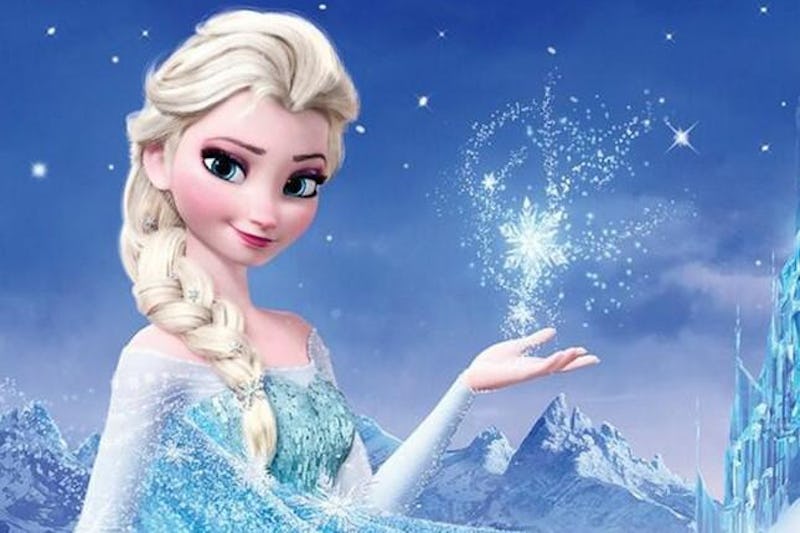 You saw it coming, didn't you? Disney Parks has announced that Frozen will become an attraction at Epcot Center in Walt Disney World in Florida, giving fans and reluctant parents the opportunity to immerse themselves in the fictional Arendelle in fake Norway, since going to the actual Norway might have been a tough sell, even for the most generous of parents. And why go to real Norway when you can eat imitations of Norwegian food in the most magical place on earth? Exactly. That's culture and America in one icy nutshell. And besides, now cries of "Mo-om, Da-ad! I wanna go to Norway and meet Olaf!" can be answered with, "How about...Disney World?"
Disney execs are no fools. They're probably thinking, "ELSA PLUS ANNA EQUALS DOLLA DOLLA BILLS, Y'ALL." Folks who visit Norway in Epcot will have the opportunity to meet the dopplegangers of the Magic Kingdom's Princesses Anna and Elsa — 'cause don't you forget, they'll be there, too! Frozen is everywhere, invading your family vacations and exploiting your wallet.
Back in the spring, lines to meet Anna and Elsa at Disney World were a whopping three hours long — enough time to watch the whole movie twice — so perhaps instating this parallel Frozen universe could aid in cutting down those wait times (Probably not, though. Who am I kidding?)
Had enough of Frozen by this point? Aching for your Disney World vacation to take you back to 1992, when Belle reigned supreme? Well, you should toss that fantasy aside because Magic Kingdom is also expanding their current Frozen setup. Once the holiday season strikes, Princess Elsa will continue to exercise her powers by turning Cinderella's castle into an ice palace at night. Cinderella is probably like, "bitch, first my coach turned into a pumpkin and now this? I can't get a break." Don't worry, Cindy — come morning, the ice will melt and you will continue to reign in your castle! Just don't be upset when the kids come knockin' on your door wondering where Elsa went.
Hollywood Studios is also joining in on the Frozen fun by expanding its current Frozen Summer Fun LIVE! into the winter. This attraction will give kids the opportunity to play with fake snow, because real snow would be way too harsh on those young and impressionable hands. Plus, it's in Florida, so...
Disney, your ideas are wonderful and undeniably profitable, but here are some additional ideas to add to your already over-the-top Frozen land:
An Olaf ride in which you can ride through Olaf's mouth, because why not.
Frozen ice pops and other frozen treats, like frozen yogurt because PUNS.
A karaoke contest for all the 12-year-old girls to belt out "Let It Go." Kidding! That's cruel.
Reindeer rides — obviously.
So — go to Disney World and let Frozen besiege your vacation. OR — DIY your own Frozen land this winter by stepping outside and singing "Let It Go." Hey, similar stuff's been done before — and just as most people can't make it to the real Norway, a lot of folks can't make it to Disney World either.