Proof That 'Grey's Anatomy' Stars Love 'OITNB'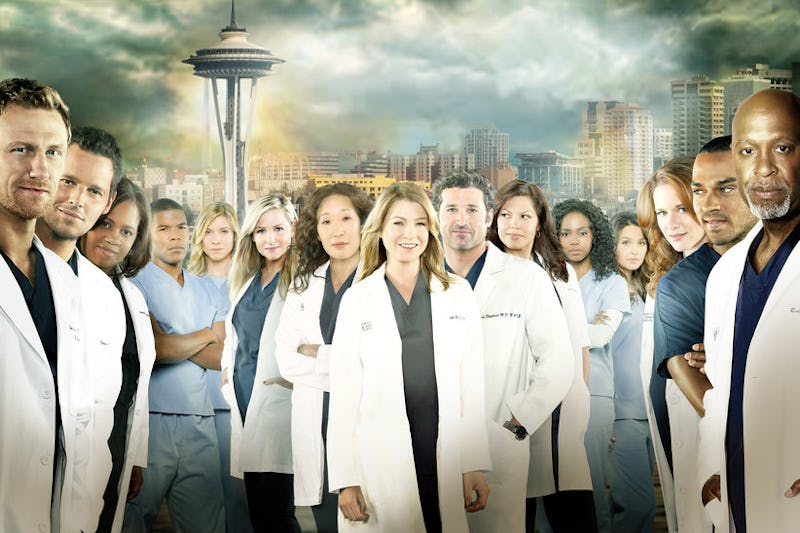 Just in case you had any doubts of Orange Is the New Black 's popularity, it is now officially doctor recommended. Well, I should say TV doctor recommended. (But that's pretty much the same thing, right?) Proving that they love the ladies of Litchfield just as much as we do, leading lady Ellen Pompeo recently tweeted a photo of her and several other Grey's Anatomy cast members dressed up as Orange Is the New Black characters. There was just one little change-up — instead of wearing orange prison uniforms, they donned their traditional blue scrubs. "Blue is the new black," Pompeo coyly tweets in her caption, and boy did this gang look the part.
Sara Ramirez proved to be a spot-on replica of Alex Vause, rocking out some serious shade along with Alex's signature black-framed glasses. However, it was Pompeo who stole the show by mimicking Tricia's badass cornrows and looking like she could go toe-to-toe with the worst of 'em. Crazy Eyes and Mr. Healey also managed to make an appearance, though I'm slightly disappointed Justin Chambers didn't dress up as Pornstache. Now that would've been the cherry atop this already glorious image.
But hey, you don't just have to take my word for it:
Pretty great, right? So naturally, this got me thinking of what an actual Grey's-OITNB crossover would look like. I mean, as the picture clearly indicates, a crossover would be all sorts of amazing, but how could the two series actually go about doing it? I just so happen to have a few suggestions…
Meredith Gets Arrested
Let's say Meredith does decide to move to Washington D.C. to be with Derek, but she's not happy about it. As a result, she chooses to cope with her anger by taking up a life of crime — which inevitably gets her sent to a women's prison in upstate New York. And viola — Litchfield's newest inmate officially scrubs in. And given all the drama that recently went down during Season 2, these girls could certainly use an inmate with some medical expertise. (Now let's just hope somebody warns her not to insult the cafeteria food.)
Miss Rosa Escapes to Seattle
Last we saw, Miss Rosa escaped from Litchfield and was on the run. What if she found herself hiding out in Seattle and went to Grey Sloan Memorial for her cancer treatments? I don't know about you guys, but I'd love to see her and Bailey share some on-screen time together. Those two no-nonsense ladies would surely prove to be comedic gold.
A New York Field Trip Goes Awry
Whether the doctors are there for a medical conference or just a vacation of sorts, it'd be completely possible for them to somehow bump into a few OITNB characters. Maybe Karev is an old friend of Officer Bennett, or Arizona has history with one of the girls in prison and decides to pay her a visit. (I'm guessing it would be Alex — who has already proven she kinda has a thing for blondes.) But regardless of the specific reason, clearly it's possible to find some way to make this work.
You hear me, writers? Let's make this happen STAT!
Images: ABC; Ellen Pompeo/whosay; Wifflegif; mysilverylining/Tumblr; Giphy