Are You Looking at the New Taylor Swift?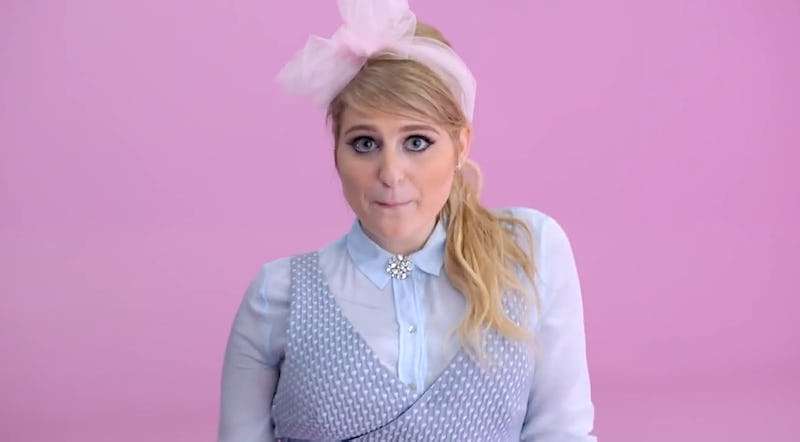 Though you may not be familiar with her name, you most definitely know her voice. Meghan Trainor, who recently hit the big time thanks to her hit single "All About That Bass," is already climbing her way up the popularity (and billboard) charts. In fact, the breakout star's song proved to be so popular that it actually edged Taylor Swift's "Shake It Off" single out from its No. 1 spot on the Billboard Hot 100 after a two-week run at the top. Trainor also recently performed an acoustic version of Swift's "Shake It Off" hit during her visit to the Australian radio show Dan and Maz, and it was insanely good. Some may even argue it's better than the original. Watch your back, T-Swif — you may have just met your match.
That's not to say Swift is easily replaceable because that's certainly not the case (nor would we want it to be). I'm just saying that it's hard to deny the obvious similarities — not to mention stiff competition — between these two talented singers, especially when one of them is quite literally emulating the other's work. Either way, it had me intrigued. So I decided to do a little digging on Trainor to see if she had any other songs out there that could help me shed some light on her musical future. And as it turns out, she does!
One song, in particular, titled "My Future Husband" immediately had a Swift-like ring to it. (As we all know, T-Swift is no strange to using guys for lyrical inspiration.) But don't be mistaken — this is no lament about a girl being wronged, but rather about a woman speaking up for how she deserves to be treated (with a little rhythmic pop thrown in for good measure). In fact, I'd say this song is loaded with positive, feminine messages that should immediately become a welcome addition to any girl's iPod. Take notes, Taylor Swift, because your competition just seriously upped her game. I mean, just look at some of these lyrics…
"You got that 9 to 5, but baby so do I, so don't be thinking I'll be home and baking apple pies."
Oh, you've had a rough day at work? Well, guess what — me too! I hope you're cool with ordering take-out then because this girl doesn't even own an apron.
"If you wanna get that special lovin' tell me I'm beautiful each and every night."
A little wooing never hurt anyone — something every man should be mindful of before they come to just expect certain things in the bedroom. Because sorry, I am not open for business 24/7. You want that kind of round-the-clock attention, I suggest you head to Walmart.
"Even if I was wrong, you know I'm never wrong. Why disagree?"
The sooner you learn to make peace with this, gentlemen, the happier we'll all be.
Images: Youtube; oliviatheglutenfreeexplorer/Blogspot; theblessedlifeofjeanette/Wordpress; ekalligeros/Tumblr