Where Does His Major Feud Stand Today?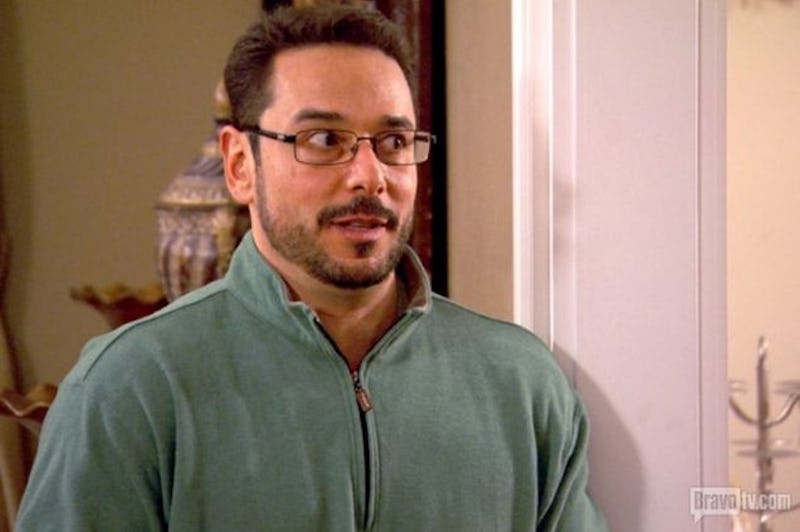 One of the biggest fights this season on The Real Housewives of New Jersey doesn't actually involve any of the Housewives. Amber's husband Jim Marchese and Nicole's boyfriend Bobby Ciasulli have been involved in the most intense and drawn-out feud so far this season. And it doesn't look like things have gotten any better between the two since filming ended.
It all started when Jim told Bobby, seemingly in confidence, that he didn't think it would be a good idea for an expert witness in mortgage fraud cases like himself to be out fraternizing with Joe Giudice, then charged with mortgage fraud, during a guys' night out bowling. Bobby, of course, relayed the news to Joe and his brother-in-law Joe Gorga, but said it in a way that made it seem like Jim didn't want to be around the Joes because they're prone to getting into fights. That's not quite what Jim said, but it is, as we all know, no less true.
Jim was pissed at Bobby for what he told the Joes, but the final straw was the First Responders Party shenanigans when Amber and Nicole got into a physical fight over Amber telling Melissa that Nicole is a homewrecker. Jim and Amber couldn't believe that their friend of more than 10 years, Bobby, would take the side of his girlfriend of less than a year, Nicole, and not come to Amber's defense. Jim also took this opportunity to try to clarify why he didn't go bowling, which went about as well as you would expect. On the show, Jim alleged that Bobby had been somewhat of a player while he was dating Nicole. After some angry phone calls and texts from Jim and Amber to Bobby and vice versa, and a sit-down in the Marchese kitchen, the three finally called their friendship quits.
When the cameras are rolling and people are in the heat of the moment, people often say things they don't mean. Plus, we all know reality TV stars change their allegiances as often as they shamelessly promote one of their new products on screen, so you would think that one argument, albeit an intense one, would not permanently break up a friendship that has lasted for years. Now that it's been a few months since the cameras stopped rolling, perhaps enough time has elapsed to heal Jim and Bobby's wounds and allow them to repair their friendship.
If you thought that was a possibility, you would be very, very wrong. Not only are Jim and Bobby definitely still not friends, but they've also been waging a very angry and public war on the Internet.
The two have taken to Twitter to continue their feud, saying how the other lied, and the argument is not his fault. However, there have been some new developments since the show that keep reigniting the fight.
Also, people hilariously confuse Jim and Bobby on RHONJ like, all the time, apparently.
During an interview with AfterBuzz TV at the beginning of this month, Jim said that Bobby sacrificed their friendship just so he could get air time on the show and be famous. He also said that he was particularly upset that the physical altercation between his wife and Nicole took place under Bobby's roof because with Amber's reconstructive surgeries due to her breast cancer, she really could have been hurt. Jim told AfterBuzz TV:
I know people take issue with how I addressed him, but I would never put his family and livelihood at risk, and he had no problem doing it to me. For what? Five minutes of fame so he could look cool? It doesn't fly with me.
Jim also claimed that Bobby and Nicole met during the casting process of RHONJ and started dating shortly after that. Jim and Amber had supposedly brought Bobby and the twins to the attention of the production company during casting. The couple had the three of them sign a contract that said they were submitting them to the production company for casting. Jim also alleged that Bobby had flings with other women under consideration for the show, that he signed up to be a volunteer firefighter just to have a better storyline, and that he's very wealthy from working at his family-owned auto group.
In response, Bobby claimed that the three of them only had contracts with NBC, not Jim and Amber. He also asserted that he has been faithful to Nicole, and Jim is lying about his net worth.
But anyone hoping to see Jim and Bobby go at it at during this season's reunion should probably not count on it. Jim has alleged that Bravo didn't invite him to the reunion because Bobby, the twins, and Teresa Aprea's husband Rino refused to film with him.
Well, that's another relationship ruined by reality TV, folks.
Images: Bravo; therealhousewivesgifs/Tumblr