The First Trailer for 'Big Eyes' Is Here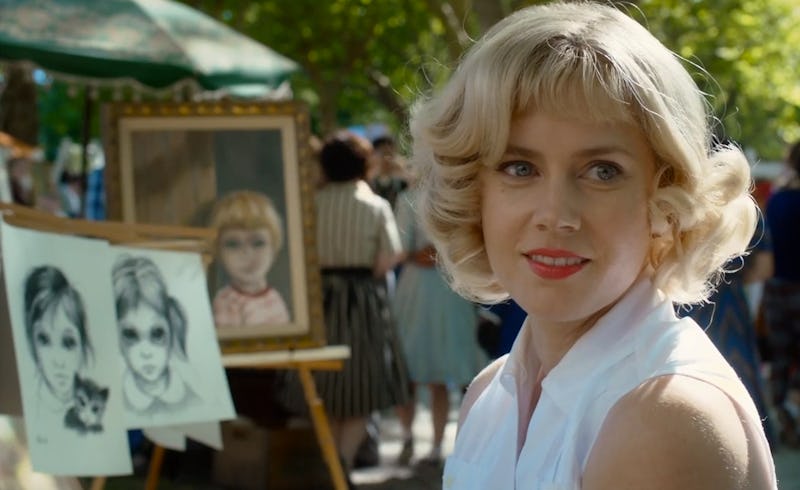 Let me be the first one to announce that Amy Adams utterly knocked it out of the park in Big Eyes. That is, if the film that will be released in December 2014 is even half as good as the trailer. Adams is playing the lead in five upcoming films that could make this a transformative year in her career (is it too early to coin the term Adamnaisance?) and Big Eyes is a biopic that is backed by the notoriously Oscar-baity Weinstein Company and directed by Tim Burton. This could be it for her, come next Oscar season. The first trailer for Big Eyes was released on Thursday and it's a masterful look at a very unique marital problem.
Adams stars as the lead character, Margaret Keane, an artist who paints signature portraits of people with the titular big eyes. It follows the story of Margaret as she fights her husband for the recognition for her work, after they built their lifestyle off of him taking credit for her paintings in a time when a male artist would naturally get more attention than a female artist. Adams really shines as the reserved but passionate Margaret, whose rising discomfort with how easily her husband lies to everyone, including her daughter, and desire to be praised for her hard work really builds over the course of the trailer until you realize that she has no option but to fight Walter for the right to put her name on her own paintings. Her character wouldn't allow for anything less.
The film will also star Christoph Waltz as Walter, as well as Jason Schwartzman, Krysten Ritter, Danny Huston and Terence Stamp. Adams has been nominated for an Academy Award five times and Big Eyes is a strong candidate to get her a sixth nomination and possibly even her first win. It's haunting and intriguing, complex and emotional, and Adams' acting is superb in just a two minute clip.
Check out the trailer below.
Image: Yahoo!