The Pros and Cons of a 'Fashion Police' Return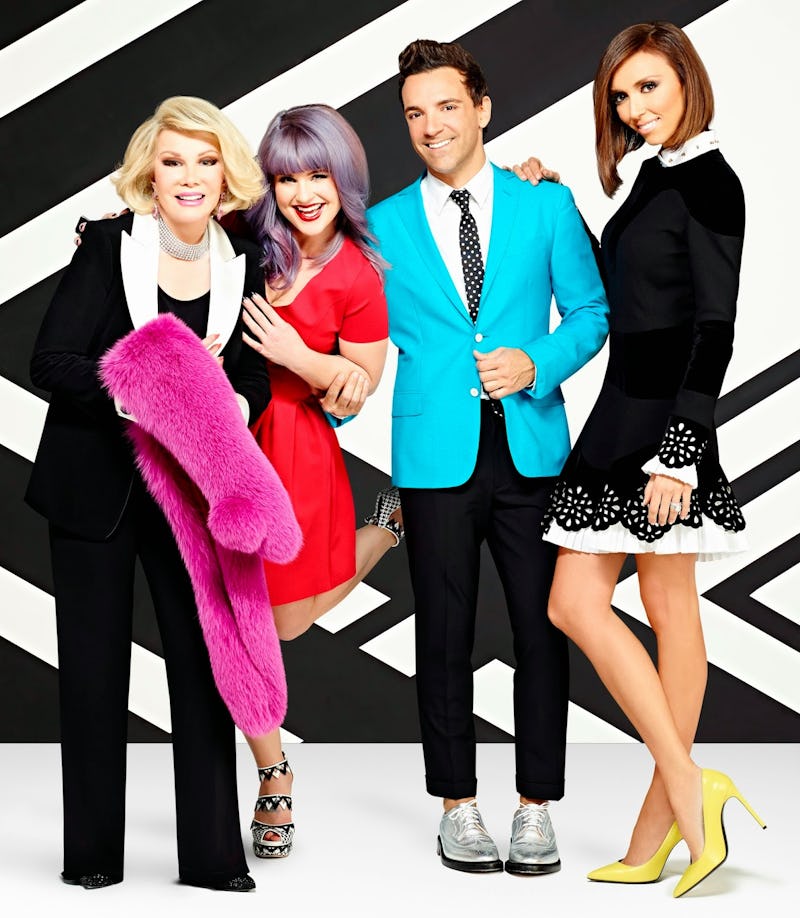 UPDATE: E! has announced Friday that Fashion Police will return without Joan Rivers. Said the network in a statement: "We have thought long and hard about what Joan would have wanted as it pertains to the future of Fashion Police. We decided, with Melissa Rivers' blessing, that Joan would have wanted the franchise to continue." The series will live on, but fans won't be able to see it for quite some time — E! also announced that Fashion Police would not resume on air until Jan. 12, the day after the Golden Globes.
EARLIER: Since the passing of comedic icon Joan Rivers on Sept. 4, many questions are still up in the air about the future of her projects. And one of those most notable projects is her honest panel show Fashion Police on E!. Rivers' daughter, Melissa, and the network have yet to make a decision about whether or not the show can or should continue without Rivers. And Fashion Police's panelists have some thoughts as well — co-host Giuliana Rancic recently opened up about Fashion Police 's future and the loss of her close friend.
Said Rancic in an interview with ABC News:
I had just seen Joan 48 hours before her procedure. We were taping the Emmy Fashion Police show and she was honestly better than ever and she even looked better than ever at 81.
She's hardly alone in thinking so. Since Rivers' passing, many of her close friends and colleagues have commented on her tireless work ethic, unmatched comedic style, and warmth. She may have been known for being brutally honest in her comedy, but, in life, it seems she was nothing but heart.
Of course, the conversation with Rancic segued into the topic of Fashion Police without Joan at the helm:
I still think she's going to walk through the door and yell, "Giuliana, get back to work." And it's hard to wrap my mind around never seeing her again ... A lot of [the decision] will be up to [Melissa] and how she's feeling and how she decides what she wants to do, along with the execs here at E! There is no word now — they are seeing what Fashion Police looks like without Joan.
What exactly would Fashion Police look like without Joan Rivers? It's hard to imagine, considering that it truly was her show. It's no easy decision and whatever Melissa decides will most assuredly be what is best for her family. Let's take a look at the pros and cons of the return of Fashion Police.
Pro: It's a way of honoring Joan Rivers' Work and Humor
According to Rancic, "A part of me is like, Joan would want Melissa and us and the team to go on and I know she would, but it's just a matter of can there be a show without Joan? Do we want to do a Fashion Police without Joan? I don't know." Though moving on without Joan Rivers would be a very difficult process, it was also a triumph of Rivers' career. The show could go on as a lasting tribute to the person who made it so popular with fans.
Con: it could capitalize on her death
On one hand, Fashion Police could lose viewers without Joan, but on the other hand, it could also have a lot of new viewers tuning in just to see what the show looks like without Joan. It sounds really ugly to say, but the whole tribute aspect also comes with a lot of dollar signs — and that's tackier than a terrible red carpet gown that Joan herself would tear to pieces.
Pro: It keeps more women front and center in television.
We already know there is a huge discrepancy between the visibility of men and women on television. Without any female late night talk show hosts after television lost Chelsea Lately , the landscape is even more bare. Fashion Police is a panel show lead mostly by women. If it were gone, then there's even less out work out there that is by women.
Con: The show just wouldn't be as funny
Though Rancic, Kelly Osbourne, and George Kotsiopoulos are all talented television personalities, Joan was the one true comedian on the show. She made Fashion Police funny and it's mostly why fans watched. Plenty of networks have their own red carpet hosts who can talk fashion, but E! had one of the most legendary stand-ups in the business. Without Joan Rivers, Fashion Police lost what made it special.
The bottom line: There's just no replacing Joan Rivers
No matter how Melissa Rivers and the network might try to restructure the show, nothing can fill the gap left by Joan Rivers. Thinking about the red carpet without her one-liners or tuning in to the post-Oscars best and worst and not seeing Rivers on-screen just doesn't sit well. The should couldn't even bring in a new co-host, as it would just feel as though it were trying to replace Joan. If they were to continue without her, the show would just feel empty. E! has yet to make a decision, but here's hoping whatever they do honors Rivers' work and her wishes.
Image: Getty Images (4), E!