Will Nucky Live On 'Boardwalk' Season 5?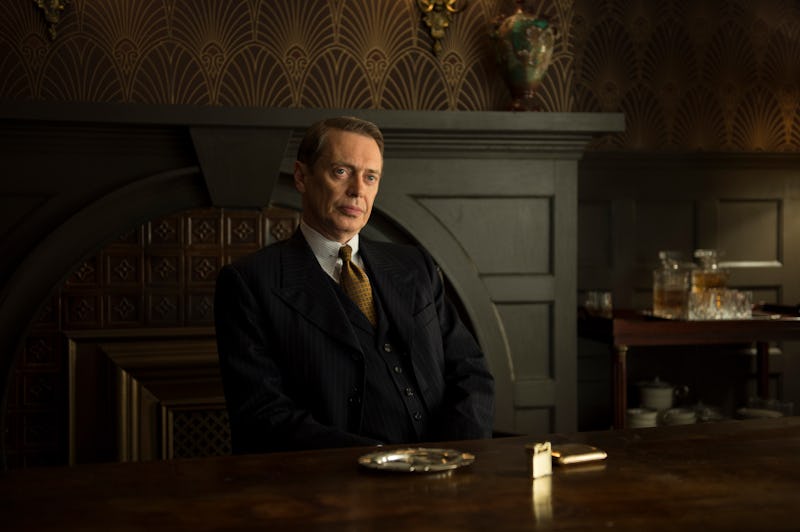 If we weren't sure from the past two episodes that Boardwalk Empire Season 5 was trying to tell us something, we are now. So far, each episode of the HBO drama's final season has shown us flashbacks of Nucky Thompson's childhood. At first, I thought it was an explanation as to how Nucky became the "crook" he is on the series — I mean, this could still be true. During last Sunday's episode, it seemed like the series might have been setting us up for Nucky to die by the end of Season 5 by redeeming him like Boardwalk did with Richard Harrow before his Season 4 finale death (RIP). But Sunday night's new episode of Boardwalk did something completely different — it suggested that Nucky might actually live.
Considering the fact that we still haven't forgotten the Sopranos' series finale and the fact that I'm still recovering from True Blood's series finale, I can't say I'm a fan of a show's main character dying at the series end. I get the symbolism — the story's over and so is his life — but I'm really pulling for HBO to do something better here with Nucky in Boardwalk's final season. And that they did on Sunday night.
During yet another flashback to Nucky's childhood — one that introduced us to Mabel, Nucky's first wife who'd died before the series began — Boardwalk introduced that idea that Nucky won't die when the series ends. While working on the beach, Nucky meets Mabel who quotes the bible to him, saying that, "Enoch walked with God and he was no more." And when Nucky asks her if she knows what they means, Mabel responds, "It means he didn't die." Of course, Nucky doesn't get it, but there are two important conclusions we can draw from this interaction.
First, the simplest conclusion, is that Nucky won't die when Boardwalk ends. I mean, it couldn't be spelled out more clearly than in the decision to include this flashback in Sunday night's episode. Yes, the introduction of Mabel is important, but the answer to the question of whether or not Nucky will die in Season 5 is a big one. And one that all Boardwalk fans absolutely care about. I know what you're thinking, that HBO wouldn't just throw this out there so early in the season. But I find it hard to believe that with Mabel's blunt and unprompted delivery of this idea is supposed to be a trick for viewers.
Second, and (I hope) less likely, it could still mean that Nucky will die by the season's final episode because of his inability to understand. Mabel says, "Maybe it's too hard for you," when Nucky continues to question her logic and the logic of the Bible. And maybe it is — maybe that's the final nail in the coffin that is Nucky's fate. It also seems like Nucky might be feeling too that his time is coming when at the end of the episode, he wakes up and mistakes Margaret, who's come to him for help, for Mabel. Is imagining your dead wife's presence a sign that you know your death is coming? It's definitely possible if Mabel's the one who put this idea into Nucky's head that he's invincible.
Boardwalk might be doing its best to remain coy about the fate of the series' main character, but Sunday night's episode seemed like a dead giveaway. At least, that's what it sounded like to me. Nucky apparently has God on his side, but can that stop HBO from giving him the axe?
Image: Macall B. Polay/HBO