Did He Just Win America's Favorite Houseguest?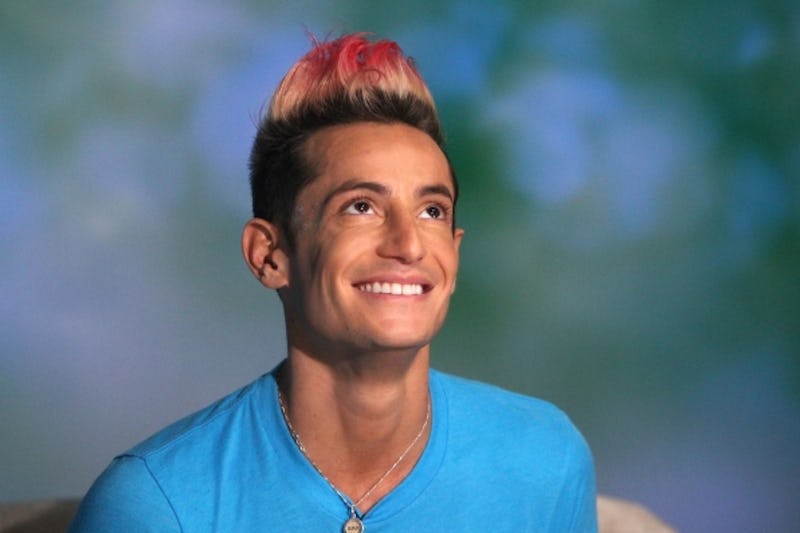 I knew this day would come. I mean, what kind of sister would Ariana Grande be if she didn't tweet out to vote for her brother Frankie Grande to win Big Brother 's America's Favorite Houseguest? Other family members of houseguests are tweeting for their loved ones to get America's vote, so isn't it fair that Frankie gets some love from his family? I'm not so sure about that. So when Ariana Grande tweeted out to vote for Frankie to win Big Brother's favorite award, I lost all hope that the award would actually go to someone who was America's favorite player this season, and not who had the most social media pull outside of the game. Because that's basically what this award has become, who has the most pull to get people to vote. Answer: A pop star with 18.8 million followers.
It's been a question for Big Brother fans for a long time, whether or not Ariana was going to tweet out to vote for Frankie. I, personally, am a little torn on the situation. Frankie is her brother, so it only seems fair that she should be able to show support for him like every other loved on of a Big Brother contestant. But at the same time, she should know that she has the power to completely influence the polls, and make it unfair for any other houseguest. There are a ton of Ariana Grande fans that do not watch Big Brother, which is totally fine, but when those fans start voting for Frankie because Ariana asked them to, it completely negates what the contest is actually for.
Let's look at the numbers:
Frankie for America's Favorite Houseguest
When I started writing this, the tweet only had 11,000 favorites, and it is only going to grow from here. With over 5,000 retweets and 12,000 favorites — not to mention how ever many people who are just following the link and not clicking "favorite" or "retweet" — Ariana's tweet about Frankie for America's Favorite Houseguest blows all other campaigns out of the water.
Zach for America's Favorite Houseguest
Zach, someone who established a huge fan following once he was inside the Big Brother house, isn't receiving nearly as much attention on his campaign tweet (most likely sent out by his mother or brother). Zach has been beating Frankie in fan favorite polls — which Ariana has not been tweeting out — for almost the entire game, so if Frankie does win this, after being dead last on Joker's Houseguest Ratings, it is obvious that social media had a huge roll in the votes.
Jocasta for America's Favorite Houseguest
So maybe Jocasta seems a little left field, but she is getting almost no love on the America's Favorite Houseguest campaign. 12 favorites and 2 retweets? I get more attention than that when I tweet about cheese! And while Jocasta probably won't win America's Favorite Houseguest — sorry, but there were far more entertaining houseguests than Mama J this season — this just shows that some people don't even stand a chance when compared to the pull that Ariana Grande has with her fame.
I am hoping that there are more Big Brother fans voting than there are Ariana Grande fans voting. If Frankie wins because Big Brother fans vote for him to win, then so be it, but if he wins because Ariana Grande fans voted for him to win, then that is completely unjust.
Images: CBS