Teresa Skipped the Big 'RHONJ' Trip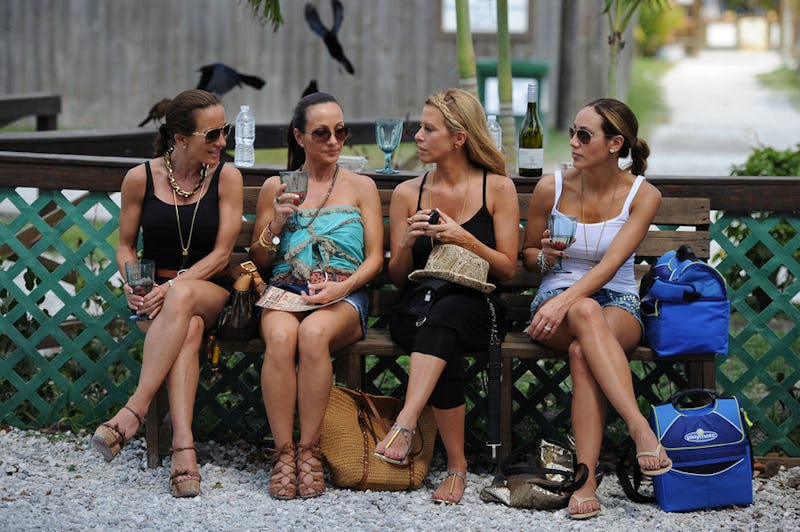 So far on this season of The Real Housewives of New Jersey, the 2013 polar vortex snowpocalypse has been terrorizing the ladies, who have all been forced into parkas when they would wear nothing but stilettos if they had their way (look no farther than Jacqueline wearing four-inch boots at a construction site). So they've decided to take a little break from the snow and ice and head to the beach in Florida for this year's RHONJ cast trip. But while Dina, Melissa, and the twins Teresa and Nicole could not get on a plane fast enough, and even Amber headed down after her doctor's appointment, Teresa Giudice wasn't able to attend, despite the whole trip being planned around distracting Tre from her tough legal situation. But Teresa wasn't able to attend because of those troubles, choosing to stay home in order to focus on her family.
Instead of relaxing by the pool and working on an even deeper tan, she's stuck back in Jersey looking at smaller houses for her family to move into and explaining what a bidet is to an embarrassed Gia. It's actually surprising to see Teresa, who's always been known to hang on to her insane, ostentatious mansion no matter what, be frank and honest about their need to downsize. She even managed to be polite about the idea of moving into a house half the size of her current one. Juxtaposed against her comments from earlier seasons about how icky moving into "someone else's" house would be, it seems like Teresa may actually have matured.
And now the Florida trip has taken a turn away from relaxation and towards more drama. After Victoria Gotti showed up a few episodes ago to drop one of the craziest rumors ever — that Teresa's husband, Rino, cheated on her with her mother — the story has been making his way through the ladies. Amber and Teresa heard it from the source, and just before the trip Teresa let it slip to Dina, who was forced to tell the twins that there was a rumor about them in a tense showdown, though Teresa Aprea wouldn't let Dina share the details of the secret. So while it seemed initially like Tre was missing out on the sun and sand… she may have lucked out by staying at home in the cold.
Image: Jeff Daly/Bravo