Zach's Jury Vote Isn't as Unpredictable as He Is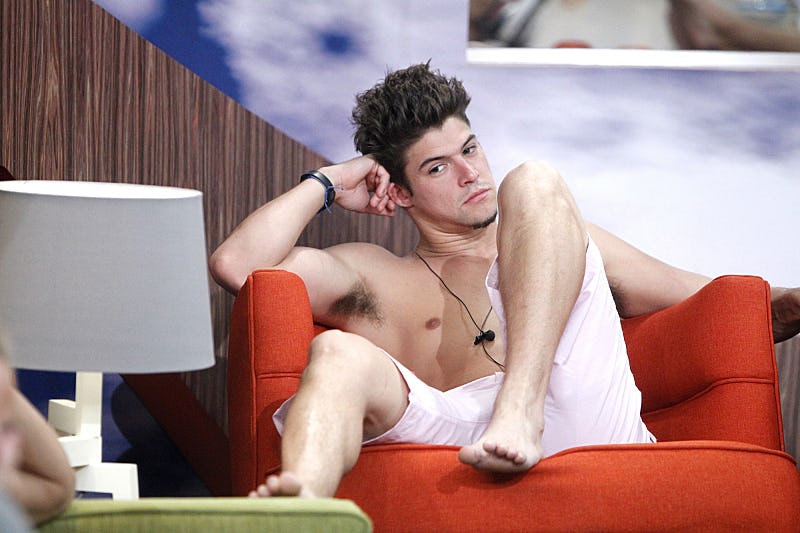 For someone who told his fellow houseguests that they "all suck" right before he left the Big Brother house, it might be difficult for jury member Zach to vote for someone to win the game during this season's finale on Wednesday, Sept. 24. Still, Zach has to vote for a houseguest. It's just not so clear as to who that houseguest will be.
Many of Zach's fellow houseguests have labeled him as the loose cannon of the group because of his unpredictability this season. Trying to figure out exactly what a "Froot Loop Dingus" is still keeps me up at night. The main reason Zach was voted out of the house was because no one ever knew where his head was at, and the same holds true for who will receive his vote on finale night. Zach is a mystery wrapped in an enigma, so who knows what he's thinking at this point.
Process of elimination will make things easier. We know Zach will definitely not vote for Victoria if she makes it to the final two. Ever since the pink hat incident when Zach and Victoria fought like siblings over the ownership of that hat Zach wore all season, the two have hated each other. Victoria also didn't do anything to clear the air before Zach was evicted from the Big Brother house, even showing him the hat she tore up as his parting gift. Nobody comes between Zach and his hat and gets away with it.
So that means Zach is definitely going to vote for either Cody or Derrick. It's tough to determine which one would receive Zach's vote if they make up the final two, since he was in an alliance with both of these houseguests until the end and he knows they both betrayed him to get him out of the house. Ultimately, I think Cody has a slight edge over Derrick here.
I think Zach respects Derrick as a person and a player. Zach is very into fairness, as we all saw when he flipped out fearing that Frankie playing for charity would give him an unfair advantage, so I'm sure the fact that Derrick has proven he is deserving of the title is a big draw for Zach. However, Zach is a very emotional person, and I think he will let his heart decide his vote instead of his brain.
Since that's the case, I think Cody has a better shot of snagging Zach's vote. Cody is one of the houseguests that Zach has been closest to, which makes perfect sense. They're both recent college graduates and a bit on the bro side. They seem to be drawn to the same women (Nicole) and men (Frankie). They even have a secret handshake! Sure, Zach could hold a grudge against Cody for being next to him on the block the week he got evicted, but the fact that Cody couldn't vote Zach out does help him slightly there.
And then when Zach votes for Cody to win Big Brother, the best bro-ship of these two dudes will be sealed. They should then go off and create the reality TV spinoff we all want to see, The Sweet Life of Zach and Cody. I see it as the two of them trying to make it as young 20-somethings in L.A. or something with appearances every now and then by Frankie and Christine. I think we would all be the real winners of Big Brother if that actually ended up happening.
Images: Sonja Flemming/CBS; nedskalantar, sawagrance, bbrambles/Tumblr