Cody Isn't a "Dumb Little Kid"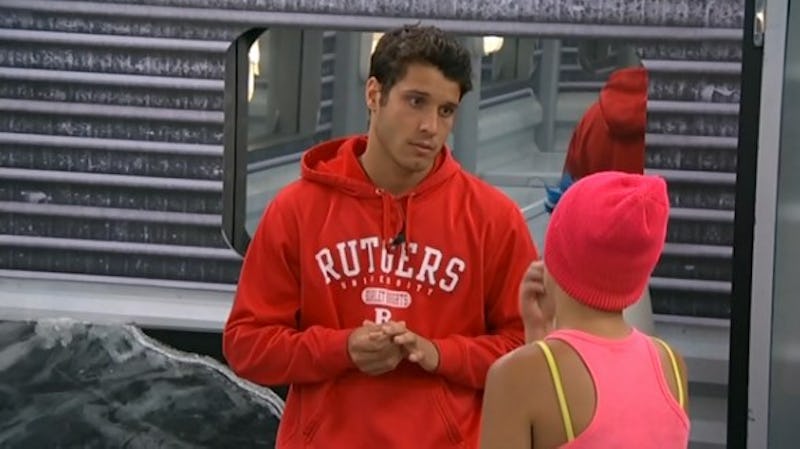 The best and the brightest people in the world don't always end up on reality TV shows. As much as Big Brother is a strategic game, the same definitely goes for this CBS reality show. We're allowed to judge the houseguests' intelligence from the comfort of our own home, but if you're actually living in the Big Brother house, you probably shouldn't insinuate that one of your fellow contestants is an idiot. Unfortunately, that's exactly what Donny did during Sunday night's episode of Big Brother. Cody had just won HoH for the week, and all of the houseguests were checking out his HoH Room and swag from home.
Usually, this is a prime time to make nice with the HoH and stroke his or her ego a bit. You've got to take every opportunity you can to escape being nominated for the week. Donny tried to use this moment to compliment Cody, but it turned out horribly, horribly wrong. "You're a genius," Donny told Cody. "Here I was all summer thinking you was some little dumb kid, and you're a genius."
Cody, along with everyone else in the room, immediately took offense to this statement, as they should have. Ouch, Donny. Who knew you had a burn like that in you?
Cody tried to defend his intelligence saying that he's a college graduate and earned a business degree. Of course this made me wonder what college Cody went to. Although his red Rutgers sweatshirt is his outfit of choice this summer, Cody actually graduated from Temple University in Philadelphia. Cody graduated just last year with a bachelors degree in Business Administration. He also played on the men's soccer team as a midfielder. Cody transferred to Temple from Monmouth University in West Long Branch, New Jersey, where he also played soccer. You've probably also seen him occasionally wear Temple gear on Big Brother.
Temple is a respectable academic institution, one whose graduates certainly aren't "dumb little kids," in Donny's words. But of course, just because you go to college doesn't make you smart in the way you need to be for Big Brother. I wouldn't call Cody "dumb" by any means, but I can't say he's the brightest Big Brother player either. He certainly has the brawn to win competitions, but I don't think he has the strategy down to make it all the way to the end. Derrick is pretty much the brains in The Hitmen operation, and Cody is going to have to do a lot to outsmart him.
Image: CBS