Is It Battle Rounds Time Yet?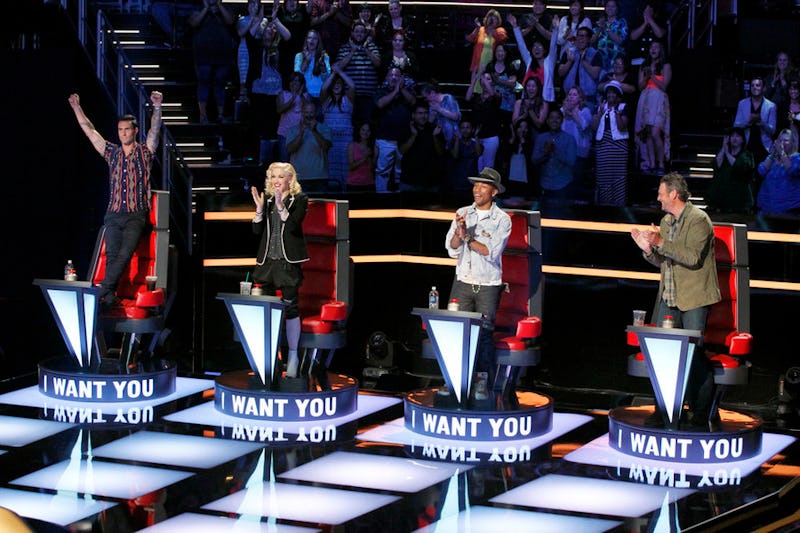 The last remaining reality singing competition that matters, NBC's The Voice , is back finally. Obviously, it's best known for the spinning red chairs, the buttons, and the rest of the unique bells and whistles in the audition process. And while watching Adam Levine flirt with Blake Shelton is pretty entertaining, it's also pretty similar every season. If you haven't been lucky enough to go to the NBC store to sit in one of the spinny chairs, I assure you, it is incredibly fun, but in my opinion, the show doesn't get truly interesting until The Voice gets into the battle rounds, with singers facing off in head-to-head competitions against their own teammates as their mentors are forced to make the tough decisions about who to keep and who to send home. Now, the important question is how long we have to wait for things to get interesting.
The blind auditions are all about the judges, and they have two new additions to the team. Gwen Stefani and Pharrell Williams are stepping in to replace Shakira and Usher after they stepped in to replace original judges Christina Aguilera and Cee Lo Green. Watching the auditions is all about guessing which judge is going to nab the most coveted singers and see what chemistry forms between them. And then, thankfully, comes the battle rounds.
The battle rounds are the reality sweet spot. They're at their most likable and heartbreaking, which is the perfect tone for a singing reality TV show to strike. And it's before NBC's The Voice machine gets to them and scrubs out their originality and personal style in hopes of appealing to the voters at home. Put a struggling waitress who supports her three brothers and sisters against a college dropout who overcame a childhood stutter both belting out "Ain't No Mountain High Enough" and I'm happy. (Until one of them gets sent home, and then I cry uncontrollably into my throw pillows.)
So if you're like me (and if you like The Voice, then you probably are), you'll have to wait about eight or 10 episodes until we get to the battle rounds, meaning we've got until the end of October. But, because NBC stacks episodes on top of one another, they're burning through two per week — one on Monday, one on Tuesday — and we'll be getting to The Voice battle rounds in just a month's worth of episodes. The auditions should be over and we should get some of that sweet singer vs. singer action by the week of October 27. So maybe don't make any plans that week, OK?
Image: Trae Patton/NBC; Giphy