He's More Than Just Dad to '19 Kids and Counting'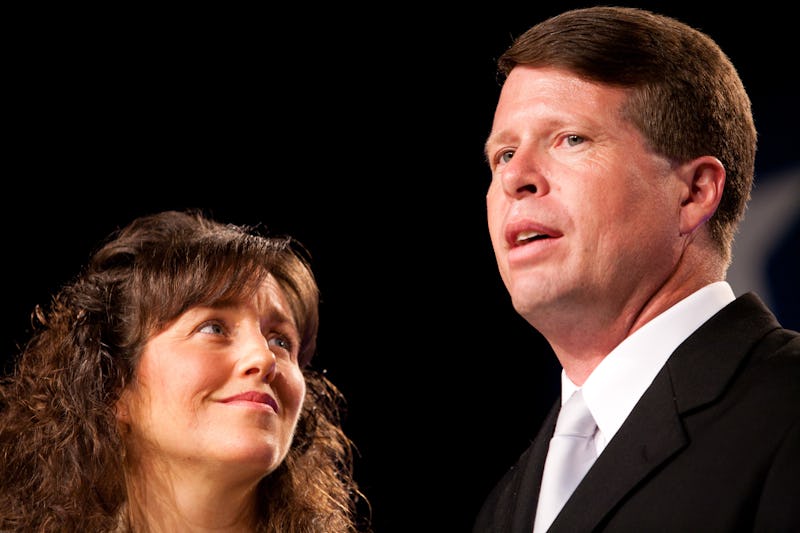 Brendan Hoffman/Getty Images Entertainment/Getty Images
It's time for another season of TLC's 19 Kids and Counting , and that means a few things: a big wedding, at least one pregnancy, a lot of kids running around, and, of course, trying to keep the various J names/ages straight. But with the younger Duggars starting to grow up and at times take over the show, we don't get to see their parents, Jim Bob and Michelle, as much anymore. Since the Duggars are literally all about patriarchy (though they identify as Independent Baptists, they are reportedly also part of a fringe conservative movement called Biblical or Christian Patriarchy), it makes sense to take a look at their patriarch, Jim Bob Duggar, and see what he does when the cameras are and aren't rolling.
Real Estate Developer
As a proud Christian Patriarch, he readily takes on the responsibility of being the breadwinner for all 21 members of his immediate family, which he does by building and renting commercial and residential real estate and practicing what he calls a "debt-free lifestyle," meaning they pay in cash for all of their investments, built their own house, own all of their vehicles outright, have no outstanding credit debt, etc. No hefty student loans in the Duggar household.
Author
Jim Bob and Michelle have written several books about raising children and explaining how their parenting philosophies tie into their religious ones. They even share tips about homeschooling and managing finances.
Former Arkansas State Representative
Before he got into real estate, Jim Bob was a member of the Arkansas House of Representatives between 1999-2002. He then mounted a 2002 campaign for the US Senate, but was defeated by another Republican candidate. His single-issue campaigning — he cared solely about making abortion illegal — may have turned off some voters, who expected a more experienced or well-rounded candidate. After losing the Senate bid, Jim Bob left politics to focus on real estate and raising his children.
Church Leader
According to an account online from an Arkansas woman who claims to have attended religious services with the Duggars, Jim Bob is also one the "elders" of their church. While the Duggars are very upfront with the fact that religion motivates just about everything they do, we don't often get the chance to see them interacting with other members of their church.
Grandfather
Now that his oldest children are starting to get married, Jim Bob and Michelle are grandparents. So far, they only have three grandkids — Mackynzie, Michael, and Marcus, all children of oldest son Josh, but now daughter Jill, who just got married this past summer, is also expecting. Considering it was just in 2009 that youngest daughter Josie was born, it seems like the Duggars will get their wish of always having babies and kids running around their 7,000 square foot house.
Images: DuggarFam, JoshDuggar/Instagram; TLC (2)