Janel and Val Are Already Playing Bride & Groom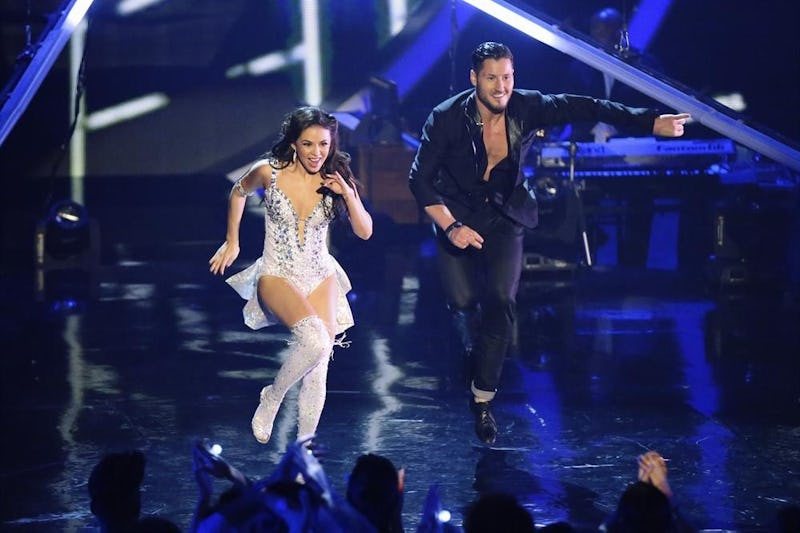 It may only be week two, but Janel Parrish & Val Chmerkovskiy have taken their "secret" romance to a whole new level. For their second dance together, Parrish donned a lacy white dress and Chmerkovskiy wore a crisp black suit and it looked like the couple was about to head down the aisle. For their part, they did avoid going over the top and dancing to a song like "Going to the Chapel of Love" or "Marry You" and instead opted for "Call Me Maybe" which is Janel Parrish's jam (the theme of the week). That song may have gone out of style two years ago, but Parrish and Chmerkovskiy were fresh as could be and foxtrotted their way to a 34 point score.
With their elegant costumes and a ballroom setting, it really did look like the pair was participating in their first dance as a married couple. Some have said that Val & Janel's relationship is all for show (since Parrish has a boyfriend), but even if that's true they're selling it so well that it feels natural.
It's going to be hard for others to compete with their chemistry. The pair is not only flawless on the stage, but even just chatting with the show's hosts they're all lovey-dovey. "I like the tough love," Parrish acknowledged of Chmerkovskiy's demanding teaching this week. For his part he said he pushes Parrish because she deserves to succeed. "It's a lot of work to put up with me," he said, giving Parrish a smile. Oh, you two. Stop it with your adorable witty banter and marriage attire.
Look, they even look stellar in this black and white pic, and what says happily married couple better than artful monochromatic pictures?
We may see through what they're doing, wedding outfits and all, but it's worked for them thus far. Really, there's no reason they shouldn't keep their showmance alive because fans are loving it — and loving them.
Image: Adam Taylor/ABC