Keeping Up with the Pritchetts Before Season 6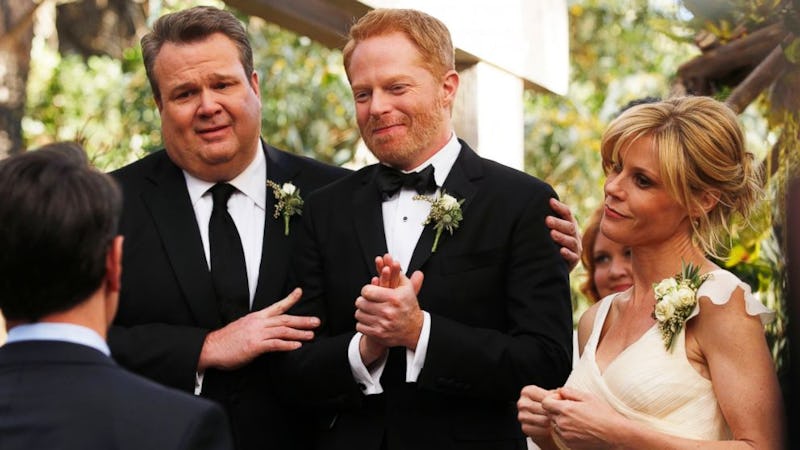 Even if it frustrates you that Modern Family won best comedy series at the Emmys (again) this year, there is something super appealing about the digestible and smart comedy. Now that it's in syndication, it's ridiculously easy to catch up on older episodes of the Pritchett clan, but what happened in Season 5 to get you ready for the Season 6 premiere on Wednesday night? With tons of guest stars, big life moments (Cameron and Mitchell got hitched!), and the teenagers growing up, Season 5 stuck to its winning familial format. Although the humor can sometimes be unbelievable or obvious (would Lily, Luke, and Manny really be able to come up with witty jokes that quickly?), I can't help but be amused at the antics of Modern Family.
The Pritchett-Delgados, the Dunphys, and the Tucker-Pritchetts are always there for each other (even through their sometimes super selfish behavior, which I find hilarious), and the show is always there for its audience. I don't think I've ever watched an episode and didn't laugh out loud at something someone said (I'm looking at you, Ty Burrell). And don't worry. Even during commercial breaks, Modern Family won't fail you as so many of the cast provide the voices for them.
As I watch myself slowly turning into Claire Dunphy (just a baby bit), I appreciate the portrayal of this dynamic group of people and sometimes wish I could be there for one of their family get-togethers. So let's get a recapping for the return of one of the funniest families on TV.
The Dunphy Women Found Success
Claire began working for her father Jay at his closet business in Season 5. Of course, her perfectionism and type A personality (and the fact that she's the owner's daughter) means she was obsessed with having her coworkers like her. But working with her father led to Claire finding some skeletons in the closet (literally and figuratively) and I enjoyed seeing the father and daughter bond. Haley had the more surprising story when the family finds out she is running a successful photo blog, as well as having her photographs (of the family — awww) for sale in an art gallery.
Adam DeVine Became a Nanny
Workaholics' Adam DeVine joined the group as Andy, baby Joe's caregiver. DeVine typically plays characters who are closer in maturity level to baby Joe's, but on Modern Family, DeVine is genuine, nerdy, and wears his heart on his sleeve. A far cry from the bad boys Haley is usually attracted to (sorry, Dylan!), she realized her feelings for him in the Season 5 finale. But words of wisdom from nerdy little sister Alex made Haley realize she shouldn't enter into anything with Andy unless she's sure that's what she wants. DeVine will be back for Modern Family in Season 6, so we should get more Andy-Haley action. Hopefully he can help her become more mature (although she did grow up a lot in Season 5), and she can teach him some lessons in being not so painfully awkward. (The Dunphy women sure do have a type.)
The Fam Went Down Under
On the family trip to Australia, Claire and Jay had a hard time giving up their work (seriously? Closets trump Australia in their world?), Phil got in touch with nature in his homeland (he was conceived there), and Cam and Mitch almost got to see Hugh Jackman in his bathing suit (thanks to New Zealander Rhys Darby — I miss you, Murray!). Although the family vacation premise dates back to the The Brady Bunch, Modern Family makes the old trope fresh.
The Kids Grew Up
Besides the actress change for Lily back in Season 3, the kids on the show have aged pretty gracefully from season to season. But Season 5 showed a big jump for Manny and Luke as they entered high school. Voices and bodies changed, and I just haven't been able to adjust to the older Manny and Luke, particularly when they spend time checking out topless women on the beach (we couldn't get a better story line than that for them in Australia?). Here's hoping Season 6 presents them with some better plots.
Phil Stole Gob's Thunder
TV comedies would have us believe that there's a magician in every group — Barney in How I Met Your Mother, Gob in Arrested Development, and Phil in Modern Family. Although Phil makes me laugh, the award for best TV magician hands down (and filled with dead doves) goes to Gob. In a very bizarrely similar story line to Arrested Development, Phil tried to showoff for a magician club in Las Vegas — and it was as star-studded as the AD magic episodes too. Patton Oswalt, Stephen Merchant, and Fred Armisen all guest starred in the episode and Phil unintentionally was able to impress the magician Ducky (Oswalt) with the help of Gloria.
Mitch & Cam Got Married
I love Cam and Mitchell so much, and even though their two-part wedding episode was fueled by a number of outrageous, unfortunate events (including Lily getting caught in the machine at the dry cleaners and a wild fire), Season 5 ended with the couple getting married. Jay helped them secure the locale of the beautiful country club, while Claire was the best person and Phil officiated (thankfully sans magic trick). Nathan Lane guest starred as Pepper again (and Elizabeth Banks' hilariously inappropriate Sal made a quick cameo too!) as their wedding planner and the more stressed out he got, the better Lane became. And Mitchell made amends over Jay's objections to gay marriage when his father walked him down the aisle. It was the perfect way to end the season.
Images: ABC; fymodernfamily (2), holden-caulfieldlings, modernfamily-abc, huntintrip, soopke (2)/Tumblr