15 Houseguests Who Deserve To Be All-Stars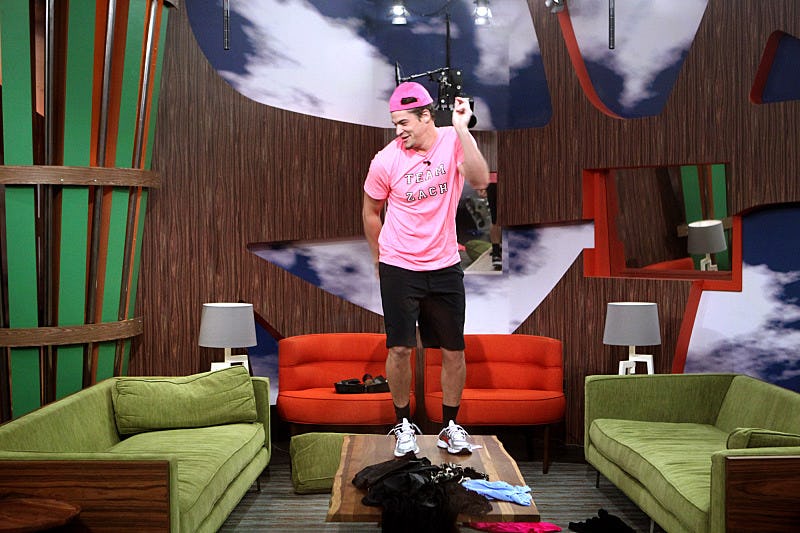 Another year, another season of Big Brother about to come to a close. That means it's time to look ahead to next season. And I am looking for some All-Stars. It's certainly not far-fetched to think that Big Brother would make Season 17 an All-Stars season. Since Season 17 will be exactly 10 seasons since Season 7's Big Brother All-Stars, it seems like the perfect time to bring back some of our favorite houseguests from the series to compete once again in the Big Brother house. It has also been two years since any Big Brother alumni have returned for a new season, so we're definitely overdue for some former houseguests crashing Season 17.
Many fans actually thought Season 16 was going to be an All-Stars season, or would at least bring back former houseguests to compete. Leading up to the premiere of Big Brother 16, there were plenty of clues, such as Janelle Pierzina from Seasons 6, 7, and 14 hinting that she was either pregnant or on Big Brother this summer (she was pregnant), recent photos of Big Brother alumni hanging out together, and CBS streaming the All-Stars season online for free right before this summer's premiere. Alas, as we all-know, this summer introduced all-new houseguests to the game.
The casting process for Big Brother 17 has just begun, so it's probably too early to tell who will actually make next season's cast. And since there is a casting process, that probably means the season will feature at least some new houseguests, unless the producers want to throw us off their scent completely. Julie Chen also told Entertainment Weekly on Tuesday that another All-Stars season isn't very likely, but that can't keep us from dreaming, can it?
I've put together a roster of the houseguests I think have a good chance of walking through those Big Brother doors once again based on who was memorable during their respective seasons and how viewers felt about them, since Season 7's All-Star cast seemed to follow those guidelines. Keeping in line with current seasons, this cast would probably feature eight men and eight women, 16 houseguests in total. I also didn't include any past winners as more of a preference on my part, because it's never as interesting when former winners try to go for the gold again. So without further ado, here are my predictions for another Big Brother All-Stars.
Monica – Season 2
Monica was one tough cookie, but she had a warm heart that helped her emerge as one of the most beloved houseguests in a season full of schemers.
Michael – Season 5
Jennifer, aaka "Nakomis," competed on the first Big Brother All-Stars, so why not have Michael, who she discovered was her half-brother on Season 5, compete in the next All-Star edition? Not only was he the runner-up of that season, but fans also loved the original Beast Mode Cowboy, so he's sure to be a crowd-pleaser once again.
Jen – Season 8
You probably remember Jen as the houseguest who cried over how she looked in her portrait on the Big Brother photo wall. Jen was also the first houseguest to be given the punishment of having to wear a leotard for a week, so wouldn't it be great to see how she handles the even crazier outfits houseguests have to wear as punishments these days?
Natalie – Season 9
Natalie was one of the most memorable houseguests from the terrible Season 9, but for the wrong reasons. Everyone remembers her for being oblivious to her assigned love match Matt's disaffection, which was probably pretty embarrassing for her to watch back. However, Natalie is currently pretty active on Twitter, so I feel like she'd come back to the spotlight if the Big Brother producers asked her to.
Memphis – Season 10
As an alliance partner and ultimately runner-up to Season 10's winner Dan, Memphis was a formidable opponent in the Big Brother house who is probably dying for a second chance at the $500,000 prize.
Lydia – Season 11
Lydia was odd, outspoken, and super-annoying, all ingredients for an entertaining Big Brother houseguest. She was also somewhat of a villain during Season 11 (she had a showmance with Jessie, after all), and we need a little bit of evil to return for an All-Star season.
Enzo – Season 12
Enzo was a member of The Brigade, which is one of the most successful alliances in Big Brother history. As an Italian-American Jersey dude, Enzo, aka "Meow Meow," basically caught the wave of reality TV becoming Jersey-fied, and won the hearts of many viewers in the process.
Matt – Season 12
Matt was also a member of The Brigade, although he wasn't as beloved as the other members because he lied and told the other houseguests that his wife had some rare disease in order to garner sympathy. Matt was a fierce competitor though, so there would never be a dull moment in the All-Star house with him in it.
Shelly – Season 13
There's usually one or two older houseguests every season, and Shelly would fill that role in an All-Star edition of Big Brother. Fans loved that she was the mother of the house during Season 13, anyway.
Lawon – Season 13
Lawon was outrageous and a snazzy dresser during Season 13. He was also the guy who asked the houseguests to evict him in the hope that he would somehow return to the house with "special powers." Maybe if he does return to the house, this time he will actually have them.
Frank – Season 14
Frank was a big personality during Season 14 of Big Brother, and he seems to be one of the more popular houseguests from that season, so I wouldn't be surprised if he became a Big Brother All-Star.
Danielle – Season 14
Danielle was a sweet, southern belle who was obsessed with her fellow houseguest Shane, even though he never really returned the love. She was pretty much Season 14's Caleb. Here's hoping she has a chance to return to the Big Brother house so she can actually try to win this time.
Amanda – Season 15
Amanda was also a very over-the-top houseguest during Season 15. She is perhaps best known for her showmance with McCrae and was also running the house… until she was evicted, that is. It'd be interesting to see what she does in the house with McCrae out of the picture.
Zach – Season 16
This suggestion needs no explanation. Zach is one of the most charming houseguests to walk through those Big Brother doors, and so many fans would be happy to have him on their TV screens again next summer.
Donny – Season 16
Donny is the other beloved houseguest from this current season. He's a shoe-in to win the America's Favorite Houseguest title, and if he doesn't get to be too big when he appears on The Bold and the Beautiful , I'm sure CBS would jump at the chance to have him back on Big Brother.
Images: CBS (16); kinneyobrien/Tumblr