What the Heck Happened Last Season?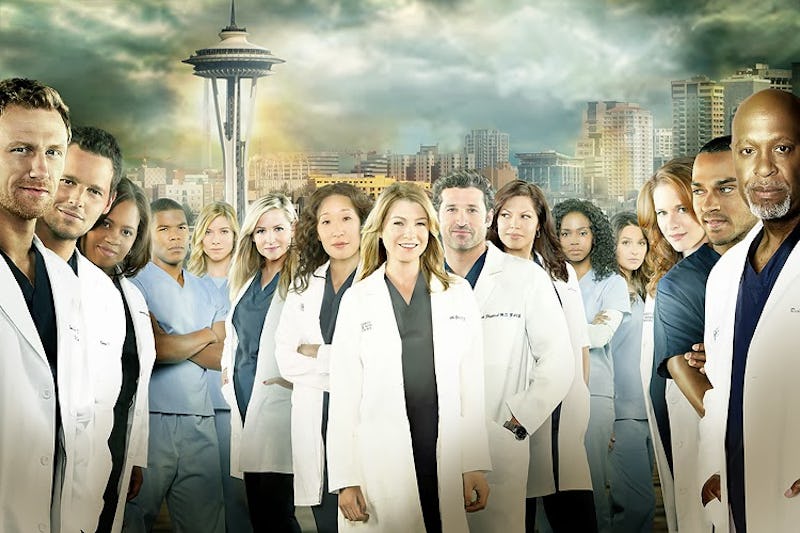 ABC's hugely popular medical soap Grey's Anatomy is about to enter its eleventh season — yes, eleventh. So much has happened to Meredith Grey and her colleagues over the past decade at Seattle Grace/Seattle Grace Mercy West/Grey Sloan Memorial Hospital: train crashes, ferry crashes, ambulance crashes, and plane crashes, not to mention serial killers, vengeful shooters, doctors getting cancer, and doctors getting hit by buses. So it's no shame to admit to needing a brief refresher course before diving headfirst into what's sure to be an equally tumultuous season 11.
Season 10 opened with a freak storm that inundated the hospital and ended with an explosion at a nearby shopping mall. In between we saw many deaths, some breakups, a wedding, and the departure of one of the show's most popular characters. Season 10 also contained the highest number of series regulars in the show's history, with 15 main cast members credited in all 24 episodes. That's a lot of stuff to keep track of. (Mercifully, the main cast is down to 13 for season 11 with the subtractions of Tessa Ferrer, Gaius Charles, and Sandra Oh, and the addition of Caterina Scorsone.)
So here's what went down last year on Grey's.
Meredith & Derek
Meredith Grey had quite the year juggling her demanding job as a surgeon with her research into portal veins, raising two children, being a wife, and clashing with her best friend. She spent much of the season fighting with Cristina, as their lives moved in very different directions (with Cristina more focused on her career and Meredith more on family); thankfully, she and her "person" patched things up at April's wedding. Meanwhile, Derek's youngest sister Amelia arrived in town when she freaked out after her boyfriend James proposed to her. She ended up liking Seattle so much she broke off her engagement, made her move permanent, and took an official job at Grey Sloan Memorial.
Derek and Callie teamed up for a trial in thought-controlled prosthetics, which the national government showed an interest in. When the president personally called to offer him a job in D.C., Derek showed absolutely no hesitation in moving to the capital, although Meredith was less enthused about leaving the town she grew up in. In the finale, Meredith made it very clear that she had no intention of leaving Seattle. This puts their marriage on the rocks going into season 11.
Cristina & Owen
Although Cristina and Owen broke up in season nine, they still continued to sleep together until they both agreed that a clean break would be better and they should start dating other people. But although Owen started seeing Dr. Emma Marling, Cristina remained single.
Cristina was nominated for a Harper Avery Award for her work on conduits, which she didn't end up winning. However, it was revealed that Cristina did in fact win the vote, but the award was not given to her because of Grey Sloan Memorial's association with the Avery family. Realizing that she would never succeed on her own merits in Seattle, she began looking for other options. When Preston Burke showed up to offer Cristina a spot at his cutting-edge facility in Zurich, Switzerland, the offer was too good to pass up. Cristina said goodbye to Owen and Meredith and left for Europe in the season 10 finale (after dancing it out with her "person" one last time, of course).
Callie & Arizona
These two have had quite the roller coaster ride the past few seasons, what with trips to Africa, affairs, plane crashes, and amputations. Like Cristina and Owen, this pair started season 10 having broken up, and Callie actually temporarily moved into Meredith and Derek's house to escape her crumbling marriage. While separated, Arizona had a brief fling with intern Leah Murphy.
Eventually, the couple was able to patch things up, mostly thanks to Callie's father revealing that he had once cheated on her mother, and Callie would never have existed if her mother hadn't taken him back. After they reunited, Callie and Arizona decided to have another baby together, but Callie was devastated to learn that she can't carry a child after the injuries from their car accident. In the finale, Callie and Arizona agreed to find a surrogate to have their new baby for them.
Alex & Jo
Alex deepened his relationship with Jo Wilson, although his world was rocked when his long-lost father showed up at Grey Sloan Memorial seeking treatment. Jo tries to get Alex to bond with his dad, although any opportunity is cut short when the man dies on the table under Shane Ross's knife.
Alex receives an offer to join a lucrative private practice, and after much deliberation, he decides to take it. However, his plans to leave Grey Sloan behind are scuppered when Cristina leaves him her shares of the hospital and her seat on the board after she departs for Switzerland.
April & Jackson
Despite being engaged to adorable paramedic Matthew, April was traumatized in the season nine finale when she thought Jackson died in an explosion. They continued their will-they-won't-they dance throughout the first half of season 10, right up until April and Matthew's wedding day. Jackson interrupted the marriage ceremony to finally declare his love for April, and the happy couple ran out of the chapel to everyone's bemusement.
April and Jackson eloped, and initially don't tell any of their coworkers until a new non-fraternization policy forced them to reveal it. After they got married, April and Jackson clashed over how they'll raise their children, given that she's so religious and he isn't. The discussions stopped being hypothetical when April revealed to her new husband that she's pregnant.
Webber & Bailey
Richard had a traumatic start to the season when he was electrocuted in the basement during the superstorm, a shock that also claimed the life of intern Heather Brooks. He had a long road to recovery, but was saved by Bailey and Meredith. He continued his relationship with Jackson's mother Catherine and even planned to propose to her, but an argument over the Harper Avery Foundation's snub of Cristina caused him to change his mind. In the finale, he learned that new cardiothoracic surgeon Maggie Pierce was actually his own illegitimate child who Ellis Grey had given up for adoption many years earlier.
Bailey developed a severe case of OCD after learning that she may have been responsible for spreading an infection. Her struggles with her new illness was only exacerbated when she learned that her husband Ben had dropped out of medical school. Eventually, Bailey starts taking medication for her disease and Ben resumes his internship at Grey Sloan. In the finale, Webber nominated Bailey for Dr. Yang's vacant seat on the board, not knowing that Cristina had intended to leave it to Alex.
Leah, Shane, & Stephanie
Leah slept with Arizona while she was separated from Callie and developed feelings for her superior. When Arizona got back together with her wife, Leah felt rebuffed and filed a complaint, which led to the institution of the non-fraternization policy. Toward the end of the season, she was fired and Webber told her that while surgery wasn't the right fit for her, she still had the makings of a good doctor. She stuck around to help out during the bomb scare, but that was the last we'll see of Dr. Murphy.
Shane had a hard year; he felt responsible for the death of Heather when he sent her to the basement to check on Webber during the storm instead of going himself. This fateful decision continued to haunt him, and he had a flashback while operating on Alex's dad, leading to the man's death. Shane was further disheartened when he learned that his mentor, Cristina, was leaving the hospital, until he decided to seize the opportunity and go to Switzerland with her.
Stephanie was shocked to find herself dumped when her boyfriend stood up during a wedding to profess his love to the bride. Bailey pulled her out of her funk by letting her help on a tough case involving a boy who had to live in a bubble. Bailey ended up giving the patient a dangerous drug (a deactivated form of HIV) against the parents' wishes; they were furious and threatened to sue the hospital. Fortunately the drug worked, and Stephanie was able to convince the parents to drop the charges by claiming responsibility for the "mix-up," leading to her being suspended.
And there you have it! You're all caught up for the season 11 premiere, titled "I Must Have Lost It On The Wind," airing this Thursday at 8 p.m. ET as the first hour in ABC's newly-minted Shonda-themed Thursdays, followed by the premieres of Scandal and How To Get Away With Murder.
Images: ABC (8)