Proof That TV Is Trying To Melt Your Brain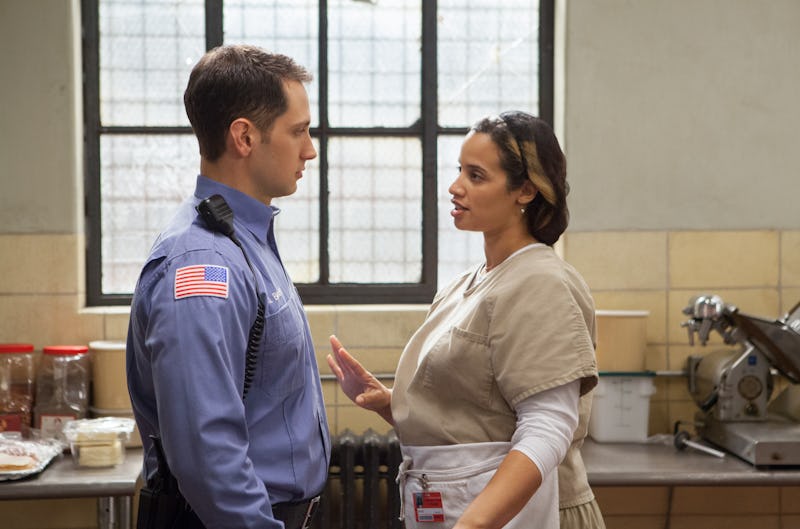 You may know him as Officer Bennett from Netflix's hit prison drama (scratch that, comedy) Orange Is The New Black , but Matt McGorry will soon be going from upholder of the law to possible felon when Shonda Rhimes teaches him How To Get Away With Murder . The 28-year-old actor is one of the stars of ABC's hotly-anticipated new drama from Shondaland — McGorry plays Asher Millstone, a student in Annalise Keating's criminal law class who is described as being "born into a world of Ivy League educations and country club memberships. To his classmates, he's an entitled, uber-prepared know-it-all, but Annalise knows something about Asher that will surprise the rest of the students — and end up making him a pivotal member of the firm."
The upper-crust Asher sounds like just about the complete opposite from the blue collar hunk McGorry is most famous for portraying. I can't wait to see the new role stretch his talents, especially since we haven't yet gotten the chance to see him in much else other than OITNB — the Manhattan native had a career as a competitive bodybuilder before only recently breaking into television in 2011. So where else might you have seen him?
You probably haven't seen him on the big screen.
Other than a handful of short films and a made-for-TV movie, the only feature-length movies on McGorry's resume are two little-seen independent efforts: 2006's Thursday, in which he portrayed a young hit man, and 2010's Afghan Hound, a war drama.
He's Good For a Game Of Where's Waldo?: TV Edition
If you have keen eyes and a good memory for faces, you might have seen McGorry pop up for a few seconds in some of your favorite shows. His first part on the small screen was an uncredited role in three episodes of ABC's daytime soap One Life To Live as "Spider Man." Yes, really. He's also played not one, but two EMTs: once in a Season 1 episode of CBS's Person Of Interest and again in a Season 4 episode of USA's Royal Pains. He also played Officer Sam Klecko in a Season 1 episode of CBS's Elementary. His one guest starring role outside of emergency personnel was in a Season 5 episode of The CW's Gossip Girl, where he played — I kid you not — a "Personal Shopper."
He's definitely made you laugh online.
Chances are, if you've seen McGorry anywhere other than OITNB, it's been on College Humor, where he's participated in 11 different shorts. His roles range from the usual suspects (SWAT, Corporal, Major Mitchell) to the downright bizarre (Pencil Beard Santa, Photoshop Devin, Red Hot Chili Peppers). And then there's the time he cameoed as a S.H.I.E.L.D. Agent in Nick Fury In Other Movies (above).
And He Hangs Out At the Litchfield Correctional Facility, of course.
As you probably know, McGorry's breakout role came just last year with the first season of Orange Is The New Black, where he plays Officer Bennett, a one-legged war veteran-turned-prison guard who has a forbidden relationship with inmate Daya Diaz (whom he unintentionally impregnates). His success on that show led directly to his involvement with HTGAWM: he was actually the first series regular to be cast on the show — on a list of ten. Not bad for somebody who's now on a roster alongside several TV veterans, a Harry Potter alum, and a two-time Academy Award nominee.
Oh, and sometimes he douses himself in ice water.
Yep. That's a video of McGorry and his HTGAWM cast mates completing the ALS Ice Bucket challenge. So he's basically as cool as Benedict Cumberbatch, right?
Images: K.C. Bailey/Netflix; Emerson Independent Video; CBS; Jill Greenberg/Netflix