How Do You 'Get Away With Murder,' Exactly?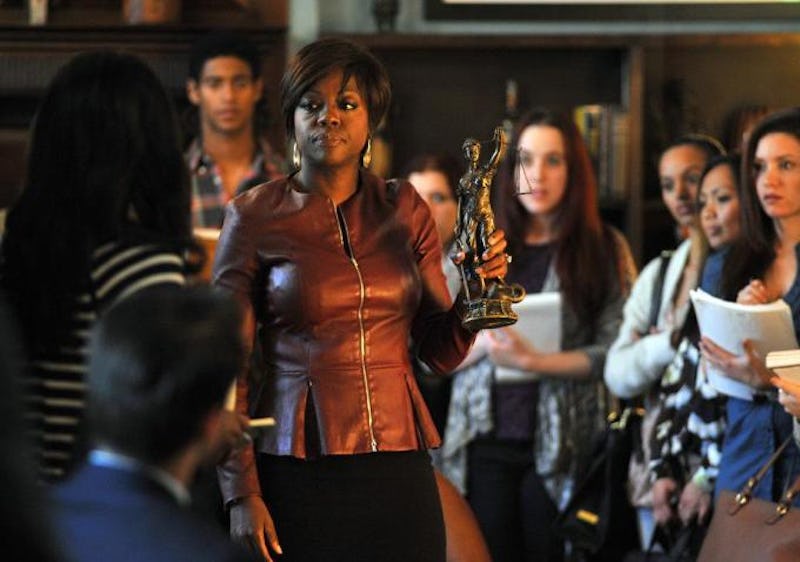 Thursdays should be rebranded "Shondays," because this fall on ABC, every Thursday night will be a marathon of addictive shows created by television juggernaut Shonda Rhimes. Rhimes' newest series, How to Get Away With Murder , is about to join the #TGIT fray.
The evening will kick off at 8 p.m. ET with the eleventh season of Grey's Anatomy, continue at 9 p.m. with the fourth season of Scandal, and then culminate at 10 p.m. with the premiere of How To Get Away With Murder. Fans of Grey's and Scandal (as well as Private Practice and, yes, even the short-lived Off The Map) are undoubtedly ecstatic to see a new Rhimes production on the airwaves, because we all know exactly what we're getting: instantly iconic characters, fast-paced dialogue, and soapy plot twists, all mixed up with a healthy dose of sex and death. But where Grey's focuses on medicine and Scandal on politics, HTGAWM (or is it just Murder?) focuses on the law... and (say it with me while twirling your mustache) murrrrrderrr.
But what exactly is the new series about, other than the titular felony? I'll let ABC's official description get us started:
The brilliant, charismatic and seductive Professor Annalise Keating gets entangled with four law students from her class "How to Get Away with Murder." Little do they know that they will have to apply what they learned to real life, in this masterful, sexy, suspense-driven legal thriller.
Two-time Academy award nominee Viola Davis (The Help, Doubt) stars as Professor Keating. A movie star coming to television to portray a morally ambiguous lawyer reminds me a lot of Glenn Close's terrific, Emmy-nominated performance as Patty Hewes on FX's Damages — hopefully HTGAWM will provide the extremely talented Davis with equally award-worthy material.
But Davis' won't be the only face you recognize when you tune into the series premiere this September. The cast is filled with mostly young, fresh faces playing Professor Keating's eager students, but some of them are bound to look familiar.
There's Alfred Enoch as Wes, our relatable everyman: most viewers will likely recognize him as Harry Potter's classmate (and Ginny Weasley's ex-boyfriend) Dean Thomas. There's Katie Findlay as Rebecca, Wes' goth neighbor: this is hardly her first time at the murder rodeo, having portrayed the slain Rosie Larsen on AMC's The Killing for two seasons. There's Jack Falahee as the handsome but manipulative Connor: he's had plenty of practice at both those adjectives on ABC Family's Twisted . There's Aja Naomi King as the overachieving Michaela: she's portrayed a hardworking student before, on The CW's Emily Owens, M.D. And there's Matt McGorry as comedic relief Asher: you probably know him as the ridiculously crushable Bennett from Orange Is The New Black .
Not many reviews have popped up about HTGAWM yet, as the series doesn't premiere until late September. But TVLine posted their first impression of the show, and — great news for Rhimes fans — they described it as "very much in the style of Scandal, boasting a slick look, a crackling zip to the storytelling and an occasional darkness to the narrative." However, they also warn us that, "this pilot demands your attention — the story abruptly toggles between timelines and it will take some time to get the assorted telegenic kiddies straight, so if you're the type to zone out after the 140th character of a tweet (or article), this is not for you." Uh oh. Will that spell trouble for the twitter-addicted viewers that are Rhimes' typical fans? Hopefully not, because the show sounds pretty damn addicting.
I don't know about you, but I can't wait to get obsessed. How To Get Away With Murder premieres Thursday, September 25 at 10 p.m. ET. Until then, just do what I do and tide yourselves over by watching this trailer over and over on a loop:
Images: Nicole Rivelli/ABC; Craig Sjodin/ABC; Getty Images