8 Insane Cookbooks That Just Shouldn't Exist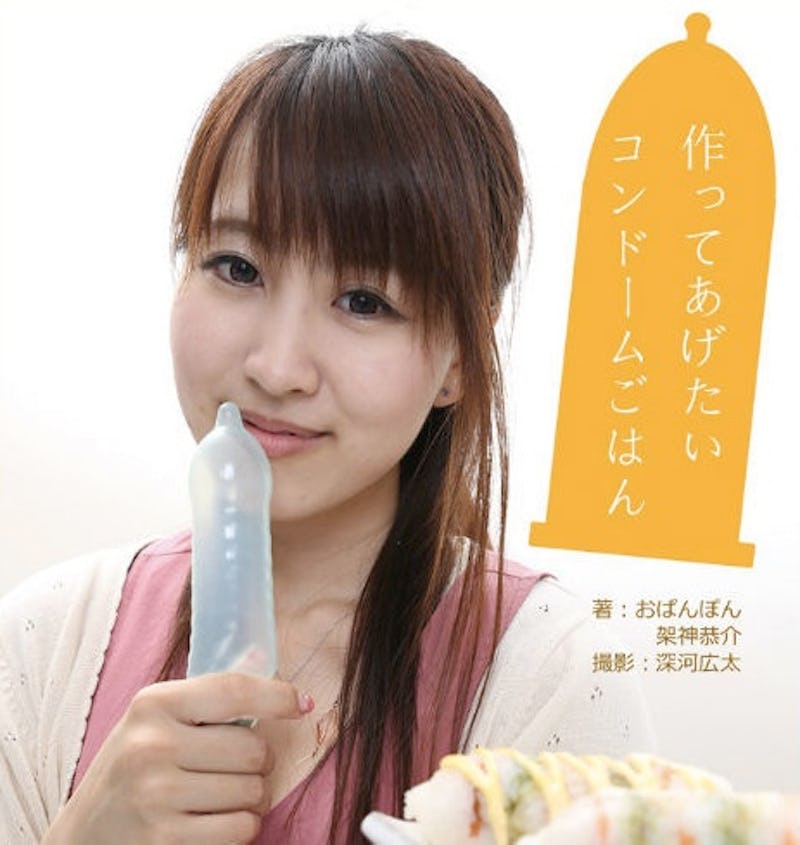 The first thing I think when a condom is presented is generally, "Hmmm, I wonder if I could make pot stickers out of that?" The second thought is "Yay, now I'm going to get laid! But seriously, can I make pot stickers out of that?" Now I can wonder no more, because this genius ebook for cooking with condoms exists.
There's something a little bit castrating and Teeth-y about it, and I'm not sure I'm sold on the digestive qualities of latex, but at least we know now for sure that whatever the mind can conceive, some super kawaii girls will achieve, regardless of whether the world needed them to or not. But it's not just Japanese condom cookbooks that are wildly unnecessary and bizarre. It turns out that "eat or be eaten" is an idiom that applies widely across various culinary "genres."
So in celebration of all things that exist but really don't need to exist, here is the condom cookbook and seven other cookbooks that have no business being published:
I took the liberty of letting Chrome translate the Amazon page for the book on my behalf (because I don't read Japanese), and the title translates (quite loosely, I assume) to "Condom rice I want to make." By the looks of it, this book will teach you how to put more that just a dick into your rubbers; you can make all manner of phallic foods, including sausages and rice paper/condom rolls.
But you don't need to take my word for it. Here's the translated Introduction from Amazon:
"[sic] Boyfriend! But would come to us out of a sudden, what. Trying and ingredients of the hind tit only condom Yo ★ is in the fridge " everyone this situation to experience at least once if Maiden in Love! Condom Recipes gem change to chance such a pinch is now available.Condoms have been popular as cookware third then pan, skillet. Using a condom is always of anywhere in your home, let's challenge your cooking easy. Condom Tokoroten over condom ice chocolate sauceescargot butter grilled condom condom curry pilaf condom cookies condom fruit parfait sushi of condom condom Amazake condom dance-of-eating whitebait stuffed with meat condom condom sukiyaki."
Proving that a true gangsta's paradise is one in which frugality prevails, Coolio, against all the odds suggesting that he isn't qualified to or shouldn't, for the love of God, release a cookbook, released a cookbook to promote Champagne meals on a beer budget. I almost don't even care what recipes are in this cookbook because the cover — featuring Coolio flipping the most crudely Photoshopped eggs with one hand and spinning an equally terribly Photoshopped record with the other — is too incredible for words. Looks like Coolio does know what's cooking after all: He calls his particular style of cuisine "Ghetto Gourmet." There's apparently a chapter in here called "How To Become A Kitchen Pimp" and new cooking fusions like "Blasian (Black Asian)" and "Ghettalian (Ghetto Italian)." His words, not mine.
And here we were swallowing semen plain, like a bunch of dumb jerks, when we could have been cooking with it the entire time! This one goes hand in glove with the condom cookbook. Now you can use all the cast -offs from your sex life in the kitchen with your new bedroom/eating philosophy: waste not, want not. My favorite part of the blurb on this cookbook is, "Semen is inexpensive to produce and is commonly available in many, if not most, homes and restaurants." Every man in the world just became a walking fridge. Thanks for the free condiment, fellas.
Like all pick-up "bibles," there's something about this cookbook's blurb this that just screams "How To Lace A Woman's Food With Date Rape Drugs":
Tired of dates that leave you with nothing but a $150 dinner tab, a doggy bag, and blue balls? Enter Cook to Bang, a guide to wining, dining, and sixty-nining for cooks who don't know their asparagus from their elbows. It offers a history of Cook to Bang seduction throughout the ages, tips for setting the bait, the best menu for each "sexual profile," methods for creating a sexy-time vibe, and a game plan for how to make your move. Born from the popular Web site, Cook to Bang is an everyman's guide to cooking your way into your date's bed.
Because romance is definitely about baiting, game-planning, and ultimately weaseling your way into sex. And you thought chivalry was dead.
And this is the antidote cookbook for the woman who was subjected to a date with a guy that used "Cook to Bang," I suppose.
You know what I've never thought to myself? "Damn, this car engine would make a fine oven." But apparently, there are people who have thought this, and thought it so vehemently, they went an dedicated a whole book to cooking under the hood. The premise is that diner and store-bought food while you're on the road is absolutely vile, and that cooking things directly on your car's greasy engine is a much better alternative to the heathen act of eating food cooked in an actual kitchen. The official byline is, "Learn how to make s'mores in your Scion, poach fish in your Pontiac, even bust out a gourmet snack from under the hood of your Escalade."
Kind of makes cooking with semen seem less insane, doesn't it? Surprisingly, this has sold over 225,000 copies. Makes you wonder how well you know the people inviting you to dinner parties.
I never thought eating poorly and being unhealthily overweight was difficult. I mean, it's pretty easy to just gorge yourself on junky food because that's the best tasting kind of food. Apparently though, some people need instruction on how to be as gross as possible with their eating habits. Enter cookbook author Buster Parish, whose credentials include the passtime of "shovelling" food into his mouth and aphorisms like "Six-pack? Who wants one of those when you can have the whole barrel?!"
Images: Amazon(8)