What Your Favorite Halloween Candy Says About You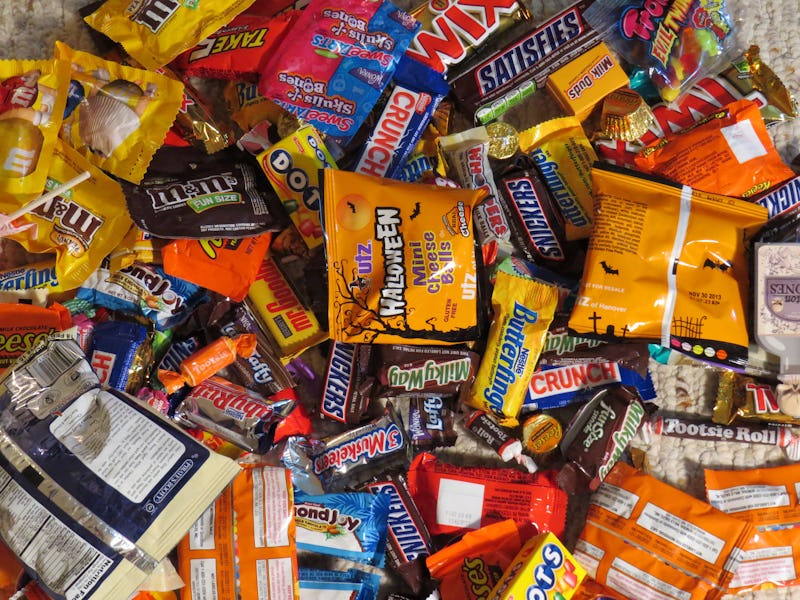 Target has already transformed most of its stores into spooky, orange-and-purple-glitter wonderlands, so basically that means it's Halloween, whether you're ready for it or not. And why shouldn't you be ready? Aisles on aisles on aisles of your favorite Halloween candy all proudly on display — it's just glorious. Halloween is the best time of year for us candy fiends, who will use just about any excuse to stuff chocolates and chewies into our face-holes with reckless abandon. For an entire month, stocking up on fun-size candies definitely constitutes as a necessity, and eating all the candy we want in the name of Halloween is a given.
I think it's fair to say that the majority of us can't resist the sweet temptation of a beautiful cluster of chocolate, a bag of sour morsels, or a handful of colorful gummy worms, but isn't it totally true that some candy speaks to us more than others? There's always a candy we connect with on a very spiritual level, a candy that comforts us in times of need and turmoil, a candy that will remind us that it's always there for us if we need it. So that got me thinking…. What does your favorite Halloween treat say about you? Does liking Skittles mean you're more outgoing? Does gnawing on a gum ball mean you're the most patient person in the entire world? After some very careful thought and consideration, here are some conclusions I drew:
Snickers
You are an extrovert who's willing to try most things, and you're definitely a crowd favorite. However, deep down at your sweet nougat core, you like things that are a little more traditional. When ordering a birthday cake, you ask for chocolate. You often shop at Express. When people ask if you like football, you lie and say yes because you don't feel like being excluded from anything.
Sour Skittles
In college, you went to a lot of raves, and you weren't embarrassed about your love for sequins and pasties. You listen to Kesha and Miley Cyrus, because duh. When you get your nails done, you always ask for the glittery accent nail, because that's your thang.
Charleston Chews
You have been frequently described as "an old soul." Your favorite movies include: Gone With the Wind, Some Like It Hot, and pretty much any Audrey Hepburn film. You probably don't have dentures, though.
Sugar-free Haribo Gummy Bears
You've never been known to turn down a dare. Once, when your cousins told you they would give you a dollar to eat kitty litter, you did, no questions asked. You kind of really like attention.
Hershey's Milk Chocolate
You're all about normcore and neutrals, and your favorite stores include Gap and Banana Republic. You've had a middle part since you were 7, and you can't ever imagine changing your hairstyle. Once, you wore a bright, chunky necklace, but it made you feel uncomfortable, so you took it off.
Reese's Peanut Butter Cups
You live life to the fullest. In fact, you probably have a tattoo that says "Live Life to the Fullest" on the inside of your wrist or your shoulder. It doesn't take much to melt away that hard chocolate exterior of yours to reveal your softer side. Although you've hitchhiked and traveled all over the country, your favorite place is still home. D'awww.
Take 5
You're impulsive. You can't decide whether you want McDonald's or Taco Bell for a late-night dinner. You can't even eat at Cheesecake Factory because all the choices freak you out.
Laffy Taffy
You wear pigtails often, and you own at least one pair of Hello Kitty PJs. You've invited your girlfriends over to make friendship bracelets once or twice. What? It's still just as fun as it was in the '90s. That being said, you're pretty flexible when it comes to having a good time.
Twizzlers
You become addicted to things really easily. Twitter, extreme couponing, you name it. You love fixations. You're big on smiling.
Blow Pops
In college, you lived and breathed sorority life. You love costume parties, and usually go with either Sexy Cat or Sexy Cop every single time. You're a bookworm at heart, though. Twilight and anything by Nicholas Sparks are your absolute faves!!
Almond Joys and Mounds
You're always up for trying new things. Beef tongue? Check. Chia seed pudding? Check. You're really close with your mom, and you've always wanted to go on a vacation to the Caribbean with her because a mother-daughter getaway just sounds like the most fun thing, ever.
Nerds
You don't really like people. Your ideal date would be ordering pizza and creeping on people you went to high school with on Facebook.
Heath Bars
You're very prim and proper, as though you were raised in a boarding school in the U.K. You love the classic "school girl" look, and idolized Posh Spice when you were younger. Sometimes when you say "toffee," you have a slight British accent.
Gobstoppers
You're incredibly patient. You've probably dyed your hair turquoise before, and you believed Willy Wonka was real until you were 14.
Images: Luke Jones; Mike Mozart, Ed Rhee, Raj Deut, iandeth /Flickr; Giphy (5)