Catch Up with Christy & Bonnie Before Season 2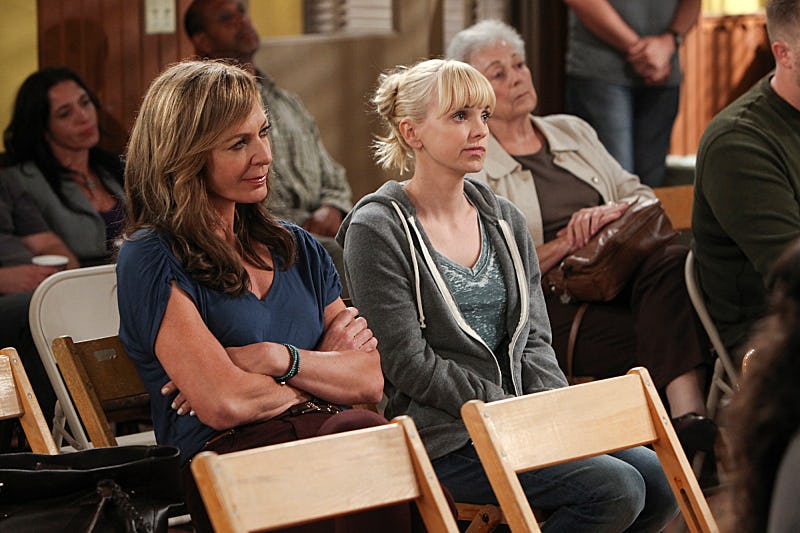 Major snaps for CBS. In a world where so many freshman sitcoms don't get a second chance at life (looking at you, Fox, for canceling the amazing Surviving Jack), CBS did the right thing and renewed Allison Janney and Anna Faris' sitcom Mom for another season. I watched Mom from the beginning and knew that there was something special about the female-driven comedy, and I'm glad that audiences (and the network) realized it as well. But what about those who haven't caught up on the multicam series? Don't worry, I have you covered with a Mom Season 1 recap.
Mom centers on Christy Plunkett (Faris), a single mother living in Napa Valley, Calif. Christy is a recovering alcoholic who regularly attends AA meetings. In the pilot episode, Christy stands up in her AA meeting and discusses the one person in her life whom she blames most for her problems — her mother, Bonnie (Janney). Bonnie also happens to be a recovering alcoholic and hears her daughter's speech at the AA meeting they are both attending, prompting a long-overdue reunion. Bonnie doesn't exactly receive the warmest welcome from her estranged daughter, but quickly proves that she isn't the same mother that disappointed Christy all those years ago — she's changed, and she's willing to keep doing it if it means reconnecting with her daughter.
Of course, newly sober Bonnie hasn't changed that much. She quickly befriends Violet (Sadie Calvano), Christy's daughter and Bonnie's granddaughter, with her "I'm a cool grandmom" attitude. That turns out to be a good thing, because — surprise! — teenage Violet is pregnant with her own baby. Violet and her stoner boyfriend Luke (Spencer Daniels) decide that they want to raise the baby themselves.
With her grandchild on the way, Christy is in over her head. For one thing, she's sleeping with the boss at her restaurant, Gabriel (Nate Corddry) and attempting to juggle parenting and working — not an easy task, given that she doesn't get much help from Baxter (Matt L. Jones), the father of her young son Roscoe (Blake Garrett Rosenthal), who is well-meaning but not exactly the "responsible type."
After breaking things off with Gabriel, Christy dates Adam but quickly learns that she isn't ready for a real relationship. (Bonnie, on the other hand, is more than comfortable having a fling.) Later in the series, Christy does develop feelings for another man, a hard-partying fireman named David. After letting his partying ways test her sobriety, Christy cuts David loose — well, after he cheats on her.
A major wedge in Christy and Bonnie's relationship was always the identity of Christy's father, whom Bonnie claims she never knew. Bonnie eventually reveals to Christy that this was a lie, and Christy finally meets her father Alvin (Kevin Pollack), whom her mother hid from her due to the fact that he left her shortly after Christy was born. Despite their initial tension, Bonnie and Alvin eventually reconcile — and, much to the excitement of Christy, start developing romantic feelings for one another.
Season 1 of Mom goes full circle with its season finale. Violet goes into labor and gives her baby up for adoption, after realizing that she has the ability to break the cycle of unready parents within her family. The three moms are a united front — ready to face all of the new challenges that Season 2 will bring.
Images: Monty Brinton (2), Adam Taylor/CBS; erinmoriarty/tumblr (3)