What Does the 'Revenge' Premiere Title Mean?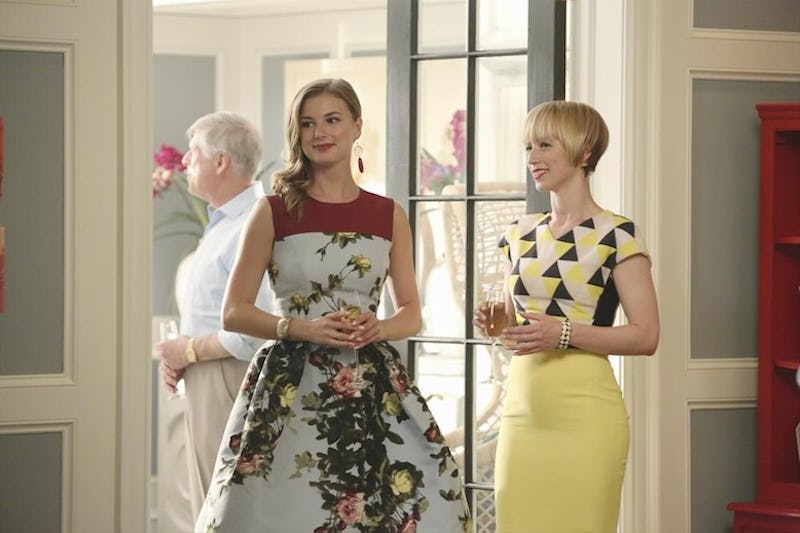 We're going back to the Hamptons, people, and in the Revenge Season 4 premiere on Sept. 28 things are going to be shaken up. Fans already learned that the series would switch its focus in the new season onto Victoria Grayson and her revenge plot against Emily Thorne for tearing apart her family and sending her to the loony bin. And with the Revenge premiere's title, "Renaissance," it's obvious that we're going to see a major shift in how Revenge will present itself and its storyline in Season 4. So, what exactly is in a name and what does the Season 4 premiere have in store for us?
According to TV Guide, the Revenge Season 4 premiere synopsis reveals, "In the fourth-season opener, Emily hosts a party full of surprises and Victoria tries to turn her misfortune into something beneficial. Meanwhile, David Clarke secretly plots his return." So, how does a cultural movement in Europe pertain to the events that will kick-off Revenge Season 4 in the Hamptons? It actually makes perfect sense.
Obviously "renaissance" pertains to the revival of the arts and culture in Europe between the 14th and 17th centuries that marked the transition from medieval into modern times — I know, you didn't need to be reminded about something you learned in middle school but humor me here. An alternative definition of the word, however, is "a renewal of life, vigor, interest, etc.; rebirth; revival." Which, when taking in the context of the episode's synopsis is fitting.
Because a renewal of vigor and life is exactly what's going to happen in the Season 4 premiere with all three of the characters mentioned in the premiere. As for Emily, she's relaunching herself as the mistress of Grayson Manor — she's moved in, she's renovated, and now she's ready to present herself to society as coming out of the other side of her marriage to Daniel and the ordeal with her monster-in-law, totally on top of the situation. Or, at least, she thinks she's on top of everything — it's probably safe to assume that Nolan's drunken antics and Charlotte's death wish from the latest Revenge Season 4 trailer will shake her up a bit.
As far as Victoria is concerned, her renaissance will come when she finally realizes where she is and how much power Emily has over her life. The Grayson matriarch will finally learn how to play the game and find the renewal of life and vigor that comes with having a renaissance — she's going to quickly realize, possibly after that phone call with Emily during which her former daughter-in-law reveals how Pascal actually died, that the only way to turn around her situation is to stop trying to defend herself. And we'll finally start to see the renaissance of Revenge itself as it goes through a "rebirth" of sorts and shifts its focus to Victoria's plotting and preparations to get out of the asylum and take Emily down.
Lastly, we have David Clarke — he might have laid low for awhile following his attack on Conrad. But he's back with a vengeance to continue his plan to wreak havoc on the Hamptons. Perhaps it's finally the right time for him to plot his return to Emily's life and his renaissance will be a renewal of interest in getting to the bottom of Emily's revenge plot and putting a stop to it before it's too late? Which would ultimately end up becoming a revival of the Clarke family.
So, Revenge Season 4 premiere's title absolutely means that we're going to be looking at a very different series in the upcoming season. Which is actually a pretty great thing, considering how slow and painful Season 3 was to watch. Revenge is coming back with a vengeance that's gunning hard for a Season 5 and to put those "Season 4 will be its last" rumors to rest.
Image: Danny Feld/ABC; Giphy