Can Janel & Val Win the Mirror Ball?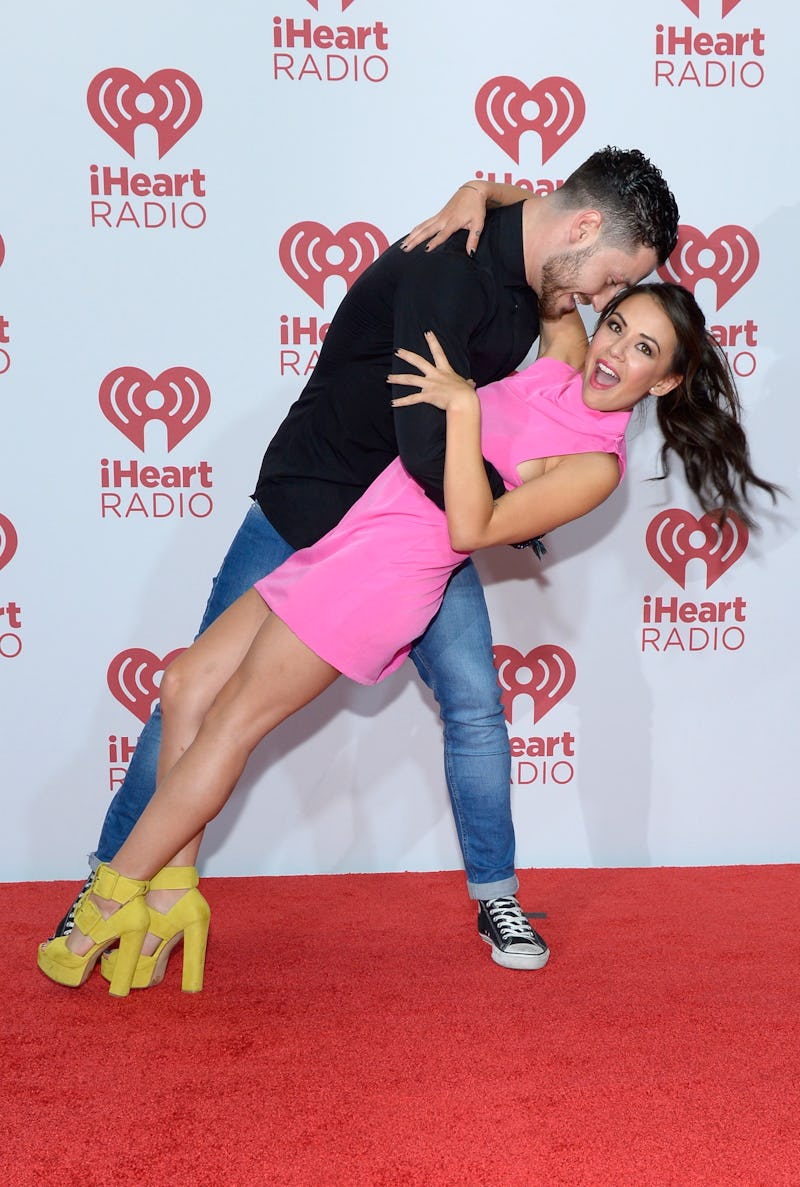 Bryan Steffy/Getty Images Entertainment/Getty Images
If you've been watching even an iota of Dancing With The Stars this season, you're aware that the DWTS couple to 'ship is Janel Parrish and Val Chmerkovskiy, after a mere two weeks the show. Then again when two hot, young things are paired up to do a bunch of sexy dances and wear pantsless and/or shirtless outfits, the questions are bound to arise. Especially when you remember that last season, Val's brother, Maks Chmerkovskiy and his partner Meryl Davis developed a chemistry that had this very site putting out multiple articles a week wondering if love was mingling with all the Aquanet in the air over at the DWTS studio. The people needed to know then and they need to know now!
But the difference between Maksyl (ahem, Meryl and Maks) and Janelskiy (ahem, Janel and Val) seems to be that the latter are encouraging of the rumors of their union — Janel & Val are posting couple-y Instagram photos, sharing kisses that go above and beyond the call of DWTS weird-touching, and generally saying things like, "I love that her and I have a natural chemistry about us and hopefully it will blossom into something awesome" — whereas the former rode their "shy soul mates" wave all the way to the Mirror Ball finish.
The discussion about Janel and Val two has become splintered almost immediately: Are they falling in love before out very eyes, are they faking it for the shipping status, or are they just two affectionate people cursed with the epic "love" of Maks and Meryl that preceded them? When the questions should really be, as with any popular DWTS duo: Can Janel and Val really take home the Mirror Ball at the end of all of this?
YES: Val deserves a win
Of the male pros on the show, no one has more experience, coupled with less wins than Val; that's six seasons and zero wins, to be exact. It's not even that six seasons is that long without a win — many have gone more before eventually getting their jazz hands on the Mirror Ball (we love you, Tony) — but that Val has come so close with no sparkly cigar: Third place with Kelly Monaco on his third spin around the DWTS dance floor, and second place with Zendaya in the very next season. Fans love Val, the timing seems ripe for a win in his seventh outing, and he's got a partner who can keep up.
YES: Janel is a great dancer
Janel is the perfect combination of having enough dance experience to already know the eight-count ropes and pick up choreography easily, without having so much experience that it feels like cheating. (I will never be over Nicole Scherzinger.) Sure, Janel played Young Cosette on Broadway, but there aren't exactly a lot of step-ball-changes in that roll, you feel me? So, it was quite the pleasant surprise when she stepped on the floor with Val nearly perfect on their first dance, though the judges scores didn't exactly reflect it. That means even if the chemistry is blinding, there's probably plenty of technique to work on, and once the improvement comes and the 10s start rolling in, so will the votes.
YES: They've got that sexy thang
Janel and Val have chemistry, there is no denying it. There is questioning it, there is doubting it, and there is rejecting it, but the connection is there. That chemistry has already helped them dance two great numbers, and will only continue to grow as they get to know each other and dance together more. People will want to watch that develop each week. Hopefully, the editors can lay off some of the more lovey dovey stuff and hit us with the subtler moment of friendship, a la Maks and Meryl. Give the people what they want: an emotional connection!
NO: They've got that #sexy thing
I want to give these two the benefit of the doubt that they're just friendly, affectionate kids with a pretty serious Instagram habit, but also, we get it. Pump the breaks on the subliminal messages; no one ever won friends (re: votes) by faking it... just ask MTV's Faking It. Even if they aren't, this makes it seem like they are.
The Verdict?
The yeses far outweigh the nos, surely, but Janel and Val might have to do some recon on how to best mark themselves as a team. They're plenty shippable, yes, but considering Janel definitely seems to have a boyfriend, that Mirror Ball trophy might be more easily attainable if Janel and Val just seem like a couple of really hot pals.
Images: Janel Parrish/Instagram (2); Val Chmerkovskiy/Instagram