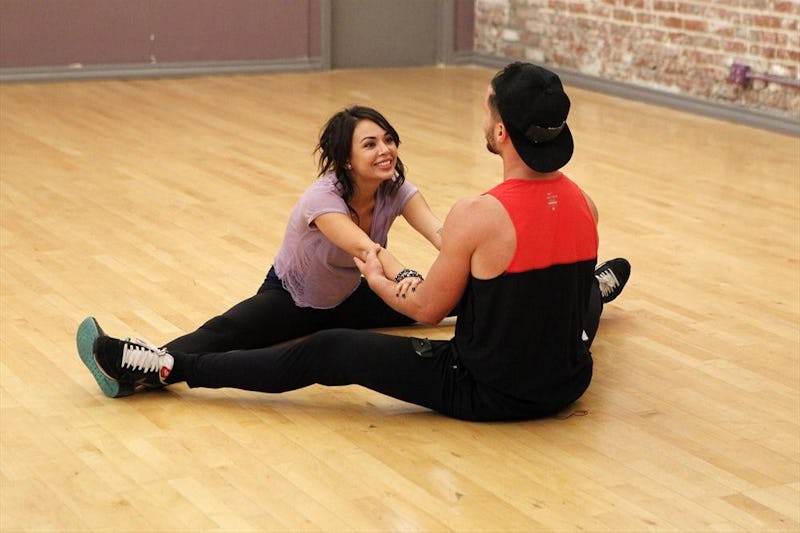 Just how strong is the chemistry Janel Parrish and Val Chmerkovskiy have? Strong enough that even after the Dancing With the Stars producers made them change their number midway through the week, Parrish and Chmerkovskiy still went out there and killed it. For their movie week tribute, the couple was supposed to pay homage to West Side Story, but after two days of practice were told that they didn't have the rights to anything they wanted to do. They got to keep the song "America" but weren't allowed to have any props that resembled West Side Story and couldn't use any dance moves from the original choreography.
For some pairs that could have spelled disaster, but for Janel and Val (the new Maks & Meryl), they just powered through it. They changed up the routine as directed and went out there and gave an amazing performance. Judge Julianne Hough, who had been relatively harsh all night had nothing but compliments for the pair. "I felt like I was watching a full on Broadway show," she gushed.
But the magic moment came when Parrish and Chmerkovskiy scored 40 out of 40 points, the first perfect score of the season. Just two weeks ago, Parrish was upset at having not scored better and Chmerkovskiy promised they'd work up to it. Well, that's exactly what they did.
Parrish cried when she learned her score, and as usual Chmerkovskiy was all compliments for his partner saying, "She's amazing ... I commend her on her work and I'm glad everything happened the way it did."
No kidding. If they keep dancing like that, they'll win that Mirror Ball in no time.
Images: Adam Taylor/ABC; heybenson/Tumblr