8 Big #HeForShe Advocates In Lit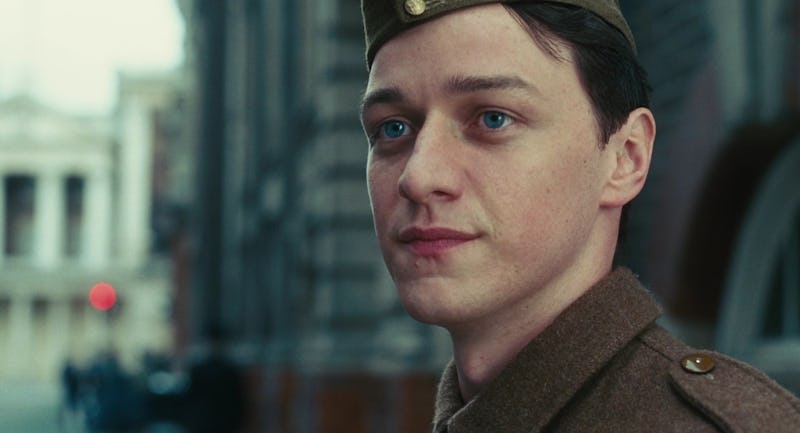 So often in books and literary culture, we turn the lens toward bad men. It's not an inconceivable tendency; after all, who doesn't love to hate a good bad guy? There are meticulous villains, domineering fathers, and volatile, tempestuous lovers (I'm looking at you, Heathcliff) all throughout the pages of lit, contemporary and classic alike.
On September 20, UN Women Goodwill Ambassador (and all-around rock star) Emma Watson kickstarted the United Nations' HeForShe campaign, a social reform movement intended to normalize feminism, popularize an understanding of it as an egalitarian movement, and recruit men as advocates for women. Men have stepped forward in what promises to remain an encouraging trend, but groundbreaking though it may seem, those men do have their share of predecessors — even in literature.
Watson encourages that feminism not be synonymous with man-hating, and so perhaps neither should our interpretation of men in books — after all, haven't we pontificated enough on the subject of the baddies? Surely it's time to shift gears such that men and women can truly be allies for one another. For both those who already have and those who have yet to step forward, here's a rundown of stand-up guys in literature from whom to take a few notes.
Sam Clay, The Amazing Adventures of Kavalier and Clay
Perhaps you thought international illusionist and tortured artist Joe Kavalier was a stud when you read Michael Chabon's magnum opus. While he very well may be, the guy really worth writing home about from this comic book crime-fighting duo is diminutive Brooklyn native Sam Clay. Sam sneaks up on you throughout the course of the novel with finesse as a forward-thinking writer of groundbreaking female comic book characters, and he proves his worth yet again in swooping in to marry the down-on-her-luck Rosa Saks when Joe leaves her high, dry, and pregnant. If that doesn't constitute having a lady's back, then what does?
Gilbert Blythe, Anne of Green Gables
If ever there were a good literary man in a storm, it's Gilbert Blythe. Amid years of rebuke from the headstrong, eponymous Anne Shirley, he never wavers in his polite courtship of the often standoffish prize of his affections, and he even goes so far as to surrender his teaching post for Anne's emotional benefit during a time of familial crisis. Go ahead and admit that kind, steadfast Gilbert was your childhood literary crush; you won't be the only one.
Pip, Great Expectations
In the rags-to-riches narrative of Great Expectations, Pip's crusade for social prominence may be misguided, but the purity of heart behind his intentions isn't. Through decades of misadventures, suffering, and social climbing, Pip never strays from his lifelong objective: to build a life suitable for the beautiful, yet icy Estella. How's that for devotion?
George Knightley, Emma
Look always to Jane Austen for upstanding leading men (barring a few preposterous suitors along the way), and you won't be disappointed. Among Austen's most sterling candidates is Mr. Knightley, a loyal and compassionate friend to Emma Woodhouse throughout all her years of self-serving matchmaking and frivolous remarks. However, arguably Mr. Knightley's finest quality is the regularity with which he takes Emma to task for her bad behavior, thus shaping her into the best version of herself she can be. That's something more than love — that's true friendship.
Edward Ferrars, Sense and Sensibility
If there's one thing to love about Edward Ferrars (and believe me, there are many), it's the moment in Sense and Sensibility when he puts his personal happiness with Elinor on the line to follow through on a promise he made years ago. Though he's not quite as round a character as Austen's other romantic leads, he bears all the same hallmarks — loyalty, fortitude, and the wanting of a wife. What's not to like about a guy who throws himself under a bus to keep his promises?
Robbie Turner, Atonement
Who doesn't swoon over sweet, tormented Robbie Turner? As if his unwavering devotion to cosmopolitan Cecilia Tallis and the pathos induced by his wrongful conviction weren't enough, his role in the narrator's life starts not as a paramour to her sister, but as a childhood confidante and encourager. Would that he had lived longer to teach others about how to treat a woman.
Finnick Odair, The Hunger Games
Who needs Team Peeta or Team Gale when Team Finnick is an option? Granted, Finnick is taken and therefore an untenable partner for Katniss, but as evidenced by his caretaking of the aging Maggie and his misty-eyed devotion to his far-flung fiancée, he knows a thing or two about putting women first.
Carson Drew, The Nancy Drew series
Bad parents abound in literature, but Carson Drew isn't one of them. Throughout the course of the long series, renowned lawyer Carson has time and time again guided Nancy in her sleuthing, and he's even gone so far as to recruit her professional perspective for his own cases. Perhaps he leaves Nancy home alone a tad too often, and perhaps he enlists her to rescue him in one too many bizarre kidnapping snafus, but at the end of the day, he's a tireless champion and encourager of his daughter.
Image: Universal Pictures (2); PBS; BBC (3); Lionsgate; Warner Bros.