There's an Upside to This 'DWTS' Elimination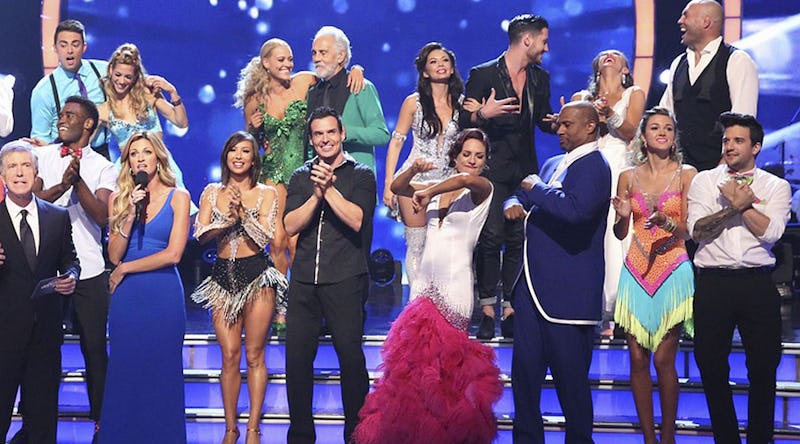 Another week of Dancing With the Stars is done and it's time to say goodbye to Randy Couture and Karina Smirnoff. As DWTS switches back to its one-a-week episode format, the pair was forced to dance tonight moments after learning they were in jeopardy to go home. That had to be rough, but the pair maintained their strength and paid homage to Rocky for the movie night theme. It was a nice nod to Couture's own time spent wrestling that he got to get back in the ring, this time playing boxer Rocky Balboa. Unfortunately the pair's performance last week had them pegged to leave no matter how well they succeeded tonight.
I think tonight was one of the first times the audience was really unhappy to learn that a couple was eliminated. The two previous eliminations were somewhat expected: Lolo Jones had a terrible attitude and Tavis Smiley was a little bit forgettable. But on Monday both the live crowd and fans on Twitter were pretty disappointed to learn that Couture was voted off. "So sad not to see @Karina_Smirnoff on my screen dancing anymore & loved Randy Couture!" one fan tweeted. "I am so sad right now ... I am beyond shocked, I loved watching you dance and improve," shared another. It's clear the Expendables actor had a lot of fans who will be sad to see him go.
But if there's any upside to this bad news, it's that Jonathan Bennett lives to dance another week after falling into the bottom two this week. Losing the Mean Girls actor and all-around nice guy would have been rough, so many on Twitter are grateful he was able to stay even if that did mean losing Couture.
Eliminations are only going to get harder going forward as the excellent dancers and beloved fan favorites start to get sent home each week. But at least we know we get to see Bennett's smiling face for one more week. And he better be safe next time because the puppy dog eyes he made on Monday night when he learned he might go home broke my heart. Listen up DWTS voters, we cannot make this man sad again—he's too nice to suffer.
Images: ABC; huffingtonpost