Can 'Magic Mike XXL' Beat 'Pitch Perfect 2'?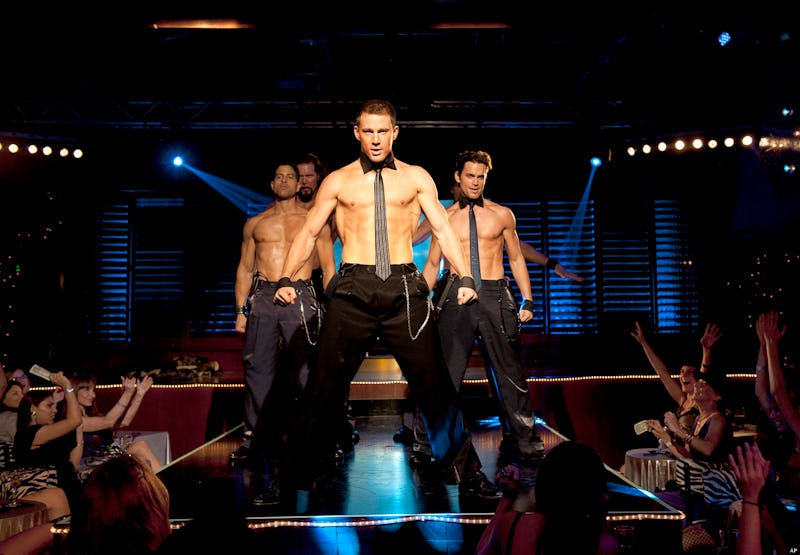 Casting is finally complete for Magic Mike 2, and three more awesome actors have joined the ranks. Live! With Kelly and Michael's Michael Strahan, Community's Donald Glover, and Mockingjay's Elizabeth Banks will also star in Magic Mike XXL. Entertainment Weekly says this latest round of casting is the last, and the three newbies will be joining the already star studded ranks of Channing Tatum, Amber Heard, Matt Bomer, Joe Manganiello, and more.
In addition to the new actors, Warner Bros. has also released a plot summary that promises a lot of dancing action.
Picking up the story three years after Mike bowed out of the stripper life at the top of his game, the film finds the remaining Kings of Tampa likewise ready to throw in the towel. But they want to do it their way: burning down the house in one last blowout performance in Myrtle Beach, and with legendary headliner Magic Mike sharing the spotlight with them. On the road to their final show, with whistle stops in Jacksonville and Savannah to renew old acquaintances and make new friends, Mike and the guys learn some new moves and shake off the past in surprising ways.
But the film isn't the only highly anticipated sequel for summer 2015. Pitch Perfect 2, which also stars Banks, will be hitting theaters in May — a couple of months ahead of the Magic Mike XXL July premiere. So which Banks summer sequel has the best potential? Let's see how the two stack up.
THE CAST
Pitch Perfect 2: In addition to Banks, the cast boasts the talents of Anna Kendrick, Rebel Wilson, Brittany Snow, Anna Camp, and more. Everyone from the first film is returning plus some more additions like Hailee Steinfeld and The Sing-Off group Filharmonic.
Magic Mike XXL: How can you not love a film with a shirtless Tatum, Bomer, Manganiello, and more? Unfortunately Matthew McConaughey decided against returning and we will forever miss his character Dallas.
The Verdict: Pitch Perfect nabs this section if only because their whole cast is back for round two. Come on McConaughey, no one should be too good for such an epic sequel.
THE PLOT
Pitch Perfect 2: More of what we loved in the first film: hilarity, epic musical numbers, collegiate problems as the Barden Bellas jump from timid freshmen to ruling-the-school seniors.
Magic Mike XXL: Strippers on a road trip. 10 points for thinking outside the box.
The Verdict: I don't doubt that Pitch Perfect 2 will have a clever storyline, but it's likely to be a bit more predictable than the traveling show of strippers. This round goes to Magic Mike XXL.
MUSICAL STYLE
Pitch Perfect 2: A cappella. But like, funky a cappella with mashups and riff offs and stuff. To accompany it there will be some dancing with some pretty decent choreography like in the first film.
Magic Mike XXL: Sexy stripping and dancing to club music.
The Verdict: As much as I love a good a cappella number, it's hard to beat what the men in Magic Mike can do.
THE PREMIERE DATE
Pitch Perfect 2: May, 2015
Magic Mike XXL: July, 2015
The Verdict: Sorry Magic Mike XXL, but Pitch Perfect 2 wins because its amazingness will grace our screens two months before yours will.
OVERALL WINNER
It's a tie. The films are different enough to both succeed on their own. They're both going to be epic, and fans can't wait to see the actors from both movies back on the silver screen this summer singing and dancing away.
Images: Warner Bros.; Elizabeth Banks/Instagram; vampirediaries/Wikia; beca-x-jesse/Tumblr; giphy; wifflegif; gifsoup