9 Reasons Why Delia*s Needs to Stick Around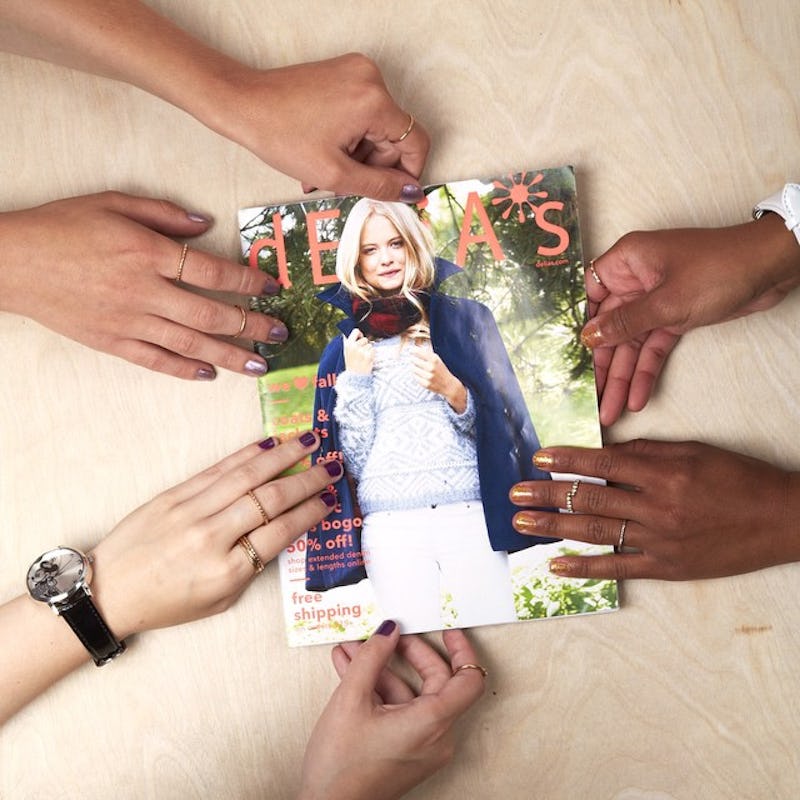 Why are our favorite brands from middle school and high school dying?! First, there was Jessica McClintock, prom dressmaker extraordinaire, next Abercrombie and Fitch, and now Delia*s! Yup, you read that correctly. Teen-focused retailer Delia*s might not last the year if the company can't find a buyer. This news deserves 1,000 frowny face emojis. Do kids these days have no taste? Okay, I think the problem is that they have too much taste. But, but... Delia*s is the best, you guys.
According to WWD, Delia*s, Inc. is currently searching for a buyer after several years of financial struggle that "raise substantial doubt about the company's ability to continue" without intervention from an outside source. The brand was founded in 1993 and gained popularity throughout the '90s and early '00s for selling trendy wares like graphic T-shirts, glitzy (and affordable) party dresses, and low-rise jeans.
Like many once-hip brick-and-mortar stores aimed at teens, Delia*s simply hasn't evolved enough with the times. "The company's web presence is limited compared to that of e-commerce giants like Nordstrom," writes Carey Dunne at Fast Company, "and its online catalog lacks the playful, distinctive voice and style that made its print catalog so appealing to '90s teens." Despite the fact that we're all about the '90s these days, Delia*s is paying dearly for failing to keep up with trendier high-fashion chains like Zara, H&M, and Topshop.
So maybe the teens of today are too cool for Delia*s. But the teens of yesterday (aka Millennials)? We will never forget the excitement we felt when we spotted a new Delia*s catalog in the mail (remember mail? Okay, now I feel old). Here are the nine reasons we hope — no, need — Delia*s to survive another year.
1. That Catalog
The Delia*s catalog was responsible for my fashion coming-of-age. I was a little young for it when I first discovered one in my best friend's older sister's room, but I obsessed over the first issue I got my hands on and poured over it until it literally disintegrated in my hands. There was just no better place for outfit inspiration in the '90s, especially if you had a strong desire to dress like Cordelia from Buffy the Vampire Slayer. And, like, who didn't?
2. Those Graphic Tees
Delia*s has always been a mecca for cute graphic tees. As you can see in the above photo, they sell a wide range.
3. tYPiNg LikE tHiS
Delia*s helped popularize the early Internet trend of randomly capitalizing letters as if your little brother was smacking the keyboard while you were trying to type.
4. The shoe selection still looks like it's from 1996
I mean, Doc Martens Mary Janes.
5. Cheapest event dresses known to man
This is on sale for $49.99, marked down from $69.99. At Bloomingdale's, this would be designed by Sue Wong and cost $400.
6. #TBT game is on point
This is an über young Rosie Huntington-Whiteley.
7. They once condoned dressing like this:
Wearing track pants with sweatshirts and fake leather maxi skirts was totally cool with Delia*s. Why dress like you aren't still in bed when you wish you were still in bed, right?
8. You can buy these online
The dream of the '90s is alive at the Delia*s online store.
9. Delia*s knows girls can be superheroes too
No "Training to be Batman's Wife" T-shirts here.
UPDATE: On November 5, Delia*s announced that it would officially file for Chapter 11 bankruptcy, according to BuzzFeed. Commence plastic, flower-shaped tears.
Images: delias/Instagram(5), Delia*s Catalog 1996(2), Delia*s(3)