How The Hell Do You Even Make This "Sexy?"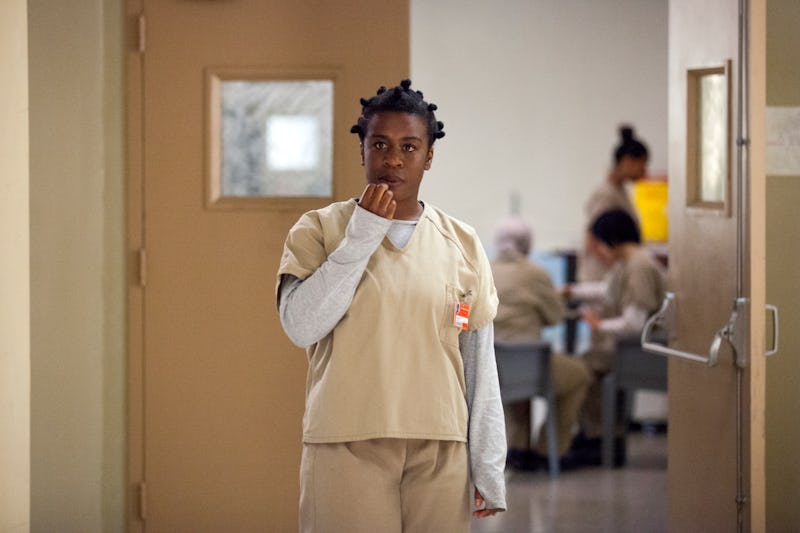 It's a Halloween tradition as old as time. No, not trick-or-treating, but turning any person, thing, or character into a confusingly sexy Halloween costume. I mean hey, if you want to look sexy for Halloween, no judgements here, just try not to go around confusing men, women, and children with your sexy lobster costume.... So it is with heavy heart that I present to you the sexy-fied Halloween costumes from a Bustle favorite: Orange Is the New Black.
"How did they manage to make prison jumpsuits sexy?" you ask. Dear readers, I asked myself the very same question. But never underestimate the power of the sexy Halloween costume business. Take any clothing, and all they have to do is take off the pants and/or midriff, and voilà! Sexy Halloween costume. Does it make sense? Not really. But dammit, it looks sexy according to the narrow cultural definitions of the word!
The website Halloween Outfits for Cheap, for example, shows us several options for dressing as a sexy Piper, Red, Pennsyltucky, Soso, or even Crazy Eyes! After all, what could be sexier than being in prison and having to use bathrooms that don't have doors? Nothing, that's what.
As we've seen, the women of Litchfield prison are crafty. This woman, for example, has fashioned underwear out of her prison jumpsuit. And notice the "69" stamped on the top. Such attention to detail!
Nothing portrays Crazy Eyes better than this look, which says "I just took off my pants!" We can guess who'll be peeing on the floor next...
Sure, this costume may be incredibly inaccurate...or it could just be a conniving inmate. Maybe she snuck in a jumpsuit with a zipper so she could slit the throat of the woman who's been threatening her in the yard. You don't know.
But you know, you could always go the more "accurate" route if you wanted to. Sure, it doesn't involve fishnets or porny faces, but it might be cheaper and possibly even more fun to buy...
An officially sanctioned costume from the Netflix show! They can use the name and everything! Plus, there are actual pants!
Orange or Beige Scrubs
You know what else looks like prison jumpsuits? Medical scrubs. Buy a shirt and matching pants in a lovely shade of beige or orange, and you might even be able to save some money on a costume.
Finishing Touches
Of course, don't forget your accessories, whether it be flip-flops made out of sanitary napkins or your tampon curlers.
Images: Amazon, Spirit of Halloween; Netflix