You Are Going To Love Showtime's Latest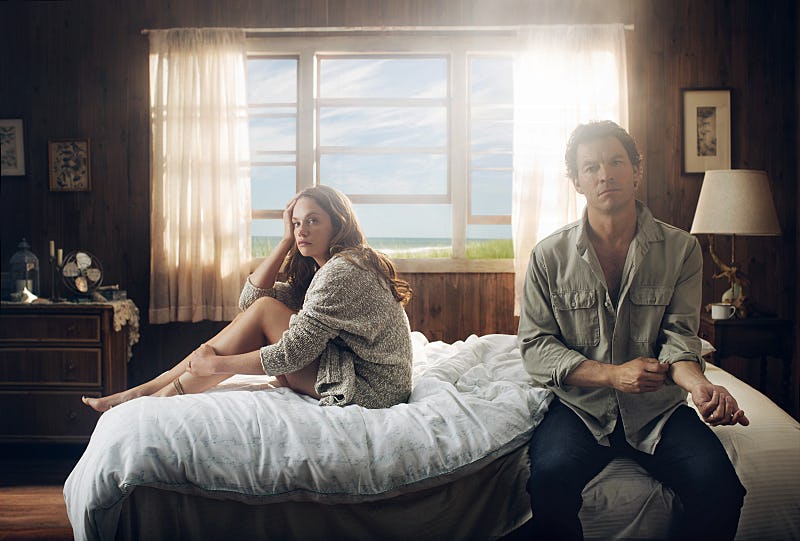 On the surface, Showtime's newest drama The Affair has all the trappings of a groan-worthy soap opera. The worst offender is the title, which looks like it should be printed on the cover of a paperback in cursive lettering above an image of a bare-chested man clutching a swooning woman. Then there's the Affair plot:
Dissects an affair and its effect on the two marriages it disrupts, with the story told separately from the male and female perspective. It begins when Noah, a married father of four, becomes involved with Allison, a married woman mourning the loss of her child, after a chance meeting at the beach.
Step 1: Married man meets married woman. Step 2: Man and woman begin affair. Step 3: Tawdry drama ensues. Isn't that the exact plot of last season's nighttime soap, Betrayal? Remember how well that went for ABC? Yeah, not very.
But indulge me for a moment, if you will, and look past the surface of The Affair — you'll find it actually has a lot going for it. First of all, there's the simple fact that it's airing on Showtime, which is generally more renowned for its acclaimed series (Homeland, Masters Of Sex, Penny Dreadful, Shameless) than ABC. Secondly, The Affair was created by Sarah Treem, who has an impressive resume. She started off writing and producing HBO's How To Make It In America, moved on to In Treatment on the same network, graduated to Netflix's House Of Cards, and is now serving her first term as showrunner for The Affair.
Then there's the cast; the talent involved here is top-notch. Affair stars Dominic West and Ruth Wilson as the unfaithful perpetrators of the eponymous fling. West is perhaps most famous for his role as Jimmy McNulty on HBO's The Wire, although he's also earned acclaim for his performances in the likes of the BBC series The Hour, and films as varied as A Midsummer Night's Dream, Chicago, and 300. You've likely seen Wilson in BBC's Luther, or films including Jane Eyre, Anna Karenina, Saving Mr. Banks, and The Lone Ranger (though we won't hold that last one against her).
Maura Tierney and Joshua Jackson play the cuckolded spouses. You know Tierney as nurse-turned-resident Abby Lockhart in 189 episodes of ER. More recently, you may have seen her in a recurring part on The Good Wife as Maddie Hayward. Jackson will never not be remember as Pacey Witter from Dawson's Creek, although he just wrapped up a terrific run as Peter Bishop on FOX's underrated sci-fi show Fringe.
But what seems most intriguing about The Affair is its dual narrative structure. Treem describes her show as being Rashomon -like in its format, referring to the 1950 Kurosawa film in which four different characters offer conflicting accounts of the plot's central murder. However, she also claims her series will provide something the infamous Japanese film did not: gender dynamics.
I'm super interested in gender and how men and women think about stories and tell stories. That was very much a part of how we were originally talking and conceptualizing the show. [...] What we try to do really stringently in the writing of the show is not judge either character. We kind of went into it believing that these were two good people who were committed to their marriage. They weren't serial philanderers. And by chance they've both been in very vulnerable places and by chance they both come to meet somebody who they ultimately come to think of as their true love. So what do they do?
The show is premiering at just the right moment, with Gone Girl and its similar dueling narratives currently at its zeitgeist-iest peak. And just like how Gone Girl begins with the audience unaware of exactly what crime has been committed (abduction? murder?), The Affair tells its story in flashbacks, as West's and Wilson's characters are interrogated about a crime that the audience hasn't witnessed. "What was the crime?" will be as big of a question as "Whodunnit?"
Hopefully, The Affair offers a worthwhile contribution to the hot-topic conversation going on right now concerning complex adult relationships, and doesn't simply come across as a pale imitation of Gillian Flynn's masterful work. With the amount of talent onboard, it certainly seems promising. I'm certainly ready to be seduced. Are you?
Images: Steven Lippman (2), Craig Blankenhorn, Mark Schafer/Showtime