13 of Danny Castellano's Best Rants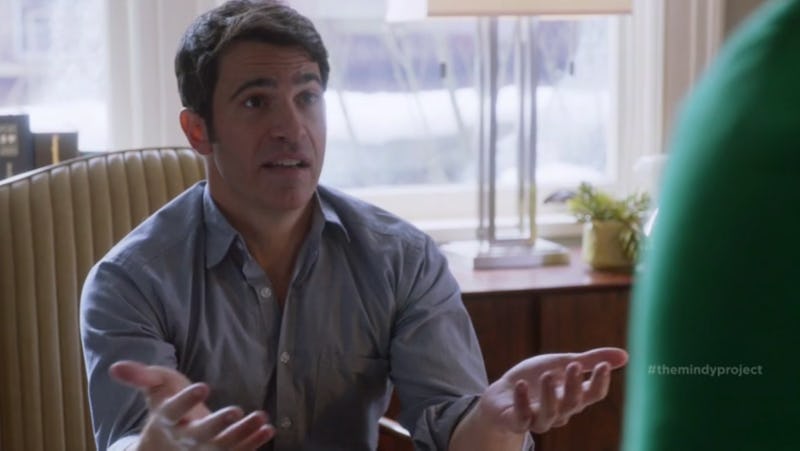 The Mindy Project has a lot of inspirational characters. There's Mindy Lahiri, of course, who is simultaneously my spirit animal and biggest source of motivation. Even Morgan Tookers has handed out some (prison) wisdom over the seasons. But guess who else has a lot of good advice? Doctor Danny Castellano. Sure his words of wisdom come in the form of angry outbursts but that's OK with me. His rants are basically my inner voice speaking thoughts I never knew I had, but totally agree with.
I can identify with Danny's general bitterness for things like having to go to parties and hashtags (or as he calls them, "hash bags"). Danny loves to complain and so do I. Maybe that's because we're both Italian, and as Danny says, "Italian people don't get over things, they let their anger fester and ferment growing stronger over time. That's why our wine is so good." Amen, Castellano.
But Italian or not, a good rant can make everything better. So instead of keeping your frustrations inside, let your words of slightly angry wisdom out for all to learn from, just like Danny does. And then tell me Danny's not totally on point with these 13 complaints.
WHO YOUR KISSES ARE FOR
And maybe your puppy.
HOW GREAT GRANDPAS ARE
Sorry, Mindy. You can't insult Danny by calling him a grandpa, because that is not an insult to him.
SEXY CHRISTMAS TUNES
Someone finally said it.
PRIORITIES
Literally me.
KIDS WHO DRAW SUNGLASSES ON THE SUN
Grow up, five year olds. Your sun in the corner of the paper is wildly inaccurate!
THE INTEGRITY OF CONCERT TEES
Preach.
KNOWING IT'S THE THOUGHT THAT COUNTS
As a poor college graduate, I appreciate this.
FASHION TRENDS
And jeans without pockets, who decided that was a good idea?
21ST CENTURY TECH
Yesterday my 16-year-old cousin told me there's this new social media site called Yik Yak, which is like an anonymous Twitter, and I never felt older in my whole life.
THAT HIT TV SHOW
How am I supposed to keep up with the Kardashians and the Lannisters and the Storybrooke escapades and still get sleep? Answer: Don't sleep.
NAVIGATION
This is why I don't go hiking.
ARCHITECTS
Ted Mosby would not be pleased. But then again, Ted Mosby is one of those fictional characters Danny is talking about.
GOING OUT
Same.
Images: Fox; tmpgifs (5), 2x04, themindyanddannyproject (2), jackdonaghy, andthestarsthatshine, grelca, jaxxsonteller/Tumblr; inksplatis/Wordpress; Martha Sorren;