Janel & Val Aren't The Cutest 'DTWS' Couple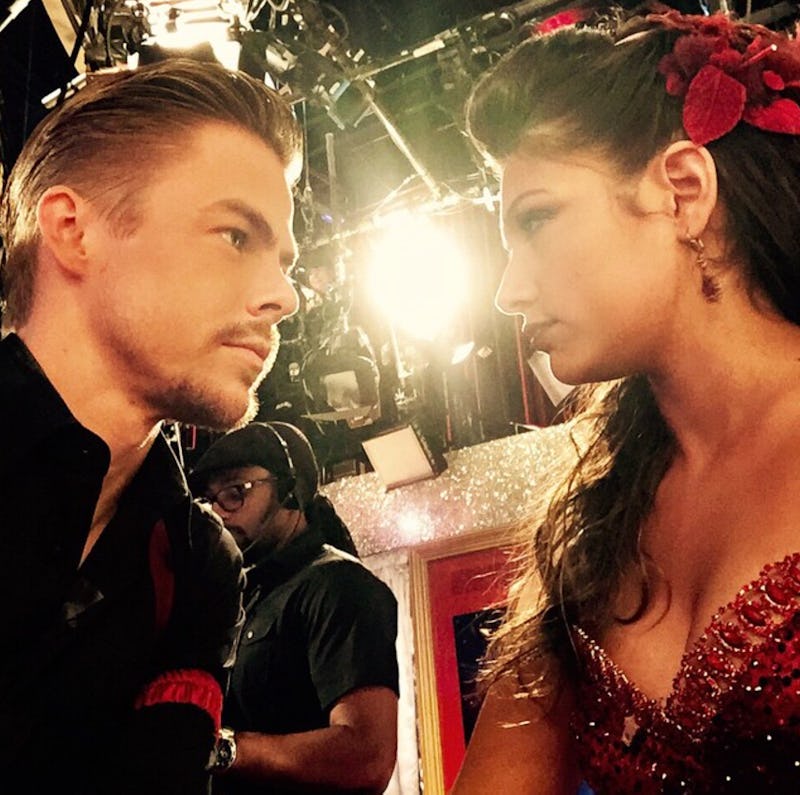 On Dancing With the Stars, the visible chemistry between Janel Parrish and Val Chmerkovskiy, aka Janelskiy, is something of a legend-in-the-making, and as of last week, their place in the competition is rightfully at the top. Between their talent, their team name, their inside jokes, and their flood of Instagram pictures, Janel & Val quickly became DWTS crowd's favorite couple and a shoe-in for the Mirror Ball Trophy. But the further we get into the season, the more I notice other couples whose chemistry just might give Janelskiy's a run for its money.
In fact, I noticed this when Derek and Bethany tied Janel and Val with a perfect score on their performance of "Singing in the Rain," a performance that Derek took very seriously for want of honoring one of his idols. Even with an injury, Bethany was able to pull it together enough to not only gain the couple a perfect 40, but also help Derek honor his hero Gene Kelly in the ballroom. In the process, the couple proved their own working relationship is one to watch equally to, if not more so than, Janel and Val's. Don't get me wrong, Janelskiy is still pretty damn cute, but Bethany's admittance that she was even more excited for Derek than she was for herself last week made me think twice about which of the couples has the most dancing chemistry.
#1 BETHANY MOTA AND DEREK HOUGH
Bethany did everything she could to make sure Derek's performance of "Singing in the Rain" would be what he hoped it would be, even with her injury. Her support of Derek's career is adorable, to say the least, but what's even sweeter is his confidence in her despite her injury. Anyone else with an ankle injury in this demanding of a competition would have quit by now, but Derek's support and commitment to Bethany is what's keeping her here. He knows exactly what to say and do to get around the injury and still make each performance 10-worthy.
Of course, "chemistry" doesn't need to mean the partners in question are all hot and sizzly like Janelskiy. Bethany and Derek's sibling-style relationship still makes for undeniable dancing chemistry on and off screen. Why are Derek and Bethany pretty likely to make it to the finals this season? Well, 'cause they're "Motough" than anyone. Duh.
#2 ALFONSO RIBEIRO AND WITNEY CARSON.
The youngest pro and one of the oldest stars, Alfonso and Witney are constantly learning from each other on the show. Alfonso came into the show already a crowd favorite, but Witney is whipping him into shape from week to week and proving he has what it takes with her amazing choreography. Witney constantly proves her confidence in Alfonso by pushing him just a little bit harder each week and I think Alfonso respects her for that. The return of the Carlton Dance in Week 4 made the couple closer than ever. The tables turned when Witney got to learn from Alfonso for once and she clearly loved every second of it. Not everybody gets the chance to learn the Carlton Dance from the man himself!
#3 LEA THOMPSON AND ARTEM CHIGVINTSEV
Nothing this season has been more heart-wrenching than the performance Lea and Artem gave to "Dance With My Father Again," but it would have been nothing without Artem's beautiful choreography. Lea's story about her father blatantly inspired Artem to create the magic that made her break down in the end. Their performance was genuine and told a story that their fans won't soon forget. Discussing her past made the couple closer than ever and it made for a performance that was artistic perfection. Personally, I think the chemistry between these two is only just surfacing.
So maybe it won't be Janelskiy all the way after all.
Images: derekhough/Instagram; queen_moors/Tumblr; Alfonso Ribeiro/Twitter; leakthompson/Instagram