ISIS Hostage Pens Heartbreaking Letter To Family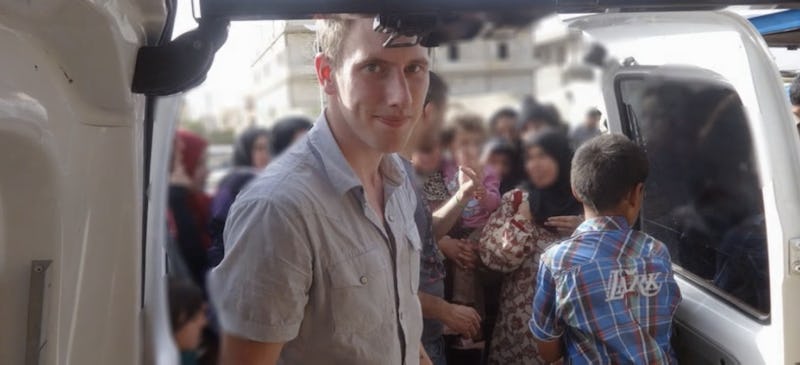 Two days after Ed and Paula Kassig released a video plea to the Islamic State of Iraq and Syria asking for their son's safe return, the family revealed a letter they personally received from him earlier this year. In the letter, ISIS hostage Abdul-Rahman Kassig tells his parents he's afraid to die, but is proud that he was able to serve the Syrian people as a relief worker. The 26-year-old former Army Ranger — who was formerly known as Peter, but changed his name when he converted to Islam last year — was running the humanitarian organization Special Emergency Response and Assistance, providing aid to Syrian refugees when he was captured in eastern Syria in October 2013.
Kassig was threatened by ISIS in the terrorist group's latest video, which allegedly depicted the brutal beheading of British taxi driver and relief worker Alan Henning. On Saturday, his parents, who live in Indiana and have a family history of working with refugees, pleaded with ISIS to end the violence. "We implore his captors to show mercy and use their power to let our son go," Peter Kassig said in the video message.
"We are so very proud of you and the work you have done to bring humanitarian aid to the Syrian people," added Paula Kassig, in a direct message to her son.
Here's the full text of Peter Kassig's heartbreaking letter from captivity, courtesy of the Kassig family:
The first thing I want to say is thank you. Both to you and mom for everything you have both done for me as parents; for everything you have taught me, shown me, and experienced with me. I cannot imagine the strength and commitment it has taken to raise a son like me but your love and patience are things I am so deeply grateful for.
I am obviously pretty scared to die but the hardest part is not knowing, wondering, hoping, and wondering if I should even hope at all. I am very sad that all this has happened and for what all of you back home are going through. If I do die, I figure that at least you and I can seek refuge and comfort in knowing that I went out as a result of trying to alleviate suffering and helping those in need.
In terms of my faith, I pray everyday and I am not angry about my situation in that sense. I am in a dogmatically complicated situation here, but I am at peace with my belief.
I wish this paper would go on forever and never run out and I could just keep talking to you. Just know I'm with you. Every stream, every lake, every field and river. In the woods and in the hills, in all the places you showed me. I love you.
In a statement released on Sunday, the Kassig family said they felt the need to release their son's letter because of the questions they received about his conversion to Islam. "We feel a need to more fully tell that story to the world," the Kassig family said.
The family added that they are "overwhelmed by the response" from supporters who find their son an inspiration and a hero.
Peter Kassig is the third American to be threatened by ISIS. The terrorist group has publicly beheaded four Westerners over the last two months: American journalists James Foley and Steven Sotloff, and British aid workers David Haines and Alan Henning. In the latest execution video, which British Prime Minister condemned as "repulsive," Kassig spoke to the camera, saying he will "pay the price" for the United States conducting airstrikes on Iraq and Syria.
Images: Getty Images (2), ABC