What It's Like Being Jonathan Bennett's BFF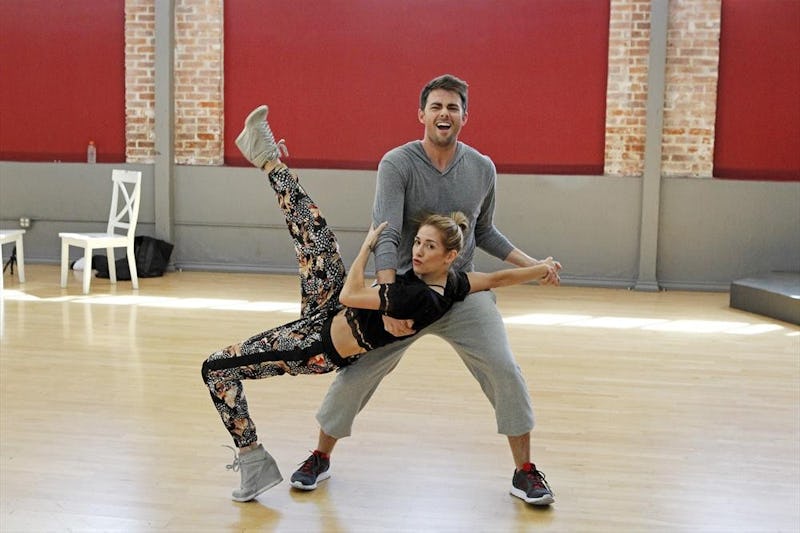 With all the Dancing With the Stars talk of Janelle and Val maybe being destined for eternal love (or maybe just having a strong marketing team behind them), and Bethany and Derek's maybe deserved 10s, it's easy to lose track of how many great couples there are on this season of DWTS. I mean, there is a 76-year-old man who recently recovered from prostate cancer and spends most of his time promoting #hemplife dancing his ass off on national television, for goodness sake! But my personal favorite pair who keep falling to the wayside of more passionately themed couples: the delightful friendship between Jonathan Bennett and his pro, Allison Hoker.
Everybody knows the best way to get the romance hungry fans of DWTS on your side is to fall in love before their very eyes via an intricate combination of cha chas, sweaty studio time, and post-dance caressing. That's why James Maslow and Peta Murgatroyd started out from the gate with the "you never called" tale of of their romance that could have been last season. Of course that little glimmer of chemistry was then completely overshadowed by the behemoth of a meet-cute between Meryl and Maks. Because when two attractive people are sashaying in each other's general direction 20 hours a day, we want them to get together. But that's what makes Jonathan and Allison's friendship so special; in a Mirror Ball world where romance is currency, those two goofballs are just doing their thing and dancing their damnedest and telling each other, "on your worst day you're still the best. *Friendship sob*
There's that little matter of spouses
There have been plenty of cheating rumors over DWTS's 19 seasons — including some especially rumor-y, very unconfirmed allegations this season — but it's usually the stars who are assumed to be stepping out on their significant others, mostly because the pros keep their relationships pretty hush-hush. New pro Allison is one of the few taken pros; she quite publicly (and adorably) married fellow So You Think You Can Dance alum, Stephen "tWitch" Boss. As cute as Jonathan and Allison might look together, with Allison way off the market, it's a breath of fresh air to know that these two are just having a great time together as friends... who happen to be ballroom dancing a lot.
Even their kiss to Ed Sheeran's "Sing" in Week 2 came off as a cute, impulsive little little addition, rather than a forced move for shock factor, as we've seen many-a-time on this show. As in real life, they can have chemistry without, you know, having that kind of chemistry. Come on, no one is rooting against this:
They're the perfect match
Every pair of attractive people who spend the majority of each week rubbing up against each other don't necessarily have to be attracted to each other. The fact that Allison and Jonathan both have sparkling personalities makes it easier to comprehend, but these two click on a weirdo level more than anything else. Allison told Bustle, "I kind of feel like he's the male version of me. We're always laughing, we're always smiling, and to be honest we're kind of just loud and obnoxious ... If I had any other celebrity and if he had any other pro I think we'd scare those people." A match made in platonic Mirror Ball heaven.
But mostly, they're figuring this out together...
...and it's really sweet. It's clear that Allison and Jonathan are really depending on each other to get though the crazy madness that is being compliment-screamed at by Bruno Tonioli for a few months. After the judges critiqued Allison's choreography for not having enough cha cha content, it was a reminder that just as much as Jonathan is figuring out how to dance, Allison is figuring out how to be a DWTS pro. Unlike almost all of the other dancers, she doesn't come from a ballroom background. Jonathan, ever the sweetheart, didn't put any blame on his partner for lower scores, but stood behind her decision to be a little bold in breaking tradition, saying he didn't want her to lose her "Alli-ness" trying to please the judges. These two are the cutest; may they keep dancing and never fall in love.
Additional reporting by Martha Sorren @MarthaSorren.
Image: Rick Rowell/ABC; Allison Holker/Instagram (2)