Erika Christensen Delivers An Emoji Spoiler...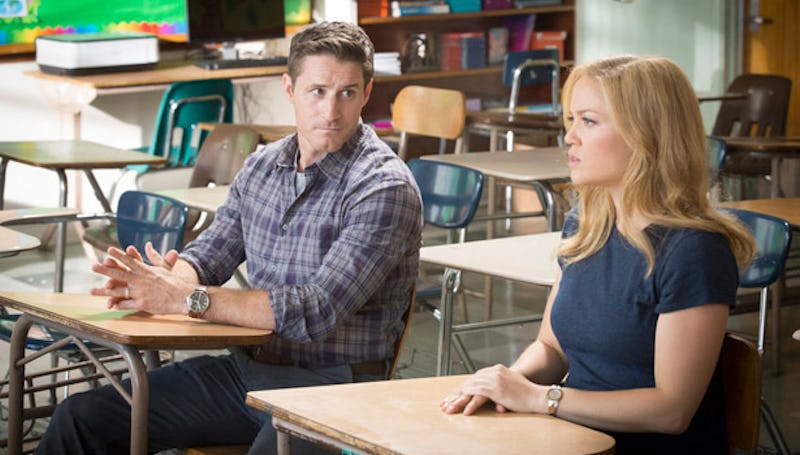 If you are a fan of this Jason Katims drama then you know it has already been an emotional rollercoaster for Joel and Julia on Parenthood Season 5 and we are only two episodes into the final season. After their painful breakup last year in which it seemed like Julia was the only one fighting for the marriage, Joel is now coming around. But now it may be too late as Julia has found herself a sexy lawyer boyfriend and seems to be rocking the whole separated parent thing. Well, until Sydney had an emotional breakdown in last week's episode because, what do you know, sometimes divorce impacts children negatively.
Most fans are rooting for the legally-separated couple to reunite, but it seems like in true Parenthood fashion, the writers will keep us on the edge of our seats and of course, sobbing, for a bit longer. Luckily, I caught up with Erika Christensen (Julia) at the T.J. Maxx Maxx Life event, to try to get some words of encouragement on the Joel and Julia front.
Like a true pro, she was relatively mum, but it definitely seems that she is leaning a certain way:
It's been a fascinating, heartbreaking storyline but, like everyone else I have hope for Joel and Julia and want to see them reconcile.
Well thank goodness she is on our team! She may have even revealed Julia and Joel's fate through these emoticons she picked out to represent her own feelings this season:
Even though I'm rooting for Julia and Joel, it has been great to see Julia bounce back this season after losing her way a bit last year. For a while, the separation and quitting her job had been a negative guiding force in her life. Julia is arguably one of the strongest, most complex female characters on television right now and has really shown the struggles of being a mom, as cliche as it is, trying to "have it all," as Christensen puts it.
And what do you know? Christensen feels that all of this adds up to Julia being a feminist:
I absolutely think she is. She has always been a strong woman in the workplace and has encountered the sort of classic struggle — from within and without — to balance her roles as a wife and mother and as, for most of her life, the breadwinner. She wants to have it all, as women have the right to at least strive for.
But being that Christensen was at a fashion event, I had to ask a bit about what's it like dressing for Julia Braverman. In the first season we really saw a very buttoned up Julia (literally), but in the last two seasons we have seen her get a bit looser and more relaxed with her wardrobe — and in other areas of her life. Christensen told Bustle:
Like Julia, I definitely turn to my closet to express how I'm feeling. Leading a pretty busy life, my wardrobe shares the story of my day ... For Julia, I think it's the same concept — dressing for how she feels, what she's doing and the story she wants to express. She was and now is again a corporate lawyer in a top firm, which is how she's spent the majority of her adult life so her wardrobe primarily consists of tailored, smart pieces that communicate confidence in a corporate environment. When Julia was going through a more difficult period, she tended to wear darker colors and more comforting pieces. Even say, in a time of fighting her feelings, a letterman jacket, where she would've previously just been in a button down shirt and a cardigan before her life started to unravel.
As for how she feels about Parenthood being notorious for giving America a weekly crying session, Christensen is all for it. "Yes! It makes everyone cry. Grown men. Young people. My fella and I. It's fantastic. It's an experience. That's entertainment," she said.
It sure is, but you know what would be really entertaining? Joel and Julia finally working it out.
Images: Colleen Hayes/NBC; Giphy