He Needs To Leave the Private Sector ASAP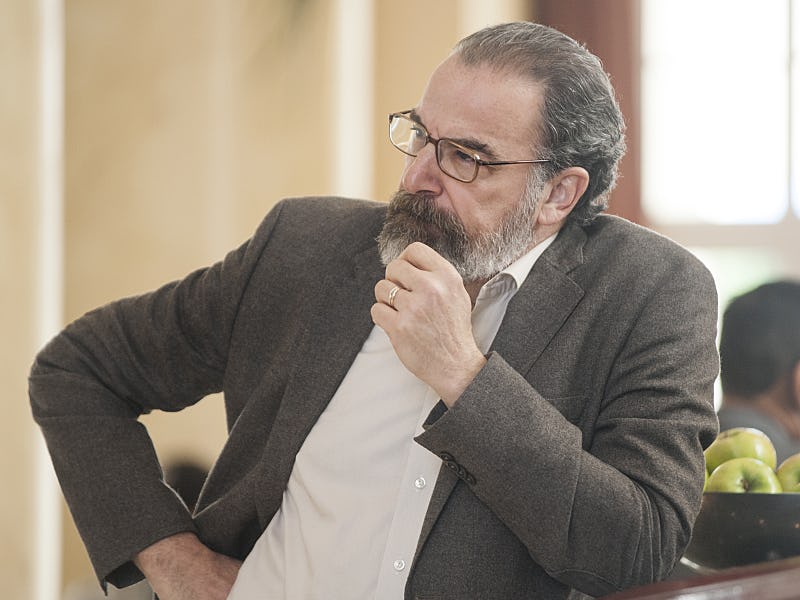 It's been an action-packed few seasons for Homeland. Last season truly broke fans' hearts by making us watch a beloved character be relieved of his CIA service and left with no choice but to pursue opportunities in the private sector. But with a brand new season underway, will Mandy Patinkin's Saul Berenson return to the CIA?
Showrunner Alex Gansa comforted worried fans by saying that Patinkin would indeed return as a series regular, and being in the CIA doesn't have to be a part of that. Gansa told Entertainment Weekly that Saul would return with "100 percent certainty." In the interview, Gansa points out that the government hires contractors fairly frequently, and a freelancer like Saul with such specified intimate intelligence knowledge would probably have a pretty good chance of nabbing any contract that came his way. That doesn't exactly answer what his job will be in the long term, however, and whether we'll see him working in the CIA ever again.
For those still reeling from his new beardless look, the fact that showrunner Gansa didn't say Saul whether would return to the CIA specifically might be one change too many. That hasn't stopped fans and critics alike from speculating whether Carrie and Saul will resume their mentor/mentee relationship within the CIA, eventually leading to him being re-hired.
Unfortunately, other interviews with Gansa don't shed much light on Saul's CIA potential either. In an interview with TVLine, Gansa repeats pretty much verbatim saying Saul's "interface with the agency is going to be big" even if he isn't working from a CIA desk.
While his changing role may not be what fans want, it certainly does make for great character development. We've barely started the season, and can already see the way civilian life is draining Saul. He's constantly thinking like he's still in the CIA, and I think an episode later in the season will probably have him working with the CIA, only to be cautioned not to overstep his bounds with things that are not his job anymore.
At the very least, it's a pleasure to hear we won't lose any moments of Carrie and Saul together, because the relationship between the two forms a lot of the heart of the show, in a program that could dangerously veer towards the mechanical or militaristic. For now, #TeamSaul can rest easy and watch on.
Image: David Bloomer/SHOWTIME