Get as Ready for Season 4 as You Can with a Recap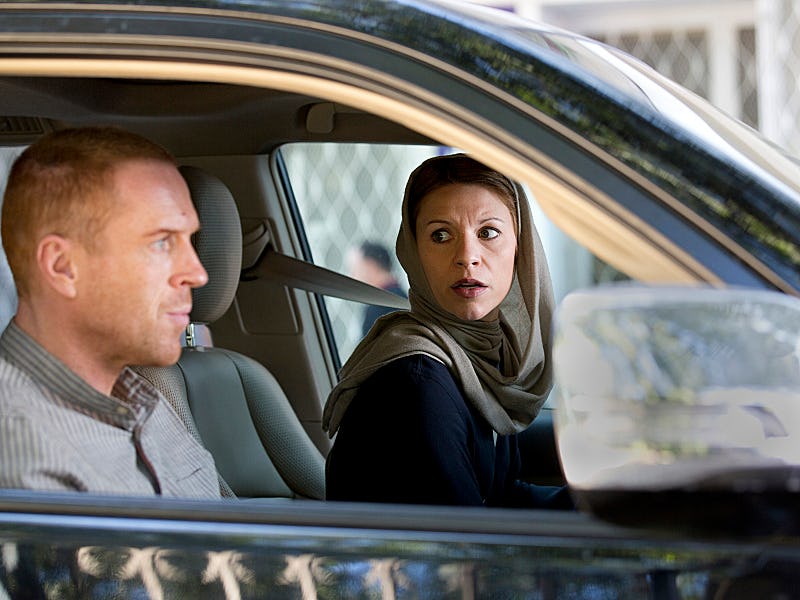 When Homeland first came on the scene, it was an amazing cat-and-mouse game that introduced us to the manic genius that is Carrie Mathison (portrayed by the fabulous Claire Danes). Season 4 of Homeland premieres Sunday night on Showtime and although Season 3 may not have been as glorious as Season 1, big changes happened for Damian Lewis' Nicholas Brody (*cough* huge understatement *cough*) and Mandy Patinkin's Saul Berenson, and it put the show in a fantastic position for a thrilling and refreshing new season. With so many twists and turns, there can be a lot to process with every episode. But I, with the fearlessness of Carrie Mathison, have taken on the daunting task of creating a Homeland Season 3 recap for you, my dear Bustle readers.
Things looked pretty dark for Carrie when she was committed to a psychiatric facility at the beginning of Season 3 (by the hands of Saul and Dar Adal no less!). She was contacted by the mysterious Paul Franklin, who gave her freedom in exchange for meeting with his client, Leland Bennett. Bennett turned out to be a lawyer for a bank that assisted Iranian terrorists and he wanted CIA intel from Carrie.
I wasn't sure how I felt about Season 3 up until the fourth episode, when we discovered that everything (EVERYTHING!) had been planned out by Saul and Carrie to use Bennett to get to the bottom of the Langley bombing. This type of long play is why I love Homeland. Although it's completely screwed up that Carrie would succumb to being institutionalized (while pregnant! More on that later ...), it makes her the fascinating character she is, and shows that Homeland is still the maze of espionage that made it so good in the first place. So with that twist, we were truly off to the races in Season 3 — so what other crazy stuff went down?
Brody Became Addicted to Heroin
After fleeing the states in the aftermath of the Langley bombing, we didn't see where Brody was until the third episode of Season 3. He landed up at the Tower of David in Caracas, Venezuela with the help of mercenary El Niño (who had a connection to Carrie). Brody's future was bleak and he had nowhere else to go, since he was a wanted man suffering from a gunshot wound. Desperate and alone, he succumbed to the lure of the heroin (he's only a cockroach after all) offered by the creepy Dr. Graham.
Dana Tried to Commit Suicide
And as awful as it sounds, it was still really hard for me to care about her storyline. But I think that just proves that Homeland has never really known what to do with Dana as a character. Hopefully that will change in Season 4.
Fara Joined the Team
Saul brought in the young analyst Fara Sherazi (portrayed by Nazanin Boniadi who was Nora in How I Met Your Mother) to assist in investigating the money trail of the Langley bombing terrorists. Fara proved to be a great, although at times apprehensive (with good reason as Saul and Carrie are crazy), member of the team, especially since her family members in Iran assisted Carrie when she went to Tehran. For Season 4, Boniadi will be a series regular.
The "Yoga Play" Happened
In order to help Jessica find Dana and her gross boyfriend (oh right, Dana also ran away), Carrie instituted the "yoga play," where a woman who looked like her went to yoga in order to lose the surveillance team that Bennett had placed on her. Peter Quinn (Rupert Friend) disapproved of the plan — and with good reason. Majid Javadi, the man who they thought was behind the Langley bombing (more on that later), was working with Bennett, and after the yoga play she was captured and brought to him. Carrie revealed she was still working with the CIA and that Saul would like to meet with Javadi.
Saul Was — and then Wasn't — in Charge of the CIA
With the death of Estes, Saul became acting director of the CIA, with the thought that he'd be appointed director. Turned out the president had other plans and appointed the jerkface Senator Lockhart (portrayed by Tracy Letts — who is also the playwright of August: Osage County) to take over. Lockhart had it out for Saul and Carrie, but at the end of Season 3, Saul's crazy schemes all miraculously worked out. Yet the season finale showed Saul leaving the CIA in Lockhart's hands and working in the private sector.
Javadi Turns out to Be a "Good Guy"
Well, "good" might not be the correct term as Javadi murdered his ex-wife and daughter-in-law in front of a baby. (To make matters worse, Quinn — who already accidentally killed a child in the season premiere — had to take the wrap for killing Javadi's family in order to protect the CIA's plan.) But Javadi had a past with Saul, and Saul blackmailed him into cooperating with the CIA. They sent him back to Iran to work as an undercover agent for the US. But not before Javadi messed with Carrie's head by telling her the person behind the Langley bombing was still out there. That led Carrie on a mission to try to clear Brody's name.
Carrie Was Pregnant — and Guess Who the Dad Is?
In another crazy twist, the sixth episode revealed that Carrie was pregnant. She was also drinking, on lithium, and under extremely high stress situations, which doesn't seem like the best mix. She revealed in the episode "A Red Wheelbarrow" that the baby was Brody's and also in that episode, she weaved a web of lies to get Bennett and Franklin to connect her with the real bomber of Langley. But with Carrie asking so many questions, Franklin decided to dispose of the true bomber by shooting him. Carrie tried to stop him (she needed the bomber alive to prove Brody's innocence), but Quinn (my boy!) shot her in the arm to stop her from ruining their cover. So much for taking it easy, eh?
Mira Slept with the Enemy
Saul's wife, Mira, had previously separated from him, but came back after the Langley bombing. But that didn't mean she hadn't acquired a boyfriend, named Alain Bernard. Mira ended things with him eventually, but it turned out Alain was using Mira to get information from Saul for Lockhart. Saul wasn't home when Alain planted the bugs because he was too busy getting Brody out of Caracas for another elaborate plan. Luckily, Virgil and Max came to the rescue (!!) and found the recording devices. (No Homeland recap would be complete without a mention of Virgil.)
Brody Died
Well, they finally killed Brody. It was definitely time, but it was still a bold move considering most shows wouldn't kill off their leading man. So how'd it actually all end? Brody went to Iran on orders from the CIA, and after his mission got compromised, he acted like he was the man behind the Langley bombing and denounced the United States publicly. He became a hero in Iran, but in one last act, he killed General Akbari, the man he was sent to kill in the first place. Carrie managed to take him to a "safe house," where she revealed to him that she was pregnant with his baby. But once there, Javadi's men captured Brody (under the orders of Lockhart, Dar, and the president), despite Saul's protests.
But Brody had come to accept his death — just like the audience had also come to accept it. Still, the sight of him being hung in a public square with people spitting at him and the pregnant Carrie climbing the fence and screaming his name was haunting to watch.
As unrealistic as Homeland may be sometimes, this isn't the type of show to bring someone back from the dead, so Brody won't be returning. But that means the show is free to move into a brand new direction for Season 4.
Carrie Took a New Job
Speaking of a brand new direction, the final episode did a time jump with Carrie deciding to take a position as station chief in Istanbul, Turkey, and give up her soon-to-be-born child. (We'll actually see in Season 4 that instead of Istanbul, she'll be working in Kabul, Afghanistan, but regardless, she's not working in the US.) Her father and sister pleaded with her to change her mind, but she wouldn't — and her father offered to take baby Brody if Carrie was going to leave the states. Based on the promo video for Season 4, that is what Carrie decided to do (her poor sister), but leaving her child behind may not prove to be so easy.
Images: Didier Baverel/Showtime; hellyeahomeland (6), kristenschaals, booasaur, farcasters, lafferti (2), quinnandcarrie/Tumblr