Derick's Family Is Nothing Like the Duggars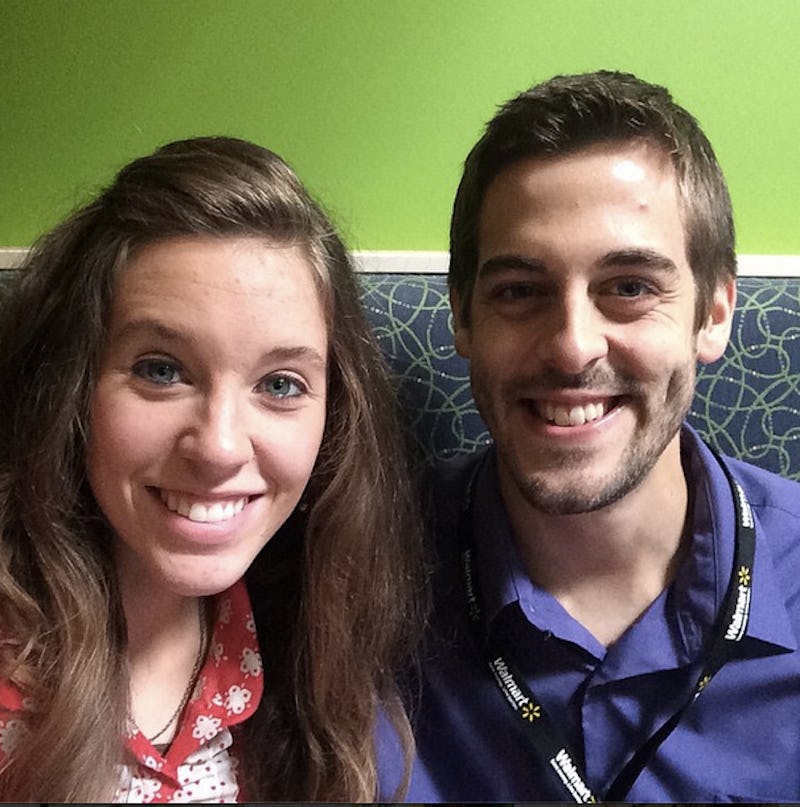 On the current season of 19 Kids and Counting, Jill Duggar is preparing to marry Derick Dillard, but in real life, Jill is already married and expecting her first child. She's just about to enter her second trimester only six months after their wedding. Since Jill and Derick live near the Duggars (in a house Jim Bob reportedly bought in 2012, renovated, and gave to the newlyweds), Jill's family will undoubtedly have a huge impact on the new couple's lives, but it's interesting to consider whether the Dillards will too, because Derick's family is nothing like the Duggars.
The Dillards are a very small family, especially when compared to Jill's 18 siblings. Derick only has one sibling, his brother, Daniel. So if the Duggar/Dillard clan turns out to have a lot of kids, Derick will be a little out of his depth. Still, both Derick and Jill have said that they intend to have as many children as they can, and aren't using any birth control.
And even though he's young, Derick's already experienced some tragedy in his life. Sadly, his father, Rick Dillard, died in 2008, when Derick was in college. And in the last year, his mother, Cathy Dillard, has been battling cancer. Luckily she was able to attend Derick's wedding and is excited to meet her first grandchild. But Derick and Daniel don't come from a big, sprawling family like the Duggars… unless they make their own.
And the Dillard family didn't raise their sons as strictly as the Duggar family did. Of course, Derick didn't need to learn how to take care of a small daycare or cook enough food to feed a high school class because their family was so small. But while the Dillards are very conservative Christians, they don't ascribe to the dress code or homeschooling methods that the Duggars do. Derick even went away to college, something none of the Duggar kids have done yet. But it was actually Jill and Derick's religion that drew them together, as Jim Bob Duggar set the couple up after serving as a spiritual advisor to Derick while he was working in Nepal as a missionary.
So while both families are close-knit and conservative Christians, those are some of their very few similarities. But the Duggar-Dillard union will surely show that even with two opposing upbringings, they can seamlessly bring their two clans together, because Jill and Derick seem like the perfect match.
Image: Jill Dillard/Instagram