An Ichabbie Karaoke Session? Umm, Yes Please!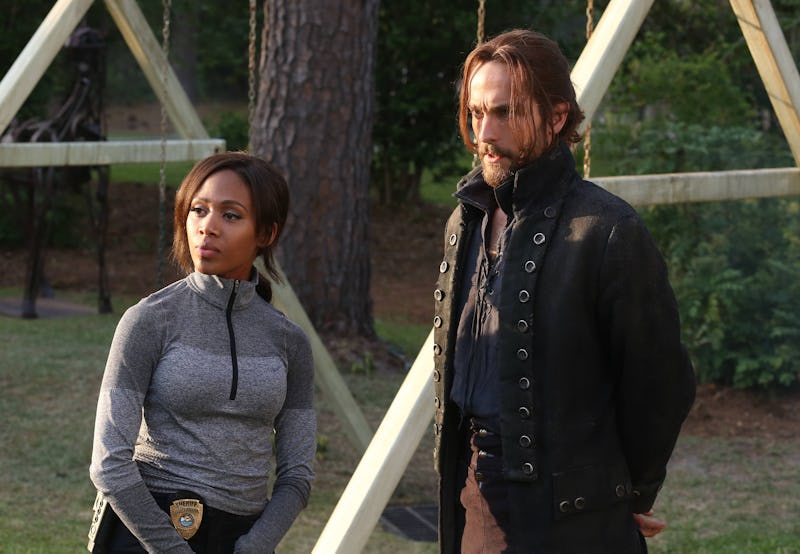 Who's ready to hear some news that will quite literally be music to your ears? Well, you better hold onto your heads for this one, folks, because word has it that Ichabod and Abbie will be singing on Sleepy Hollow karaoke-style at some point this season. Can you say best plot twist ever? Seriously, you guys, this is the best thing I never knew that I always wanted. I mean, just imagine how great this is going to be. Ichabod's attempts at embracing modern-day culture have already proven to be downright hilarious, so adding karaoke to the list is sure to have very similar results. And odds are he's going to have some thoughts of this musical pastime.
Sleepy Hollow showrunner Mark Goffman spoke of Ichabod's future singing endeavor during a panel at New York Comic Con on Sunday after a fan made mention of the fact that Tom Mison is a very talented singer in real life. This prompted Goffman to hint that viewers will be able to see this fact firsthand during a future Season 2 episode that will feature Ichabod discovering the joys of karaoke. But he won't be the only one belting out some tunes. Abbie will accompany him in what sounds like a duet. "We will get to see them sing," Goffman teased. Which leaves us all wondering one very important thing — what song will Ichabbie end up singing? I just happen to have a few suggestions…
"Can I Get a Witness" by The Rolling Stones
He's a witness. She's a witness. It just makes perfect sense, right? But aside from it being incredibly appropriate for these two, it's just a really great song and one that I feel Ichabod would enjoy rocking out to.
"All Hell's Breakin' Loose" by Kiss
Saving the world from the end of days is no easy feat, so perhaps they need a little musical motivation to help them get through all the hellish creatures that are after them — Ichabod's son Henry included. Just think of it as a form of therapy.
"I've Got You Babe" by Sonny & Cher
You'd be hard pressed to find a better duet song than this Sonny and Cher classic. And it's very fitting considering that Ichabod and Abbie always have each other's back. Plus, it would please Ichabbie 'shippers to no end.
"Changes" by David Bowie
I don't know about you, but I would pay good money to see Tom Mison belt out a David Bowie song. Maybe he and Jessica Lange could even go on tour doing Bowie cover songs, which I am ALL for.
"Stayin Alive" by the Bee Gees
They spend most of their time on the show trying to stay alive. Why not sing about?!
"Livin' on a Prayer" by Bon Jovi
Because you haven't truly sang karaoke until you've busted out this song. Seriously, let's make this happen you two.
Images: Fred Norris/FOX