Who Plays 'Freak Show's Illustrated Seal?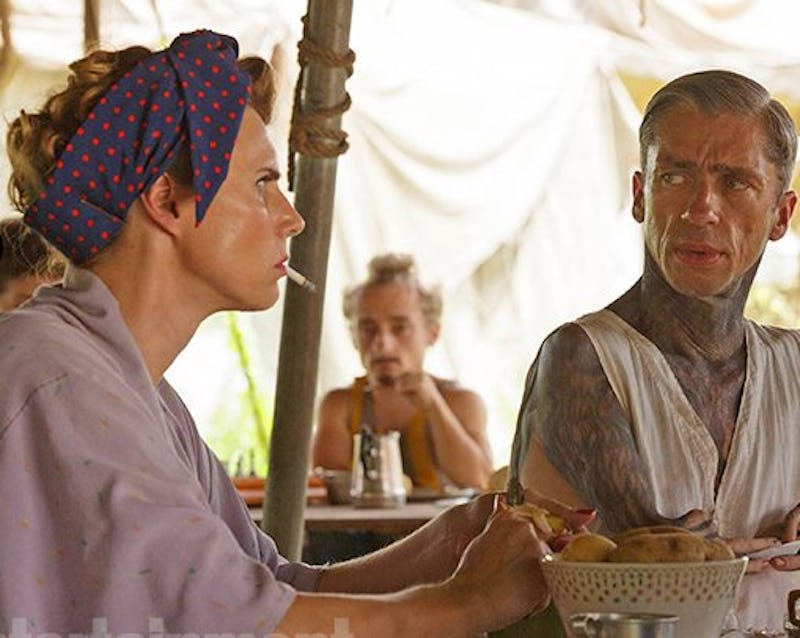 Anyone who watches FX's American Horror Story knows that most of Freak Show 's leading players aren't actually "freaks." We know Sarah Paulson doesn't have two heads; Evan Peters doesn't have lobster claws for hands; Kathy Bates doesn't have a beard; and Angela Bassett doesn't have three breasts. We know this because we've seen them all on AHS before. But what about the rest of Elsa Mars' carnival performers? Are they real, or modified for TV? While some of the oddities — like Pepper — are conjured through the magic of makeup, others — like Paul the Illustrated Seal ( AHS ' character with small arms) — were actually born with the characteristics that make them "freaks" in Jupiter, Florida.
Paul is portrayed by 52-year-old actor Mat Fraser, who was born with a rare congenital disorder called phocomelia. The disorder involves the malformation of appendages like legs, ears, and noses, although it most commonly affects arms, as in Fraser's case. Phocomelia can be genetic, although most cases were caused by women in the '50s and '60s taking a powerful painkiller called thalidomide during pregnancy. The dangerous drug was directly involved in 10,000 cases of phocomelia worldwide (only 50 percent of which survived infancy), according to the Thalidomide Victim's Association of Canada, leading directly to stricter regulations in the industry.
But Fraser hasn't let his physical disability hold him back. He's an accomplished drummer, having performed in rock bands throughout the '80s with names like The Grateful Dub and The Reasonable Strollers. He has a black belt in karate. He has performed with Britain's Graeae Theatre Company, the world's premiere disable theater troupe. He created and starred in Thalidomide!! The Musical , which contains songs with titles like "It's Hard To Hitch Down Life's Highway With No Thumbs" and "Talk To The Flipper ('Cause The Face Don't Care)."
Fraser, who is a self-professed "freak," must be pleased to be appearing alongside other similarly different actors on Freak Show; the actor has long railed against Hollywood's insistence on using non-disabled actors to portray disabled characters (a similar argument to the one regarding cisgender men playing transgender women onscreen). He cites such acclaimed films as My Left Foot, What's Eating Gilbert Grape, and Rain Man as particularly egregious examples. This is a sentiment Fraser displayed in the British Survivor parody series Cast Offs , where his character stated — in the actor's now-famous catchphrase — "spacking up is the blacking up of the 21st century." ("Spacking" refers to mimicking disabled people.)
Things are going well for Fraser these days. Apart from Ryan Murphy helping provide a spotlight for him and other disabled actors, Fraser married his wife, "American neo-burlesque pioneer" Julie Atlas Muz, in 2012. They tied the knot in Coney Island, where the couple met while performing back in 2006. There is, however, one thing about Paul that's fake: his tattoos. Those are applied by AHS's makeup team to turn Fraser into the illustrated seal, a common staple of sideshows back in the day.
FX recently released a series of videos highlighting Freak Show's eclectic group of supporting players, titled "Extra-Ordinary Artists." You can watch Fraser's interview below, where he talks about his mother's reaction to his condition and how everyone should try being a stripper for a weekend. (I'll just let him explain that last bit, shall I?)
Images: FX (screengrab); vintageclothesretro/tumblr