13 of the Best Movies To Watch With Friends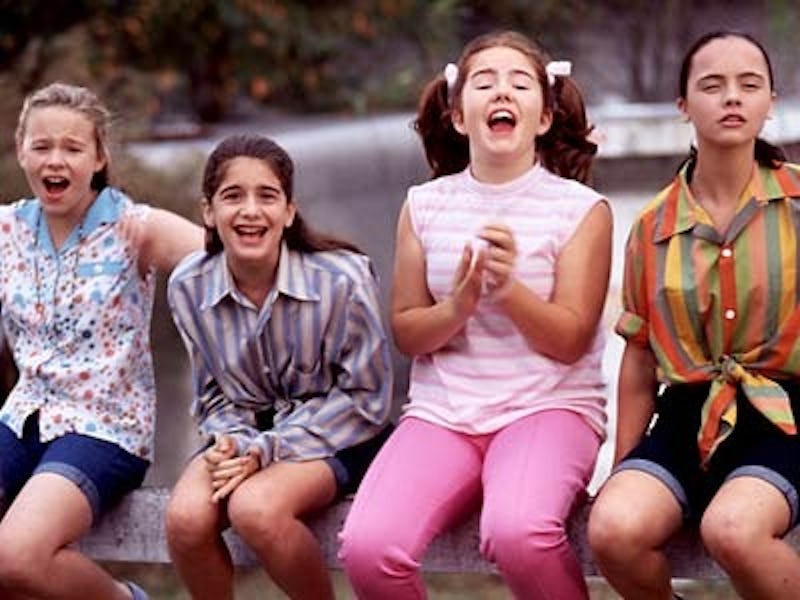 After a rough work week, an evening out on the town with buddies can be a slam-dunk of a cure. There is something so revitalizing about the sound of a karaoke bar host reading off singers' names and song choices! But sometimes, the thought of starting your weekend in a pair of pants that is not of the terry cloth sweat variety sounds like some kind of fresh hell. And that's when, like the superhero it is, movie night with friends steps in. With a glass of your choice beverage in hand, an assortment of snacks at the ready, your pals at your side, and a stack o' DVDs (or the Netflix menu) before you, BOOM. Movie night is a go. Easy peasy, yeah? Well, before things can get crackin', the group must reach an agreement: Which movie will you and your friends watch?
You could watch a new Netflix addition, a Blu-Ray that'd been recommended to you, or a blockbuster currently available on the Pay-Per-View menu. But perhaps your group isn't feeling those options. What do you do?
You're with friends. And all of you want to watch a movie. Friends. Movie. That's it! Why not watch a movie about friendship with your friends?
Here are some of my favorite tried-and-true "FRIENDS 4 EVA" movies:
Frances Ha
Yeah, Frances and Sophie go through some rough patches. But in the end, their love for each other stomps out all of the weird ish.
Superbad
Just a couple o' buddies stealin' booze and havin' heart-to-hearts.
The First Wives Club
I could watch these three friends (played by trio of goddesses Diane Keaton, Goldie Hawn, and Bette Midler) exact revenge on their ex-husbands any day of the week.
Spice World
It's campy, it's bizarre, but most importantly, it's chock-full of GIRL POWER.
Bend It Like Beckham
Besties killin' it on and off of the soccer field.
Bridesmaids
I mean, duh.
Any Movie From the Three Flavours Cornetto Trilogy
Shaun of the Dead, Hot Fuzz, and The World's End boast some of my favorite BFF moments ever.
Beaches
Oh, you your group wants to feel some feelings? Welp, here you go.
Any of the Harry Potter movies
The trio of Harry, Ron, and Hermione is a beautiful trio, indeed.
Ferris Bueller's Day Off
Yeah, Jimmy and Gretchen from You're The Worst share the theory that Ferris's BFF Cameron is actually the villain of the movie, but I must respectfully disagree. Ferris and Cameron make for a terrific, balanced pair.
Role Models
The LARP, er, LAIRE scene at the end gets me every time.
Now & Then
To quote the stars of Spice World: Friendship never ends.
Clueless
Leave the plaid-clad besties off of the list? Ugh, as if.
Images: lulufd, peelingcrimson, whatshoulducallme, tachycardiaonmymind, yourdailydoseoffairyfloss, foxsearchlightpictures, butlercats, motionlmags, jam-donut, hermionewinchester, thecameronfrye, sherrifspooklinski, hetter-fetter, itsmylifeidecided/tumblr