What Is Gwen Doing On 'The Voice?'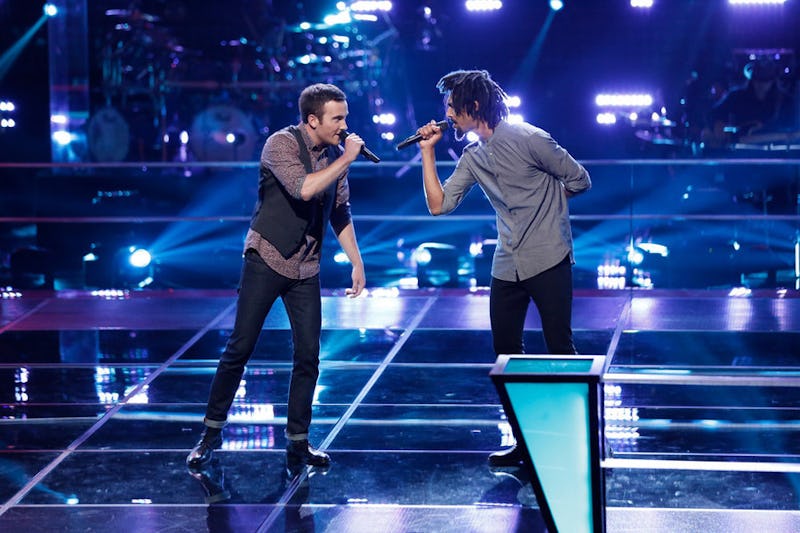 Can someone please explain Gwen Stefani's decisions as a judge on The Voice to me? Because I'm absolutely drawing a blank on how she plans to win this thing. Between choosing Sugar Jones over Jean Kelley during Monday night's battle round and letting reggae singer Menlik Zergabachew go to Team Pharrell on Tuesday night, I can't even try to predict what Team Gwen could possibly have up its sleeve. Thankfully, Pharrell and Adam recognize a great opportunity when they see one, so they battled it out (ha) for the dreadlocked singer after Menlik lost to Troy Ritchie in The Voice "Maneater" battle.
It was kind of difficult to decide which of the wildly talented men tackled their part of Hall & Oates' classic, "Maneater," the best. Even I found myself wishing, like Gwen, that the judge could actually put these two contestants in a blender to create the ultimate artist. But, unfortunately, life doesn't work that way and Tuesday night's battle round saw Gwen give up Menlik, the singer she fought so hard to get during the blind auditions.
Sure, Troy managed to tone down his incessant bouncing to the beat, but Menlik had the raw talent that Gwen should've been looking for, with the perfect attitude to match. And, I mean, she loved him. The Voice is a fickle business, I suppose, and apparently all that was said and done during the blind auditions has gone straight out the window in favor of ruthlessness in the battle rounds. As it should, I guess. But Gwen was really into Menlik's reggae sound, I expected her to be a little more impressed in what he'd done.
It's all for the best, however, because now that he's been picked up by Pharrell (just like Jean Kelley on Monday night) — who has no one like him on his team — Menlik will get the attention he deserves. Because, clearly, Gwen doesn't know a potential winner when they're standing right in front of her. Strike two, girl. Strike two.
Image: Tyler Golden/NBC