He's Going To Be Busy This Season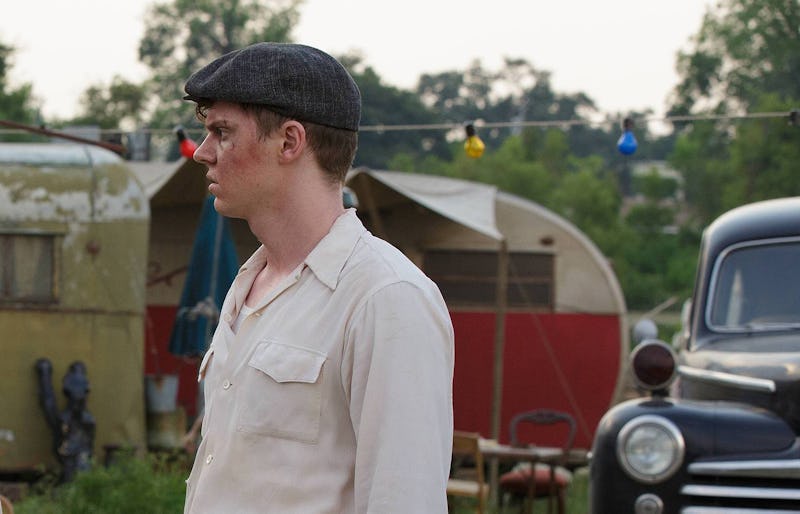 It's not exactly difficult to figure out that Evan Peters' character is among the most popular AHS: Freak Show characters. And even if it was, Lobster Boy's sex trick definitely sealed the deal. Between that and Peters' boyish good looks, the AHS standby has us all wondering about a super important question: Who is Evan Peters' love interest this season? Well, it might just be Bette & Dot.
Of course, we should keep in mind that teasers dropped in various Freak Show promotional interviews point to Peters' real life fiancee Emma Roberts as his Season 4 GF. But that doesn't mean Bette & Dot don't stand a chance. I can't be the only one who saw Jimmy Darling looking Sarah Paulson's conjoined twins up and down. And I also can't be the only one who noticed that at least one of those twins doesn't seem to mind at all.
What's more is that Freak Show came right out of the gate with questions about how sex might work for Bette and Dot when Elsa asked them about masturbating with their shared privates. (Dot is against the practice, but Bette often partakes against her sister's wishes.) Immediately, we're asked to think about what would happen if sex was on the table. And unless I've lost the ability to read sexual signals, sex is either on the table or very near being placed there.
And Roberts involvement kind of proves that's true. As we saw in Coven, Roberts makes a great romantic foil. She attempted to entice Peters' frankenstein monster away from Taissa Farmiga's Zoe in AHS Season 3, so it would make sense that she could be part of another complicated love triangle. (Or is it a rhombus when conjoined twins are involved?)
From where I sit, the Tattler sisters should absolutely go for it. They've got AHS history working for them.
With all that in mind, I'm calling it now: Lobster boy and the twins are going to have a sexy moment this season. Of course, being that there are two of them, that'll lead to plenty of complications in and of itself...
Image: Michele K. Short/FX; leslie-knopes/Tumblr (2)