11 Ways to Dress Like Your Favorite Music Video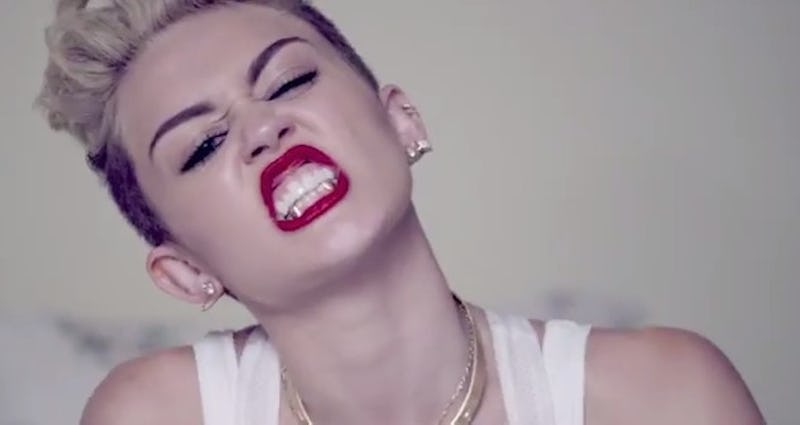 Halloween is just around the bend, and if you don't know who or what you're going to dress up as, well, you and me both, sister. I have a bad habit of just running to Target the night before for a pair of cat ears and calling it a day, but it didn't used to be like that. Up until college graduation, I would spend weeks brainstorming the perfect Halloween costume — which may or may not have sometimes included dressing up as my favorite music video.
Hear me out. In 7th grade, I went as Avril Lavigne from her music video, "Sk8er Boi," because obviously I did. I borrowed one of my dad's ties and wore a white tank-top with some loose black Dickies. I already had a pair of perfectly beat-up black Converse sneakers, so I had that territory of punk naturally covered. I felt incredibly fierce, even though anyone older than 30 totally didn't get who I was and had to ask. "I'm AVRIL, no duh," I replied in immaculate, snot-nose 7th grade fashion.
Dressing up as your favorite music video such as "Sk8er Boi" is super fun (you can totally take my idea, I'm sure 7th grade me wouldn't care, and if she would, don't worry about it. She was passive aggressive). Not everyone will "get it," but they might if you plan your costume out right. Here are some ideas I've culled from some of the most iconic music videos from the last few years:
1. "Oops I Did it Again" by Britney Spears
Although "Toxic" is my favorite Britney music video, "Oops I Did it Again" is the video I think of when I think of Brit in her hey-day. Full red pleather jumpsuit, full head of hair, and a few buckets-worth of lip-gloss. Here are your necessary items:
Obviously, this look is all about the jumpsuit. You can get this red pleather bodysuit at Liquid Vinyl Clothing. It's kinda pricey, but I bet there are cheaper versions on eBay or at the thrift store.
Be sure to wear your hair down. Purchase a blonde wig if you need to. Smother your lips in Grade A Lipsmackers at ALL times.
2. "Just One of the Guys" Jenny Lewis
One of the best music videos to come out this summer, "Just One of the Guys" is charming and totally Jenny Lewis. While finding Lewis' rainbow pantsuit might be difficult, you can definitely pull off an all white blazer and pants look that her back-up celeb singers don. Or you can be "one of the guys" with an Adidas track suit and fake moustache.
You can get this at the Adidas store. It's a pretty good investment, actually.
This faux '70s-style mustache is pretty on point, and it's the perfect finishing touch.
3. "Nothing Compares 2 U" by Sinead O'Connor
Since you probably don't want to shave your hair off completely (and if you do, kudos to you, boo), just tie your hair up in a really, really tight bun. Like, ballerina tight.
For an outfit, all you need is a black turtleneck (along with black jeans or a black maxi skirt). I found this one at Macy's (it's on sale!).
Try to slowly cry the entire night for an added effect.
4. "Hey Ya" by Outkast
Since this was the COOLEST song in the early 2000s, someone absolutely needs to honor it this Halloween by dressing up as Andre 3000 in "Hey Ya." Which actually isn't that hard.
I found this kelly green button-up on Logos of Wear, and it's a men's shirt, but who cares? It's the perfect Andre 3000 green, and that's all that matters.
White Suspenders, $8, Amazon
Here are some white suspenders off Amazon. You can also get them at Hot Topic, but eh. Why subject yourself to that?
These blue plaid skinnies from Modcloth are perfect for this outfit, as well as the rest of your life. They're also on sale, so they practically pay for themselves, right?
5. "Telephone" by Lady Gaga feat. Beyonce
This Thelma and Louise thing that Gaga and Beyonce had going on in "Telephone" is magical. It represented the height and glory of Gaga's booming career, and it was also hilarious. This costume requires two people, so if you're going to be Lady Gaga, you need a yellow wig.
Mr. Costumes sells the perfect shade.
Next, you need an outrageous black hat. This one from Leaf Hats will do.
If you're going to be Beyonce, Gaga's partner in crime, you'll need the perfect shade of lipstick.
MAC Lipstick, $17.50, Ulta
"Smoked Purple" by MAC will give you Beyonce's fierce purple pucker.
And not just any LBD will do. It's Beyonce we're talking about. This number from Nasty Gal is #flawless.
6. "Chandelier" by Sia
"Chandelier" is amazing. When I first saw it, I was completely floored. That little dancing girl became my hero. Dress up as her for Halloween in two easy steps.
First, find a nude leotard. American Apparel has some really high-quality options.
This 'do isn't perfect, since the girl's hair is a little bit longer and not so angular in the video, but I think this wig from Spirit Halloween still sends the message.
7. "Last Friday Night" by Katy Perry
Any and all Katy Perry videos are ripe for the picking, but this one is my favorite. It's funny, and it's pretty easy to put together. You just need a few things:
Fake glasses. The bigger, the better. You can get these at Wow Vintage.
Katy Perry is a "nerd" in this video, so you'll have to find some headgear. You can order this one online at Costume Super Center.
Katy Perry wears a sleeveless jean jacket similar to this one from H&M.
Under the jean jacket, Perry wears a very '80s pink turtleneck. You can get one like her's at Lands' End.
8. "All the Single Ladies" by Beyonce
I never got why Beyonce did this song if she and Jay-Z were a thing for like, 500 years. But still, respect must be shown, because it's an awesome song. It's also easy to pull off as a Halloween costume.
If you're a seamstress, you can totally cut one of the arms of this leotard off, but I think you'll still give off that "Single Ladies" vibe even if you don't. Get this leotard at American Apparel.
Top off your look with some fierce, strappy black heels from Charlotte Russe.
9. "Fake Plastic Trees" by Radiohead
In "Fake Plastic Trees," Thom Yorke is being pushed around in a grocery cart because he's Thom Yorke, and he can do whatever he wants.
I had no idea, but apparently you can buy your own shopping cart. Maybe you can ask a grocery store if you could borrow theirs, but since I doubt they'll be cool with that, buy your own here on the Webstaurant Store. This is really all you need to be "Fake Plastic Trees." Maybe a perma-wistful look and bad-but-good bleached hair.
10. "We Can't Stop" by Miley Cyrus
Possibly the weirdest and most annoying music video in recent memory, "We Can't Stop" is the very essence of Miley.
You'll need white leggings and a white sports bra (you can buy both at Kohl's, Target, or Walmart).
The blonde Miley cut is very essential. Buy it at City Costume Wigs.
I wasn't sure where they still sold white platform sneakers...and then I realized Kmart. Kmart must still sell white platform sneakers. And I was right.
Carry this creepy pink bear (via Target) around with you, and lastly, stick your tongue out every opportunity you get.
11. "Hideaway" by Kiesza
Since "Hideaway" is one of my favorite jams of the year, it will be my last music video suggestion.
Kiesza wears high-waisted blue jeans in her video, and you can get a pair at Urban Outfitters. They're actually super comfortable and awesome, so you may want to just keep wearing them year-round. Just sayin'.
Get a white bandeau (H&M sells them in all different colors).
Get a pair of black suspenders from Target.
Target also sells red sneakers you can dance the night away in.
Also consider giving yourself a perm and dying your hair orange. Totally optional though.
Images: Liquid Vinyl Clothing; Party City (3); Adidas; Macy's; Logos of Wear; Amazon; Modcloth; Mr. Costumes; Leaf Hats; MAC; Nasty Gal; American Apparel (2); Spirit Halloween; Wow Vintage; Costume Super Center; H&M( 2); Lands End; Webstaurant Store; Kohl's; City Costume Wigs; Kmart; Target (3); Urban Outfitters