Maybe Carrie Finally Has a Female Ally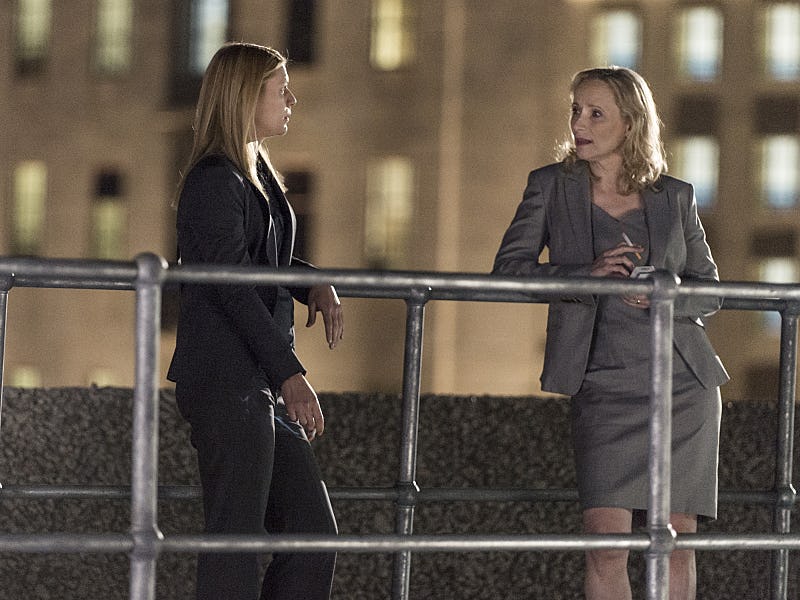 We are used to seeing Carrie Mathison take no flak from anyone — male or female. With Homeland Season 4 bringing Carrie back to the Middle East, we saw her go toe-to-toe with the US ambassador to Pakistan, and in the process, learned much more about Martha Boyd. We had already met Martha, but in the Oct. 12 episode, we not only saw the relationship between Carrie and Martha develop, but also learned that Martha was previously engaged to Saul. With an introduction to another accomplished woman, I'm excited at the prospect of Carrie and Martha working together.
Now, Martha (Laila Robins) wasn't going to automatically help out Carrie just because they are both women. Carrie steamrolled her way into the Islamabad embassy, and it made sense that Martha didn't do exactly what she said. Unfortunately, it took a man intervening to get Martha and Carrie to cooperate with each other, but since it was Saul, and he clearly has the utmost respect for these strong-willed women, I'm OK with it. Plus, the Carrie-Martha scenes definitely pass the Bechdel test and Martha was willing to admit to Carrie that she was wrong about keeping the embassy on lockdown. And one of the characteristics I admire most in people is when they can acknowledge that they were wrong. So Martha won me over quite a bit.
Regardless of gender, the people who take jobs like being station heads for the CIA and ambassadors to foreign nations have to have a certain level of competitiveness. Carrie has been on the moral decline all of Season 4, but if Carrie had scruples, she wouldn't be so damn good at her job. She is willing to do literally anything to get where she wants to be in her career and get the information she needs.
We've only just gotten a glimpse into who Martha is, so who knows if she has the manipulation tactics that Carrie has. She is obviously a strong person, but I'm concerned that once she realizes the depths of what Carrie will do to get the job done, their alliance will end — but it better not. I mean Martha was engaged to Saul, and Saul himself advised Carrie to set up her own secret base with people she trusts in Islamabad. So I'm sure Martha isn't naive to the games that the CIA has to play. Maybe Martha would even be a good advisor to Carrie to help her care a little bit more about her public image and foreign relations.
Carrie can be kind of a terrible person sometimes, but she is so amazing in her interactions with people who disrespect her. John, who was going to be station head until Carrie blackmailed Lockhart to get the job, undermined her authority in her first meeting as leader. He "young lady"-ed her (oooo no he didn't!), vastly underestimating the powerhouse that is Carrie Mathison. As a young female, do you think she's gotten this far in her career without hearing that kind of sexist crap before? I don't think so. And she shut that crap down.
As a person who is frequently treated like a child because I look young and appear to be nice, I need to take a page (just that specific page) out of the Carrie handbook. And something tells me that Martha knows how to handle that kind impertinence too. We also know that Martha likes Quinn from the Season 4 premiere, so now that Carrie has wooed Quinn to returned to Pakistan, Martha may appreciate her even more.
The last interaction between Martha and Carrie showed them sharing an extra rooftop cigarette, but will Carrie be able to keep on good terms with Martha? I want Carrie and Martha to remain allies — not just because they are women in a male-dominated embassy or because the series is seriously lacking any female friendships, but because they seem to be like-minded individuals who want to do their jobs to the best of their ability. However considering the fact that Carrie rarely stays on good terms with anybody (and was already subverting Martha's authority by leaving the embassy), I realize that may be a bit too optimistic.
Images: Joe Alblas/Showtime; homelandfanspage (4), rurikids (2), fyeahpeterquinn/Tumblr