Get Ready For Another TV Show Remake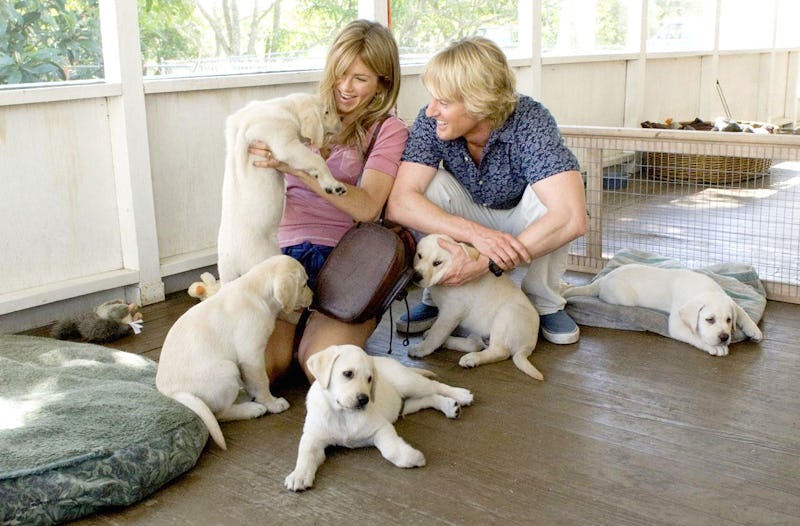 If you're already totally against NBC's upcoming American The IT Crowd remake, rest assured that you'll at least have another new series option to watch while you (rightfully, in my opinion) hate on Americans' attempt at duplicating perfection. According to Deadline, NBC has also commissioned a Marley & Me TV show, which will be based off of the 2008 film and the original book, 2005's Marley & Me: Life and Love with the World's Worst Dog.
Though plans for a television show based on the film are minimal at this point — the project was literally just ordered, after all — it seems unlikely even now that Jennifer Aniston and Owen Wilson would reprise their roles from the film for a project like this. Both are pretty big movie stars, after all. Who knows though, I could be wrong: After all, Susan Sarandon did join a Lifetime movie this week.
According to the initial plan for the show (which will be shot single-camera style), it's set to pick up where the movie ended and follow the lead couple John and Jenny Grogan as they and their two teenage boys move to Florida. From Deadline :
However, when a stray puppy ("owned", but not well, by their neighbors) ends up on their doorstep, they are forced to adopt it. This dog, named Marley for the fact that they use Marley's old leash and tags on her, is as will-full, destructive and delightful as her original namesake. And she will help shed light not only on the growing pains of the Grogan family, but also the lives of the neighbors, and fellow dog-owners, around them.
So, you know, think Marley & Me 2.0 or something.
No word on when to expect this show on TV, but if you want to do some reminiscing in the mean time, here's the original film's trailer:
Image: 20th Century Fox