Proof Taylor And Amal Probably Share A Closet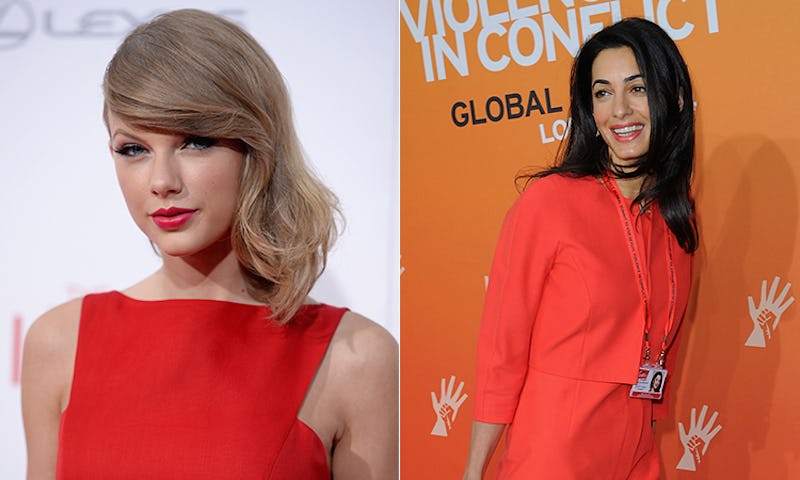 2014 has been a good style year for Taylor Swift. She's basically killed it all year, with only one misstep coming to mind. But she might not be the front-runner for street style much longer. Not that she'll be surpassed, probably, but she's at least met her match in one Amal Clooney. That's right, everyone's favorite 20-something, pop-crossover princess is a style twin with the new Mrs. George Clooney, a 36-year-old, high-profile lawyer.
Although they have a 12 year age difference, that doesn't seem to matter with their fashion choices. On countless occasions, these style mavens have donned some surprisingly similar outfits. But what happens when their outfits aren't similar? They're the exact same. And that's because both of these leggy ladies love the late, great Oscar de la Renta. If you're a fan of the whole "Who Wore It Better" game that magazines and entertainment hubs like to play (and, come on, who isn't?), look no further than Swift and Clooney. These two are constantly playing, and since their outfits are always on point anyway, it's pretty fun to compare.
But don't just take my word for it. Here are five times these two ladies dressed shockingly similar if not exactly the same:
In Statement Red
Both ladies paired their red dresses with matching red lips and neutral bags and shoes, showing how even their accessorizing is identical.
In Bold Stripes
Both are Beetlejuice-chic in these black-and-white numbers.
In Flapper Fashion
Swift and Clooney both also have the same take on flapper fashion. They rock their silver fringe, and even surround themselves by a hoard of handsome men in tuxes.
But they don't just wear similar outfits, they also wear the exact same thing. And almost every time, it's Oscar de la Renta, of course.
In Flirty Florals
Although this is the most their accessories have differed, that isn't saying much, as both still chose to pair the bright dress with equally bright pumps.
In Structured Black & White
Aaaand we're back. Nothing says style twinsies like pairing the same colored purse with the exact same dress. You go girls.
Images: Getty Images (2)