25 Reasons You Don't Need An SO If You Have A BFF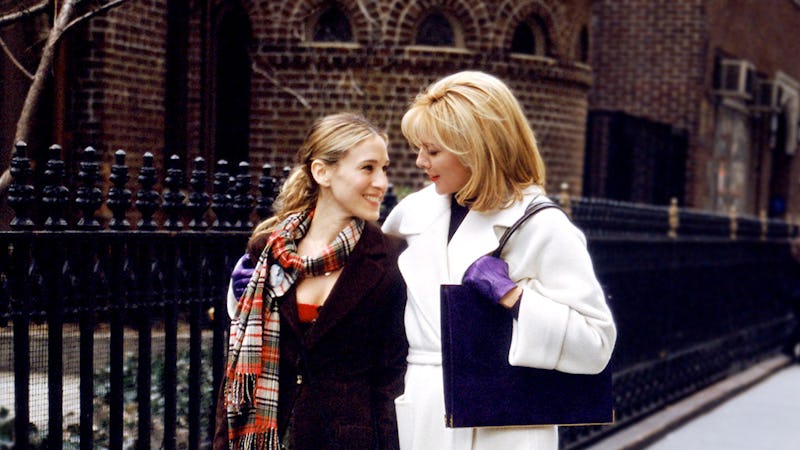 I have never been a woman who needs a boyfriend. The idea of having a partner, someone with whom I can share my life, always seemed nice in theory, but then again, isn't that what having a best friend is for? Yes, marrying my husband proved to be a nice bonus — but it was anything but necessary.
As long as you have friends who love you and a working a vibrator, you really don't need a partner. You just don't. And if you have a best friend, someone with whom you share everything, well, then a significant other becomes even more unnecessary.
I've been friends with my BFF Lyndsay for 15 years. We moved to NYC together 11 years ago, and, despite a few rocky patches, we have been there for each other through so much: boyfriends, an abortion, two marriages, a suicide attempt, countless jobs, and evil bosses — all of it.
With Lyndsay in my life, I've often felt that I really don't need anyone else. I mean, we're talking about a woman who has waked through two snowstorms from Brooklyn to the East Village, when the trains weren't running, just to watch bad TV with me and cheer me up. I couldn't possibly ask for anything else in a human being. She's the one.
Here are 25 reasons you also don't need a partner if you have a best friend.
YOU ALREADY HAVE A DATE ON SATURDAY
Whether it's a standing brunch date or movie date, it's just a definite. While others may regard Saturday as date night with their SO, if you have a best friend, you're never without plans.
AND YOU BOTH CAN Actually AGREE ON THE SAME MOVIE
Which means not having to feign interest in the new male-centered "blockbuster," unless that's what you and your BFF are into. You're on the same page, and you know you're splitting the large popcorn.
YOU ALREADY HAVE SOMEONE WHO THINKS YOU LOOK hot IN YOGA PANTS
It's so nice not to feel obligated to get all fancy. If you could, you'd probably live in your yoga pants anyway, so it makes perfect sense that you'd wear them on your date with your BFF.
AND GETS YOU EXACTLY WHAT YOU WANT FOR YOUR BIRTHDAY
This is why you finally own the edition of The Bell Jar released under Sylvia Plath's pen name, Victoria Lucas.
you already have SOMEONE WILLING TO DISCUSS all THE MUNDANE DETAILS OF YOUR DAY
Like, should I cut my hair? What will the weather be like tomorrow? Is it too early for wool pants?
AND SOMEONE TO BAKE FOR
Not to mention how much she appreciates your attention to deal with the frosting colors and designs.
not to mention, TAKE ART CLASSES WITH
Who hasn't wanted to try that painting and wine class that everyone seems to be doing?
AND DANCE CLASSES WITH
How else are you supposed to impress up at the club? I mean, your fantasy is to be called into a dance off, so you better be ready.
YOU already HAVE SOMEONE TO KEEP YOU WARM ON THE COUCH
Whether it's sharing a blanket, cuddling, or the way she knows that she needs to sit on your feet to keep them warm, a best friend knows how to keep things cozy.
and ALL THE INSIDE JOKES ONE PERSON COULD WANT
One look sums up everything.
SOMEONE TO GO TO THE GYM WITH
Who else are you supposed to share menacing glances with?
...and SOMEONE TO AVOID THE GYM WITH
My friend Thal and I are notorious gym-skippers. We get dressed to go, but always end up stopping somewhere to get "one" drink to make it more "fun."
YOU ALREADY GET ALL THE ADVICE YOU NEED
Because your best friend doesn't need to watch what she says to make sure she gets to have sex with you later, she can be truly honest. As in, brutally honest; the type of honesty that's so rare, it's on par with unicorn status. And you love her for it.
AND SOMEONE WHO TELLS YOU THE HARSH TRUTH
The truth hurts. No, you can't get away with fluorescents. You just can't.
YOU already have someone to binge watch tv with
I call these hours the pits of despair, but pits of despair you share with someone you love.
BECAUSE YOUR BFF IS RIGHT THERE WITH YOU
Who hasn't called in sick to work to watch bad TV? And there's nothing better than a sick day with your best friend, because lounging and moping should always be group effort.
IN FACT, YES, WE CAN WATCH 'THE NOTEBOOK' AGAIN
So, once again you can discuss how you've never been loved the way Noah loves Allie, or kissed the way he kisses her in that scene. It's just perfect when you're with her. It's as if you really don't even need a Noah as long as you have your best friend. Besides, kissing in the rain is overrated, and we all know he ends up with Eva Mendez in the end anyway.
YOU ALREADY HAVE SOMEONE TO TELL ALL YOUR SECRETS TO
Not only that, but they're secrets that come free of judgment. Even the really bad things you may have done or thought, she's cool with it. She's not telling a soul.
AND YOU HAVE A GUARANTEE THAT IT'S GOING DIRECTLY INTO THE VAULT
Or wherever she keeps them locked away. But either way, she's taking them to the grave.
NOT TO MENTION, YOU ALREADY HAVE the ultimate SHOULDER TO CRY ON
This is both literal and metaphorical. Whether it's over the phone, or face-to-face, she's there for you. You can even let yourself get snotty in front of her, because she loves you just as you are... in all your snottiness.
AND SOMEONE WHO WILL CHEER YOU UP BY MAKING FUN OF YOUR UGLY CRY FACE
Don't worry. We all channel Claire Danes when we're crying.
YOU NEVER HAVE TO SECOND-GUESS YOUR BFF'S DEVOTION
You know you're number one and you won't even get jealous about her new fancy work friends, because you're the best friend.
OR WONDER IF THEy're CHEATING ON YOU
There will never be anyone quite like you. Even when you've had a fight over something ridiculous that has zero importance in the long run, you know that it's you and her, until the end. You might as well tattoo each other's names on your arms.
BECAUSE in your relationship, THERE ARE NO COMMITMENT ISSUES
Which, yes, makes you so lucky. Who the hell needs an SO anyway? Not you two, that's for sure.
ONLY TRUE LOVE
Yeah, the position of love of my life? Filled.
Images: HBO; Giphy(23)