What Does 'Jersey Shore' Have to Do with Pranking?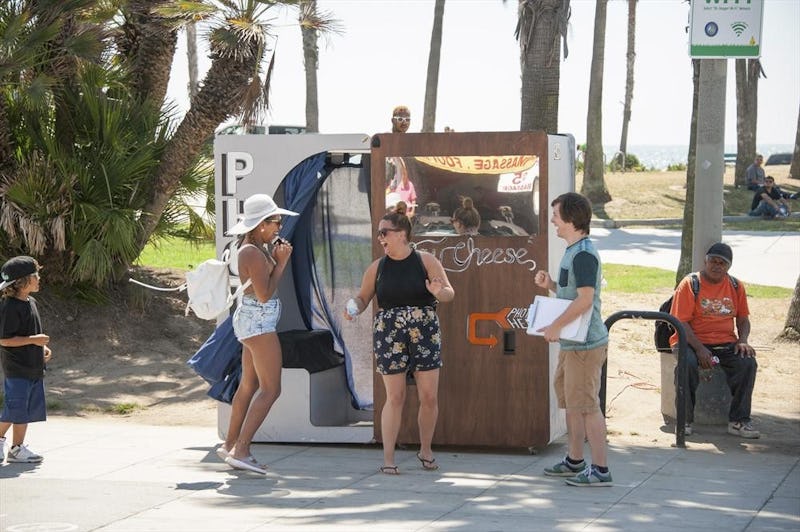 Remember when ABC Family just played Boy Meets World reruns, Harry Potter marathons, and an entire month of Christmas movies every year? The channel used to be full of innocuous — if somewhat boring — programming that I could rely on to entertain me when nothing else good was playing. In more recent years, ABC Family has amped up the quality of its original shows. Pretty Little Liars, The Fosters, and Greek (R.I.P.), among its other scripted and unscripted shows, have revamped its image. And with its latest series, the network is continuing to rebrand itself as a cooler, less kid-friendly channel: enter ABC Family's new show, Freak Out from the creator of Jersey Shore.
If that seems like a weird collaboration to you, you're not alone. I was pretty confused when I first read the news. How could ABC Family, the channel that brought us Angela Anaconda and So Little Time (hands down the best work of Mary-Kate and Ashley's careers), have turned to the woman behind the abomination that is Jersey Shore for a new series? OK, maybe "abomination" is a bit harsh, but there's no denying that Jersey Shore 's three main ingredients — excessive drinking, unnecessary drama, and scenes from the "smush room" — are hardly compatible with the ABC Family of yore. Or maybe I'm just getting old.
In fairness, Freak Out is a hidden-camera reality show, not a "good looking idiots live in a house together" reality show. The program, in which unsuspecting subjects are "pranked" by being forced to experience their worst fears, aims to combine the horror and humor genres. The first episode will be tied in to ABC Family's annual 13 Nights of Halloween special. Check out a sneak peak below:
In a press release, ABC Family's president Tom Ascheim described the premise of Freak Out like so:
Each episode of "Freak Out" will feature an unsuspecting mark, whose worst fears come to life before their eyes through elaborate special effects, intricate makeup, twisted actors and multiple cameras capturing the scenario from every angle. Every frighteningly hilarious prank is tailored with the help from the victim's friends and family, to turn an everyday situation into someone's nightmare. Viewers will find themselves "sclaughing" (screaming and laughing) over the mark's reaction, until the victim realizes – they've been pranked.
The release also points out that 495 Productions (Jersey Shore co-creator Sallyann Salsano's production company) is behind the show. She's been working in reality TV since 1998, and she's also credited with producing (among many other shows) A Shot at Love with Tila Tequila, Tool Academy (about "reforming" obnoxious men), and More to Love (about a plus sized bachelor finding romance among a harem of plus sized women). She is truly the Shakespeare of our time.
So how could Salsano's past projects influence Freak Out? Well, despite ABC Family's move to slightly edgier content, the network is still no MTV. I doubt we're in for any hot tub hookups or drunken brawls on this Candid Camera-inspired show. But, as we saw in the promo, the people being pranked seem genuinely scared. Expect a lot of shrieking. Yup, sounds like a show from a reality mogul.
Images: Eric McCandless/ABC Family; Rebloggy